It came as little surprise that the Federal Reserve announced this past week that QE and ZIRP would continue unchanged. They put the blame squarely on Congress, stating bluntly "fiscal policy is restraining economic growth." The Fed took an additional kick at the government shutdown insinuating that there was not enough data available to make any decision on changing Fed policy.
My theme for last few weeks - How can the Fed ever end quantitative easing and its zero interest rate policy? The economy is acting like it is running with a flat tire, and never seems to gain enough momentum for one to believe the economy is organically expanding. How much of the current meager economic growth is attributable to QE and ZIRP?
And the government shutdown assured that there would not be enough information for the Fed to make any changes to its policies. In any event, had the government not shut down - likely the data would have been very soft anyway.
September's retail data was soft. Everyone wants to look at the headline seasonally adjusted numbers but these numbers are not "chained" (removing the components associated with inflation). Inflation adjusted numbers show retail sales growth year-over-year at 2% (red line in chart below).
Year-over-Year Growth of unadjusted Retail Sales - Retail Sales (blue line), inflation adjusted Retail Sales (red line), and 3 month rolling average of Retail Sales (yellow line)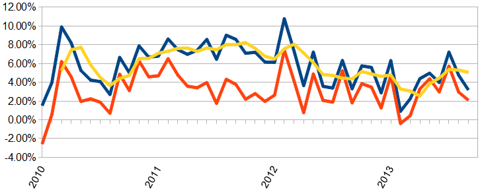 Wow! 2% inflation adjusted year-over-year growth in a consumer based economy. Should you believe that the Fed will discontinue its extraordinary monetary policy with the consumer component of the economy scrapping along at 2%?
We have been warning in our economic forecasts that consumer expenditures have been outpacing the growth of consumer income - and that this would remain a headwind in the 2H2013. We now have two months of decelerating growth for unadjusted retail sales.
A nasty report. Because of the government shutdown, we do not have the BLS data which was originally scheduled to be released this past week.
Jobs growth of 150,000 or more is calculated by Econintersect to the minimum jobs growth to support population growth. The graph below shows ADP employment gains by month. Look at the August, September and October numbers.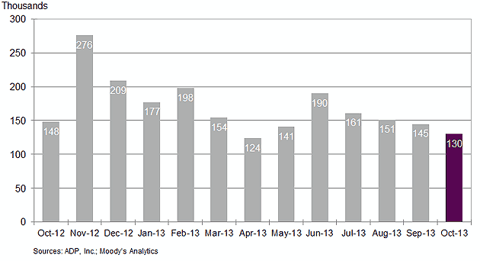 Even though the government shutdown has deprived us of the BLS October jobs report this past week, there has not been much difference between BLS and ADP data.
ADP versus BLS - Monthly Jobs Growth Comparison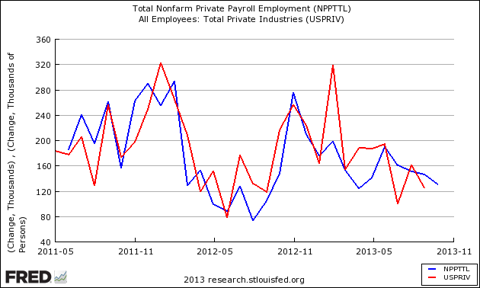 Putting it all together
Econintersect reviews the relationship between the year-over-year growth rate of non-farm private employment and the year-over-year real growth rate of retail sales. The short-term trend is declining. As long as retail sales grow faster than the rate of employment gains (above zero on the below graph) - a recession is not imminent. But we are not far above zero.
Growth Relationship Between Retail Sales and Non-Farm Private Employment - Above zero represents economic expansion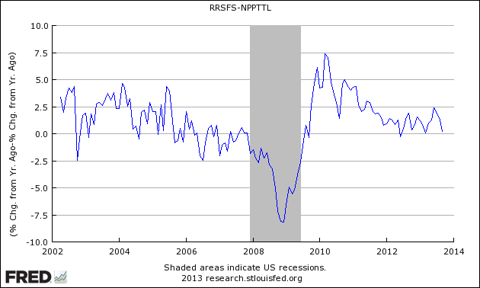 The real question on the table is how effective is QE and ZIRP in this current "economic expansion" in helping private consumption. There is no real evidence that it is helping or hurting. Everything I read is unsubstantiated opinion.
The weakness in the economy is consumer income. Lowering interest rates to zero helped the consumer initially - but four plus years later, it is no longer able to push higher economic growth. At this point, it is depriving the seniors living on CDs of income. QE seems to have no effect on the consumer.
How many think the Fed policies at this point commit the USA to be the next Japan?
My usual weekly economic wrap is in my instablog.
Disclosure: I have no positions in any stocks mentioned, and no plans to initiate any positions within the next 72 hours. I wrote this article myself, and it expresses my own opinions. I am not receiving compensation for it. I have no business relationship with any company whose stock is mentioned in this article.