I wrote an article on Body Central (OTCQB:BODY) about a week ago ahead of the company's Q3 earnings results. My thesis then was essentially that, without the Q3 numbers and with the repeated disappointments of quarters past, it was very difficult to predict when and if the business would turn. I suggested that there were some hints of pending improvements and protection in place if the recovery did not kick in right away. Well, the numbers are out and they're quite frankly horrible- absolutely and completely much worse than I and probably everyone else expected. It is now quite clear that Body Central is fighting for its life... What now?
Sales have been trending down for some time now but in Q3, the numbers got materially worse. Comps dropped (18.3%) YOY in Q3 compared to (13.2%) in Q2, leading to a (10.1%) store sales decline in Q3 compared to (2.1%) in Q2 (despite having 28 more stores in Q3 2013 over Q3 2012!). The direct sales YOY decline actually greatly improved from Q2-Q3 due to massive growth in website sales of about 3x YOY and a decreased impact of reduced catalog distribution compared to Q2. CEO Brian Woolf has stated repeatedly that he wants to make the company a 'true omni-channel retailer' and the company is beginning to show success on that front, but the decline in store sales makes it almost meaningless right now.
Along with the drop off in sales, expenses have shot up. Gross margin declined to a mere 18.3% in Q3 from 27.4%, while SG&A shot up over 40% from 30.5% in Q2.
This all resulted in a net loss of ($15.5mm) in Q3 alone. More importantly, cash from operations dipped into the red, ($13mm) for the quarter and the net cash burn was ($16mm). Ahead of the results and looking at the company's strong balance sheet at Q2 with $39mm cash and investments, decent current ratio, no debt, and undrawn line of credit, I didn't think we'd be talking about 'bankruptcy' and 'cash burn' so soon but at this rate, the company is in the danger zone and could be bankrupt in a year to 18 months.
The financials were just dismal, but worse than that, management didn't suggest things would improve much. That's the real killer- that they don't know. It's really the same story it's been since Woolf took over- the company is doing the best it can to overhaul store layout, fashions, and marketing, but if 'traffic' doesn't improve and if headwinds that are hitting everyone in specialty retail don't reverse, the turnaround won't happen. Thus far these trends have only worsened and it's impossible to determine when they'll improve and if that will be before it's too late for Body Central.
What Now?
I invested heavily into Body Central heading into earnings at $5.60 per share in accordance with my last article. I knew then that it was a very speculative move but that if I was right, I would make a lot of money. I also thought there was downside protection in place if things didn't improve right away. I think it's safe to say I was a little too optimistic then, though I didn't have these horrid numbers in front of me when I was making that decision (my own fault for not waiting). Body Central is no longer a 'speculative investment.' Based on these numbers, BODY is a complete gamble. Therefore, if you don't own shares yet, I would say stay away unless you are financially solvent enough to handle a potential loss of every dollar you invest, and even then only put a small percentage of your overall portfolio in. However if, like me, you do own shares, I don't know that I'd sell here. You probably knew getting yourself into this that it would be very risky. The Q3 release could have indicated the beginnings of a recovery or, well… this. Things are certainly bad but it remains to be seen whether the company will actually go bankrupt. Crazier things have happened in 12 months.
Below are my thoughts on the business and reasons to hold now:
Reason #1- Like most retailers, the holiday quarter is historically Body Central's strongest quarter by far.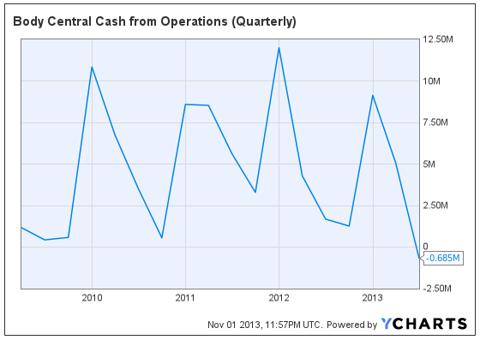 The company typically generates $8-9mm more in Q4 than Q3. BODY's financials haven't been updated in YCharts yet so you can't see Q3 here, but you can see the big jumps in cash from ops from Q3-Q4 historically. Cash from Operations was ($13mm) for Q3 so maybe if things stay as horrible as they are now, the company puts up ($5mm) in Q4. This may not be news for some people but it's worth pointing out, especially for those assuming that the company is now doomed to losing $13+mm per quarter til death do us part. No, that isn't very likely. To further that point, Q3 is also historically the worst quarter, so I really wouldn't extrapolate these numbers over the next few quarters.
Reason #2- In my last article I said that Q3 was probably the sweet spot for when we'd see if new CEO Brian Woolf's leadership and strategic plans were having an impact. He was hired in early February and I'd say ~8 months is a reasonable amount of time to make your changes. While it is incredibly frustrating that the company put up the numbers it did, he's taken on a very difficult situation at a horrible time for all of women's apparel retail and he does have good credentials. I'm willing to give him one more quarter to right the ship. In sports, when a new coach is brought in to turn around a losing team, he's generally given at least 2 or 3 seasons to get the team above .500 before being replaced. It takes time to put changes in place and then it takes more time for those changes to have an impact. BODY is not bankrupt yet and probably won't be for at least another year. I won't give him that long but I think one more quarter is necessary given the circumstances.
Reason #3- These results really don't affect the upside on shares much. If Body Central can execute this turnaround or even just show obvious signs of improvement, shares will undoubtedly trade at 3, 4, maybe even 5 times what they trade at today. A healthy niche retailer, consistent store growth, huge opportunities in e-commerce, large expansion potential before market saturation, a reinvigorated and improving brand, experienced management that executed a turnaround despite strong industry headwinds, and profits of $20-30mm- that's what investors would be looking at coming out of this mess. Upside is tremendous. The reason shares tanked despite this unchanging potential is that the recent results made bankruptcy rather than a turnaround seem a whole lot more likely in the minds of market participants. Part of my initial thesis was that I thought my upside outweighed my downside- something like +400% vs. -100%. That hasn't really changed and despite the odds of a turnaround greatly diminishing, I still tend to think the risk/reward is skewed in my favor. It's difficult to predict, but I'd say the chances of bankruptcy are about 50-60% right now- it really could go either way. So what we have here is a bet (yes it is an absolute gamble) on a company surviving. I've never actually gambled on sports or anything like that but I believe when the line on a game is even (50% chance of either team winning), if you win the bet you get what you bet back +100%, and if you lose, you lose 100%. That's a straight bet. Considering a Body Central 'bet' right now has maybe 40-50% chance of success and a 300-400% return if successful, it does seem attractive despite these unpredictable times and the time the money will be tied up.
Reason #4- There is still some time and the cash-preserving efforts are in the works. Though management did a very poor job of explaining this mess in the call, there were some important cash-saving initiatives discussed.
SG&A savings $5mm annually through workforce reductions already executed. The company is cutting corporate headcount by 11%, aligning store associate hours with traffic, and cutting various other expenses to achieve $5mm annualized SG&A savings. The corporate employees have already been notified.
Distribution center and systems build out completed or delayed. The company has been building out a new distribution center that has taken its toll on cash flows. The center is expected to be completed sometime early next year which will benefit cash flows by at least $5mm annualized from 2013 levels due to reduced capex. The systems build out can be delayed until later on, deferring $3-4mm if necessary.
Halting new store openings in 2014. Every new store the company opens costs the company $105K to build out. The company is opening 3-4 more stores in the fourth quarter but will cease opening new stores if the business doesn't improve in Q4 and cash is still an issue. That should save the company around $3mm compared to 2013.
Store closings. The company plans on closing 12-15 poorly performing stores next year whose leases expire so that there won't be much cost to the closing.
Negotiation to increase line of credit. The cash availability from the current line of credit is factored into the 12 month cash financing estimate but the company is negotiating to have the line increased by the end of this year. It is uncertain if and by how the company will be able to get the line increased, but any little bit counts at this point.
Reason #5- Sentiment is down off the charts right now. No one wants to be caught buying BODY right now. No analyst will recommend it here, institutional investors will move out so they don't have to show it to their clients, and even private equity looking on will probably back off at this point. While there is good reason for all of this, I'd hate to be a panic seller and sell at the point when pessimism is at a peak. Howard Marks has been one of the most influential investment strategists for me in the development of my own strategy and, in my opinion, one of his best lessons and one that I think (and hope) applies here is this:
A hugely profitable investment that doesn't begin with discomfort is usually an oxymoron.
I don't mean to be overly-optimistic which I clearly was in my last article. I am extremely disappointed with these Q3 numbers and the continued direction of the business as well as myself for undermining the risks and thinking the company was financially stronger than this. Body Central is an absolute bet, a dumpster dive, whatever you want to call it- the situation has become dire now and the Q3 numbers embody that. There are tremendous risks investing in the business right now and it is an extremely difficult stock to hold. It's impossible to say with any certainty what will happen from here, but I think the correct move is to hold on based on what little evidence we have.
Disclosure: I am long OTCQB:BODY. I wrote this article myself, and it expresses my own opinions. I am not receiving compensation for it (other than from Seeking Alpha). I have no business relationship with any company whose stock is mentioned in this article.