In an earlier article here I made a case for considering shares of Israeli-based Elbit Systems (NASDAQ:ESLT). Selling for $53 at the time, I recommended investors try and snag the shares at a lower price since they had enjoyed an enviable runup in the few weeks prior. So far that appears to have been a useful recommendation; prices have drifted modestly lower in recent weeks.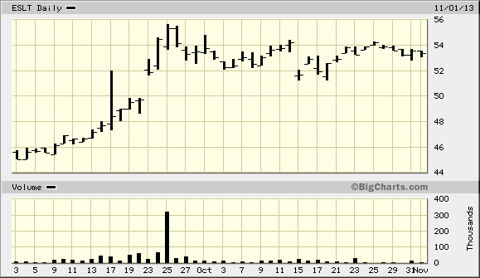 source: www.bigcharts.com
The company is a leading manufacturer of Unarmed Aerial Vehicles (UAVs), commonly known as drones. As such, Elbit can be sensitive to news events surrounding these weapons, which are controversial. But recently, the publicity has been remarkably favorable:
The Pakistani government has recently slashed its estimate of civilian casualty rate from drone strikes from 6% to 3%. This is almost the same rate the CIA has been claiming for years, according to the New York Times.
The Times also recently reported Pakistan is now firmly convinced that a drone strike has killed Taliban leader Hakimullah Mehsud.
In my earlier article I made two other points:
Value Line projects 9% annual revenue growth the next few years. I suggest this is conservative. Why? Does the name Syria ring a bell? Did we want boots on the ground? For the first time since the 1960s, Washington listened when the people said, hell no.
No boots on the ground means missiles and drones in the air. Such advanced weaponry, and the command-and-control systems to wield them effectively, is the core of ESLT. I believe profits will swell far faster than 9% in the next few years.
As a result of the recent news about drones mentioned above, I suggest investors be more aggressive in acquiring these shares. Originally I thought the stock might test the lower bounds of a 16 month trend channel: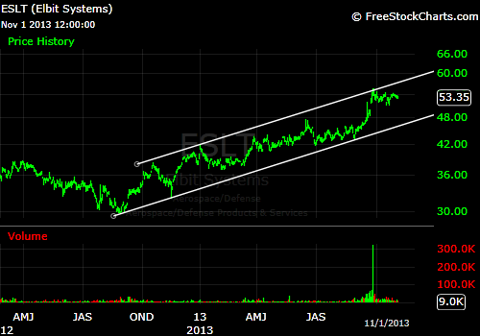 source: www.freestockcharts.com
Now I doubt shares will drop that much onto the bargain counter. I also thought the stock deserved a market PE of 16x trailing earnings: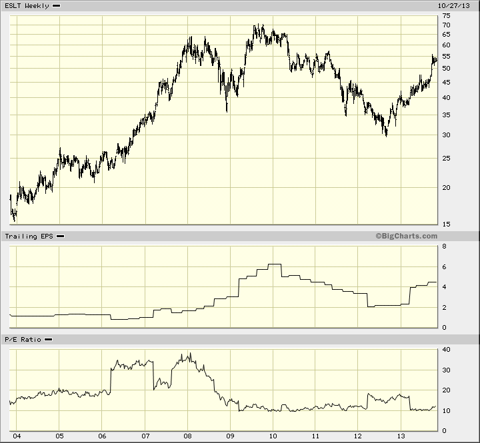 Now I think they can command the 18x-20x they sold for back in the previous decade. Applying an 18x multiple to Value Line's 2013 estimate of $4.60 gives you an end of year price of nearly $83 dollars a share, more than 50% higher than current levels. Price estimates based upon historical cash flow are a bit lower, but the shares still appear deeply undervalued at the moment.
Elbit systems reports earnings for the 3rd quarter of 2013 in mid-November. While buying shares expecting an earnings surprise can be tricky, buyers of this company for the long pull are apt to be richly rewarded. While you wait, the well covered dividend provides a 2.25% current yield.
Disclosure: I am long ESLT. I wrote this article myself, and it expresses my own opinions. I am not receiving compensation for it (other than from Seeking Alpha). I have no business relationship with any company whose stock is mentioned in this article.
Additional disclosure: As important to investors as ESLT's earnings report is their future guidance, which I believe will be revised upward in this months conference call.