INTRODUCTION:
Level 3 Communications (NASDAQ:LVLT) has had quite the run-up since the end of August, gaining approximately 34%. So what's going on?
Our last article we stated:
The overall numbers appear to show LVLT going nowhere, or worse, declining revenues but there is a hidden story if one starts to look under the hood. Over time enterprise growth will stand out as it becomes a bigger part of the overall revenue picture.
LVLT announced third-quarter results on October 30 but the market has been jumping aboard since September. Why? The CNS (Core Network Services revenue) enterprise story is coming to the forefront, i.e., the "hidden story" has surfaced.
Is it too late to climb aboard? We'll update the CNS trends followed by a valuation and look at the debt.
CNS TRENDS:
CNS revenue consists of both Enterprise and Wholesale. The company defines each as follows:
The enterprise channel includes large, multi-national enterprises such as financial services companies, healthcare companies, content providers, and portal and search engine companies. Medium sized enterprises and regional service providers who buy services regionally or locally, as well as government markets, including the U.S. federal government, the systems integrators supporting the U.S. federal government, U.S. state and local governments, academic consortia, and certain academic institutions. The U.K. government channel is also included.

The wholesale channel includes revenue from incumbent and alternative carriers, global carriers, wireless carriers, cable companies, satellite companies, and voice service providers.
Enterprise revenue represents 65% of CNS revenue for Q3 and this percentage will continue to increase given the change in direction and management summarized by Walter Scott, Jr. (Chairman of the Board) in the 2012 annual report and proxy:
Our company is also undergoing a transformation in terms of the type of customers we serve. We have moved from being primarily a wholesale provider to a company focused on serving the day-to-day business needs of enterprise customers… Jeff emerged as the clear and obvious choice to lead the company going forward. He knows the industry, having served as president of several companies over the course of 30 years in telecommunications. He knows the company, having brought to it a discipline and focus on operational excellence and a passion for the customer experience. And he has helped shift the focus of the company to the enterprise market, where we are continuing to take market share.
The following tracks the change in trends from Q2 (trend line in black) to Q3 (trend line in red).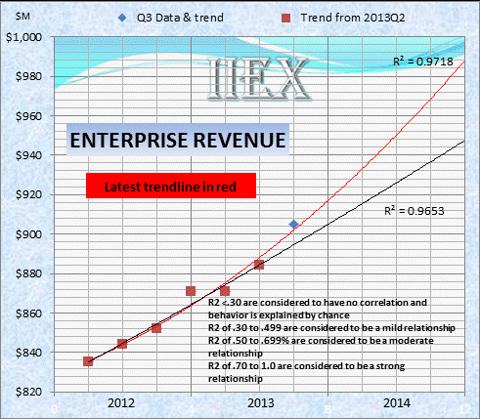 Enterprise grew 6.2% YoY (No adjustments). The segment breakdown is:
7.8% - North America
8.5% - EMEA (Europe, the Middle East and Africa)
-23.8% - UK Government
7.2% YoY from Latin America
While the YoY decline in the UK is large the impact is small because this revenue represents less than 4% of the overall enterprise total.
What's clear is the trend has improved. Recent guidance indicates Q4 will track very close to the red trend line representing a 5.3% YoY increase over 2012-Q4. The full year 2014 over 2013 increase is 7.2%. Guidance includes:
Sequential CNS revenue growth in 2013 to be stronger compared to 2012.
FY2013 low double-digit Adjusted EBITDA percentage growth compared to FY 2012, excluding $40 million of severance charges.
Stronger Q4 sequential growth in Adjusted EBITDA. (from a starting point of $415 million in Q3)
FY2013 - Free Cash Flow positive, excluding interest rate swap payments of approximately $45 million.
Capital expenditures of approximately 12 percent of total revenue for 2013
GAAP interest expense of approximately $665 million and net cash interest expense of approximately $645 million for 2013
2013 Depreciation and Amortization approximately $800 million.
To complete the CNS picture Wholesale is expected to decline. The current trend has not changed but it's reasonable to expect this trend to flatten out over time.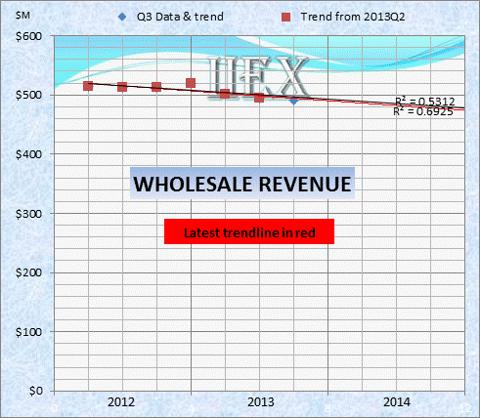 Detailed financial information for both historical and projected data used to develop the above trends can be downloaded in pdf format here.
VALUATION:
LVLT was trading around $30 a share at the time of this writing. Is there still value after the recent run-up? Metrics having a major impact on EPS and FCF (Free Cash Flow) are:
Revenue Growth
Gross Margins
Capital Expenditures
We'll look at these metrics combined with earlier guidance to value the company.
CNS Revenue Growth: Enterprise grew 6.2% YoY in Q3 and will continue to improve. The drag in 2014 will be Wholesale but the effect will diminish over time as it becomes a smaller and smaller slice of the CNS pie. Overall 2014 CNS growth used is 4%.
Other Revenue Growth: The assumption for revenue outside of CNS is a steady decline to zero by the end of 2019 since this low margin category is not a focus for management.
GM (Gross Margin): The recent growth in margins is: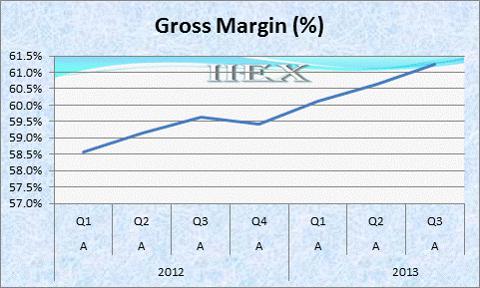 Expect margins to continue to expand. Although not in guidance management has given insight for this metric. Recent comments were made at the Goldman Sachs 22nd Annual Communacopia Conference in September by Sunit Patel - Executive Vice President and Chief Financial Officer:
…for every new dollar of revenue, $0.80 falls for the gross margin line, deduct $0.20 for incremental last year and gives you 60% incremental EBITDA margins.. The facts are our SG&A has been coming down, it's not growing. So obviously we are doing much better than 60%.
They are getting GM of about 80% on new revenue. Also of note is the control of SG&A costs. Overall they will not make 80% GM's but present margins will continue to improve as revenue expands.
Capital expenditures: Management has consistently guided to 12% of revenue so this metric is straight forward.
Using the information in this article yields the following inputs. Fair value (discounted to the present) is approximately $38.

Along with the financial summary: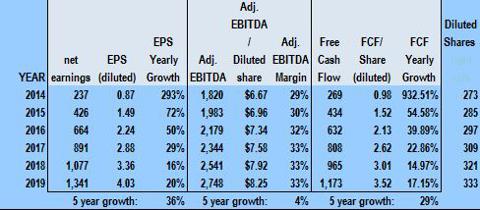 The PE multiple used is ultra-conservative given the 5 year EPS growth rate. The fair value given above represents a discount of approximately 27% at the time of this writing.
The reader can enter their own assumptions and view a much more detailed financial summary and income statement broken down by quarter here.
DEBT:
LVLT carries a large debt load (approximately $8.5 billion) which may raise red flags for investors. The debt schedule after accounting for the recent pricing of senior notes will be:

We added two rows to put things in better perspective. Converted debt is convertible into common stock at prices below the closing stock price at the time of this writing. The FCF is from the financial summary. The debt is not an issue until 2020 given the convertible notes and FCF generation. Debt only becomes an issue if LVLT can no longer refinance and extend the maturity dates which given their ability to seemingly refinance at will makes this highly unlikely.
CONCLUSION:
LVLT, after years of setbacks (a brief history can be found here) is now on track to produce positive FCF and earnings going forward. Small improvements in revenue and margins have substantial positive effects on the bottom line and FCF.
Has the train left the station? Depends on the margin of safety one requires as a discount to fair value. If above 25% then there is still time to climb aboard but this investment is not for the faint of heart. What are some of the risks? The long-term risk is if growth stalls, however the recent trend is positive. A long term track record has yet to be established since the current company transformation is in its nascent stages.
There are short-term threats to cash assuming they are incurred but will not affect long term FCF. LVLT has accrued $275 million for various legal proceedings and other liabilities on the balance sheet. This does not mean cash has been set aside so the amount accrued may have no effect on the balance sheet but will affect cash flows. Accruing these charges tell us there is a reasonable expectation LVLT will incur these costs in the future. The issues are:
Rights-of-Way Litigation
Peruvian Tax Litigation
Employee Severance and Contractor Termination Disputes
Brazilian Tax Claims
LVLT believes that it is reasonably possible that the Brazilian issue could result in a loss of up to $61 million in excess of the accruals established, which if accrued would raise the total to $336m from $275m. These issues are one-time occurrences and will have no effect on longer-term free cash flow if enterprise revenue remains on track.
Another issue is the interest rate swap obligations that will cost the company $45 million; to be incurred over the next one or two quarters.
LVLT will turn profitable in 2014 and will begin to generate substantial amounts of cash over time. After years of financial engineering to stay afloat maybe it's time for Walter Scott, Jr. (Chairman of the Board) to dust off that letter from the 2000 annual report:
We believe more strongly today than ever that we are at the threshold of one of the great opportunities in business...It will take a bit of time, but we believe that the opportunity to create value - over the next several years and beyond - is immense. The opportunity before us is nothing short of extraordinary, and we believe it is ours for the taking. We have the right network, the right products, the financial strength and the right people. We believe we are uniquely positioned to break away.
And reprint the cover: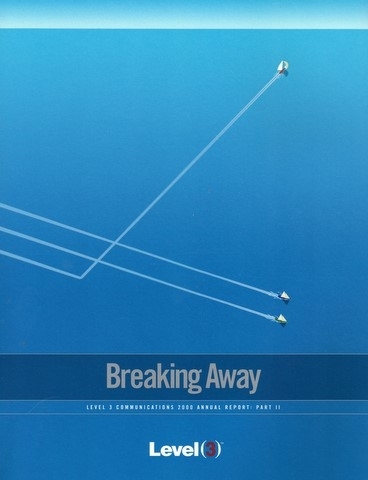 It's long overdue.
Disclosure: I am long LVLT. I wrote this article myself, and it expresses my own opinions. I am not receiving compensation for it (other than from Seeking Alpha). I have no business relationship with any company whose stock is mentioned in this article.