Last week was turning out to be the quietest week in months in terms of COMEX gold inventories, until we had a large registered gold transfer that was reported late on Friday. This transfer took COMEX gold registered stocks to a new all-time low at just above 650,000 total registered gold ounces.
Keeping track of COMEX inventories is something that is recommended for all serious investors who own physical gold and the gold ETFs (GLD, PHYS, and CEF) because any abnormal inventory declines may signify extraordinary events behind the scenes that would ultimately affect the gold price.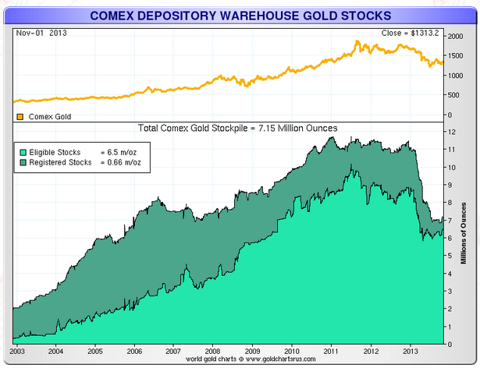 Source: ShareLynx
We will take a closer look at these numbers but let us first explain the COMEX a little more for investors who are unfamiliar with it.
Introduction to COMEX Warehousing
COMEX is an exchange that offers metal warehousing and storage options for its clients. The list of their silver warehouses can be found here and their gold warehouses can be found here. In the case of silver and gold, the metal is stored at these official warehouses on behalf of banks and their clients and can be used to settle futures contracts, transferred between clients, or withdrawn from the warehouse. This offers large holders of precious metals a convenient way to store their metal with minimal storage fees - very convenient indeed if you hold large amounts of gold or silver and you don't want to store them in your basement.
Silver and gold stored in these warehouses can fall into two categories: Eligible and Registered.
Eligible metals are those that conform to the exchange's requirements of size (1000 ounce bars for silver and 100 ounce bars for gold), purity, and refined by an exchange approved refiner. Eligible metals are stored at COMEX warehouses on behalf of banks or private parties, but are not available for delivery for a futures contract.
Registered metals are similar to eligible metals except that these metals are also available for delivery to settle a futures contract. COMEX issues a daily report on gold, silver, copper, platinum, and palladium stocks, which lists all the metal that is currently stored in COMEX warehouses and how much eligible and registered metal is present.
This information allows investors insight into how much metal is currently backing COMEX futures contracts, what large gold and silver owners are doing with their metals, and how many clients are requesting delivery of their metals. There is a lot more to glean from this information but for the purpose of this article we will focus on the gold drawdown.
This Week's Changes: Total Gold Drops Slightly as Registered Gold Plummets
Let us now take a deeper look at the gold draw-downs being seen in the COMEX warehouses.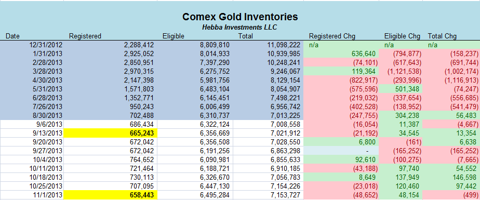 Total COMEX gold stocks only declined by a minute 499 ounces for the week, which was the quietest week we've seen in quite some time. But the week was marked by a large late week transfer of 48,652 gold ounces from registered gold inventory (deliverable) to eligible gold inventory (non-deliverable). This took total COMEX registered gold stocks to a new all-time low, falling past the previous low of 665,243 ounces seen in early September.
COMEX Gold Open Interest and Registered Gold Owners per Ounce
Finally, let us take a look at possibly the most important number when it comes to COMEX gold inventories - the registered gold cover ratio. We've discussed this in-depth in a previous article so please refer to that article for details, but in a nutshell it is the amount of investors owning a claim to each registered gold ounce (i.e. owner per registered gold ounce).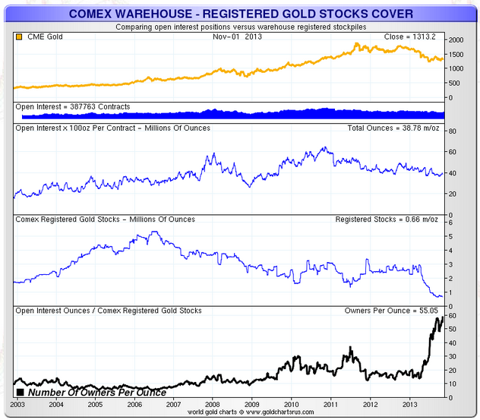 Source: ShareLynx
As investors can see, after declining a bit, owners-per-registered ounce advanced to 55 owners-per-registered ounce - which leaves us near historic record highs. In fact, before this year we've never seen above 40 owners-per-registered ounce - even during the spike in gold in 2011.
What does this Mean for Gold Investors
As we've said previously, the COMEX registered gold inventory situation is showing anything but a glut of gold - which is what you would expect if gold were available and easy to obtain. The fact that registered COMEX gold inventories have hit a new all-time low, suggests that there may be a bit of a shortage of gold rather than a glut of it. All of that gold that Western ETF investors have been selling is not creating much of a supply shock in the market, at least when measured by COMEX inventories - it's all going somewhere and doesn't seem like it's available anymore to Western investors at these prices.
Additionally, we're seeing more and more owners per registered ounce in terms of the COMEX paper trading - if a mere 2% of outstanding contracts were held until delivery, there simply wouldn't be enough gold to cover it at current registered gold levels.
All of these factors continue to strengthen our belief that our bullish stance on gold is the correct one. Therefore, we recommend investors continue to accumulate physical gold and the gold ETFs (GLD, PHYS, CEF) while the physical gold supply continues to drop. For investors looking for higher leverage to the gold price, they may want to consider miners such as Goldcorp (NYSE:GG), Agnico-Eagle (NYSE:AEM), Randgold (NYSE:GOLD), or even some of the explorers and silver miners such as First Majestic (NYSE:AG). Finally, investors who own shares in some of the market ETFs (like SPDR S&P 500 (NYSEARCA:SPY), PowerShares QQQ (NASDAQ:QQQ), and SPDR Dow Jones Industrial Average (NYSEARCA:DIA)) may want to consider buying gold as a hedge for these positions because the fundamentals are still very strong for gold.
Investors should remember that bottoms are made when fundamentals are strong but sentiment is very weak. As more and more COMEX traders trade contracts on less and less deliverable gold, the situation is ripe for a drastic reset of the gold price at much higher levels. This could come as a major financial or political event that changes the psychology of investors, or simply as a gradual drain of gold reserves to levels where some traders realize that there isn't enough gold to backstop gold contracts.
Regardless of the catalyst, gold levels are dropping to extremely low levels and if Western investor psychology changes, there isn't enough gold around support a major increase in new investment. The best approach here is for investors to continue to accumulate gold, wait, and watch as the psychology changes - it seems the pressure is building for a large move to the upside.
Disclosure: I am long SGOL, GG, SIVR, GOLD, AG. I wrote this article myself, and it expresses my own opinions. I am not receiving compensation for it (other than from Seeking Alpha). I have no business relationship with any company whose stock is mentioned in this article.