On 24 October 2013, T Boone Pickens predicted that oil prices would be $10 higher in 12 months' time, taking West Texas Intermediate (WTI) from $97 to $107 and Brent from $107 to $117.
"You now have 2.5 million barrels a day offline. That is high, and you have it from about 5 different sources"
...said Pickens citing Iraq, Libya, Sudan and Brazil. The fifth offline supplier, not named by Pickens, was Nigeria.
The 2.5 million barrels a day outages mentioned by Pickens (some reports have it above 3 million b/d) are shown on the following pictorial representation: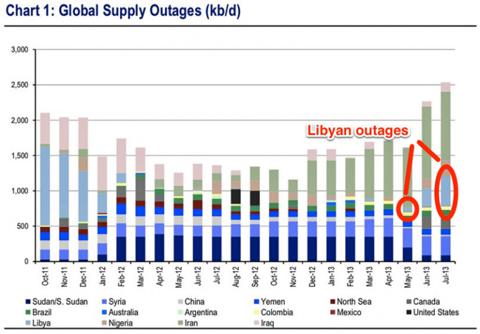 To help with readability, Libya is highlighted. Immediately above Libya is Nigeria, then Iran and finally Iraq on top. This group together makes up most of the total with 1.75 million barrels per day.
Total outages have gone from 1.2 million b/d in November 2012 to 2.5 million recently. During this same period, we've seen WTI trough at $85 in November, then peak at $110 in August 2013 and now it has slipped back to under $97. In the face of outages holding at the 2.5 million level, it's been very telling that WTI has recently been falling. This suggests that if new supplies hit the market - like Libya, or Iran, or new producers such as Kazakhstan, or more shale oil production - that the oil price could experience significant downward pressure.
During 2013, there has been one particularly large compensating factor for the Libya and Iran shortfalls; the impressive growth is U.S. shale oil production. The following chart, from EOG Resources (NYSE:EOG), indicates that total U.S. shale oil production in early 2013 approached ~2 million barrels a day.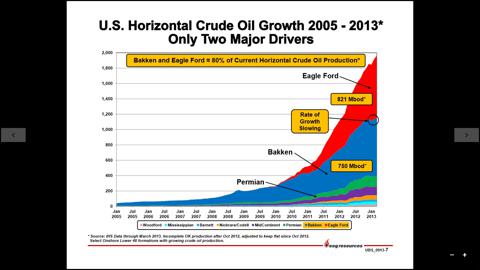 As can be seen from the EOG slide, the earliest major shale oil play was the Bakken and there is already some talk that production growth may be slowing. On closer inspection, the ongoing major improvements in well space downsizing and in well completion techniques make it clear that many more years of strong Bakken growth lie ahead. This is indicated with more detail on this chart from Goldman Sachs - it shows Bakken oil output increasing from about 900 B/d currently to 2 million b/d sometime after 2020.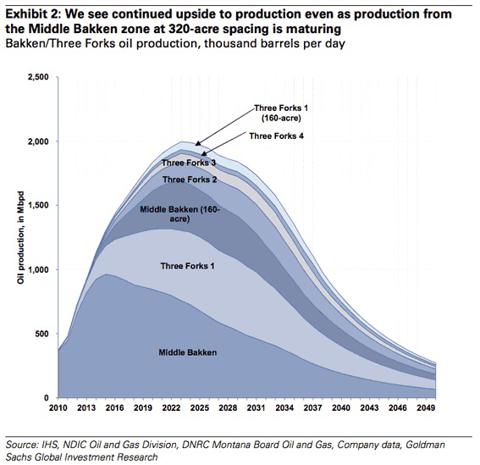 So where does this put total U.S. shale oil production right now and what will the output be during 2014 and 2015?
Working off the EOG presentation, we can see that production during 2010 went from 300 b/day to 500 b/day, this being growth of 67%. During 2011, production then grew 135% to 1.15 million b/d. And during 2012, production grew 60% more to 1.85 million b/d. Based on reports coming in from the field - Bakken, EagleFord, Niobrara and especially the Permian basin - it would be surprising if 2013 growth wasn't at least 40%, equating to 2013 year-end production of 2.6 million b/day. Dropping the growth rate down to 35% for 2014 would amount to an exit rate next year of 3.5 million b/d. That's a lot of new oil, even by global standards.
U.S. Energy Information Administration (EIA)
The EIA's International Energy Outlook 2013 report dated July 25, 2013 predicted, in its reference case, that global oil prices would soften over the coming 2-3 years, then edge back towards $106 by 2020. That reference case was built on a non-OECD GDP growth assumption of 4.7% per year. Their base case, using a lower GDP growth assumption, has oil going to about $70 in the next year or two before climbing very slightly over the following years to $75 long term.
The Shale Oil Boom: A U.S. Phenomenon
This report was published by Leonardo Maugeri of the Harvard Kennedy School, Belfer Center in June 2013. It's a top drawer report and is compelling reading. The report says that total U.S. shale oil production may reach 5 million b/d by 2017 and it uses WTI oil price assumptions of $80 in 2014, $75 in 2016 and $65 in the long term. At these prices, U.S. shale oil production would still be profitable.
Futures market
WTI futures pricing on Nymex shows 2014 pricing at the mid to low $90s, dropping to the high $80s in 2015 then softening towards $80 over the next subsequent 4-5 years. As a predictor of oil prices in years to come, the futures market is pointing to an oil price significantly below today's levels.
Oil long-term characteristics
Oil's supply-demand profile is famously inelastic; short supply leading to sky-high pricing and surplus supply causing prices to plunge. During the 20th century, the outbreak of WW1 caused a severe shortage with a sharp price spike. By 1931, the combination of the Depression and a number of new oilfield discoveries brought a huge glut and plummeting prices. Again towards the end of WW2, there was a widespread fear that the world was running out of oil and this was accompanied by rocketing prices. This was alleviated by the super-giant oilfield discoveries in the Middle East and afterwards cheap oil flowed through the 1960s. The October 1973 Arab-Israeli conflict and oil embargo caused another global supply and price shock. After a few years of modest respite, the oil price then doubled from 1978 to 1981 as a result of the Iranian revolution. New discoveries such as the North Sea, Gulf of Mexico and Alaska's North Slope caused another glut with prices falling to $10 in 1986. Finally, we've all seen and sharply recall the mega-spike to $147 in 2008 caused by strong Asian growth whilst sources of cheap oil dried up.
History is again repeating in that the 2008 oil price spike is being followed by major investment in new sources - shale, ultra-deep water etc - and there is some demand destruction too. It remains to be seen how far this price-swing trend will play out on this occasion.
Saudi Arabia and OPEC have time after time been unable to stem the impetus of the supply/demand cycle except for short periods. The media often reports that countries including Saudi Arabia, the OPEC swing producer, need to maintain high oil prices for national budgetary and social program reasons. Saudi Arabia was unable to maintain high oil prices for these same reasons during the 1980s. It will be interesting to see if the country can do so this time around. Because of past failures and because the laws of supply and demand are difficult to defy, I remain skeptical. Besides, Saudi Arabia is a country with rich reserves and there is nothing to say it cannot function with periodic budgetary deficits.
As a saving backdrop, it seems clear that sources of new cheap oil are mostly exhausted. However, the law specifying that the oil price overshoots on the upside and on the downside hasn't been repealed.
A valid argument would suggest that the oil price shouldn't go below the fully-loaded cost of production from new discoveries, say $70 or more. But, as occurred with U.S. natural gas prices that bottomed in 2012 at about $2.00 per MMBtu, which was significantly below the fully-loaded cost of production for some companies, there is a real possibility that the oil price may also experience an oversized plunge when weakness kicks in. How low prices may go is an open question. A supporting factor is that a really low oil price would cause a slowdown in further shale oil drilling which of itself would lead to a cut-back in oil production via the steep depletion curve. Thus a severe oil price drop would be relatively short-lived.
Geopolitical risk
The geopolitical risk premium in the oil price bubbles up during periods when global oil supply/demand is tight. It is of much less importance during periods when supplies are plentiful. For the time being, the oil price will continue to be occasionally spooked by some or other geopolitical event. However, with more supplies coming online in the next couple of years, the risk premium will be diminished and oil price spikes are likely to be short-lived and represent opportunities for producers to lock in new hedges at relatively good pricing.
Investing in Commodities
The Federal Reserve Open Market Committee (FOMC) is expected to commence reducing the monthly $85 billion stimulus program in early 2014. Gradually during 2014 and into 2015, interest rates are anticipated to move up. Investing in commodities, including precious metals and oil, has been a growing trend during the life of the near-zero interest rate period we've had since entering the great recession in 2008. The volumes of oil in contracts traded on Nymex far exceed U.S. oil production/consumption volumes and this is cited as evidence of oil being used as an investment, or speculative, vehicle. Given the minimal carrying costs, this situation is understandable. However, in a higher interest rate environment, investment money is likely to seep out of commodities because the relative attractiveness is diminished by the increased carrying costs.
Summary
Whilst accepting that global economic growth should improve in the next year or two, but not dramatically, and that this would help support oil demand and prices, I'm finding it hard to understand the rationale of T Boone Pickens' forecast that the oil price will be $10 higher in a year's time. In fact I firmly believe that the complete opposite will happen - that oil prices will be at least $10 lower in a year's time. And, because of the long established tendency of oil to overshoot, I believe the price slippage over the next year or so can easily be a lot greater than $10.
In a recent Seeking Alpha article titled "Every Investor Should Own Shale Oil Stocks" I emphasized that (A) shale oil companies with 50%+ IRRs should continue to make good profits and experience lively growth even with an effective oil price of $66 and that (B) there are significant risks associated with investing in low IRR companies in a weak oil price environment.
I remain committed to investing in US shale oil, the sector often represents the biggest part of my portfolio, but, as highlighted in that recent article, that investment commitment strictly applies to companies with operations that have IRRs of 50% or more at current WTI pricing. Companies with IRRs below 50% are being completely avoided.
The S&P 500, currently at 1,756, is overbought compared to historic valuation metrics. It now trades on a 12-month trailing P/E ratio of 18.3 versus the long-term norm of 15, a meaningful 22% premium. Rising interest rates are a headwind for stock markets and during 2014 that's what we face. A looming double whammy is on the horizon - softening stock markets plus a lower oil price. This means one thing for investors in highly priced oil stocks, especially stocks of marginal producers - it's time to be extremely careful out there.
Additional reading: For long-term perspectives on the global oil business, read the incomparable works of Daniel Yergin, The Prize, and The Quest.
Disclosure: I have no positions in any stocks mentioned, and no plans to initiate any positions within the next 72 hours. I wrote this article myself, and it expresses my own opinions. I am not receiving compensation for it (other than from Seeking Alpha). I have no business relationship with any company whose stock is mentioned in this article.