Cisco (NASDAQ:CSCO) is cheap, and it is increasingly pushing into what it calls the Internet of Everything, or IoE, which it predicts could be worth $14.4 trillion by 2022. The company is also diving into the more specialized fields of the IoE, by focusing specifically on the Internet of Things and collaborating with partners like General Electric (NYSE:GE) to help it fulfill its vision of an Industrial Internet.
An Internet-connected world
With the recent launch of its Internet of Things division, Cisco is making it clear that it wants standardized networks to connect data, machines, and people. Why? Maybe because according to Gartner, the IoT will generate around an extra $2 trillion for our economy by 2020. Gartner also estimates that by this time, 30 million devices will be connected.
Cisco's IoT division will be led by Guido Jouret, who explained that "The Internet of things is a complex landscape and we saw there wasn't a concerted effort to simplify it... There is a need to bring together technology companies, integrators and industry to accelerate adoption."
Jouret and Cisco are continuing to develop networking gear that combines things like switching and routing, networking, security and embedded networks so that they can be customized for sectors that can be made more efficient by the IoT and the use of 'Big data' generated from smart devices, equipment, and appliances. Sectors the company thinks will benefit include mining, oil and gas, and especially manufacturing. Jouret indicated that only around 4% of devices on the average factory floor are currently connected, so the potential for tons of growth connecting them is there.
The new business unit is expected to generate high margins, as it develops and sells software embedded in specialized hardware. The use of partnerships to help develop products specially catered to individual sectors, and possibly even companies, has also popped up.
The king of industrials
General Electric is looking to create an "Industrial Internet." GE is working with Cisco, who is one of the main players in developing new technologies and products for the IoT. Sensors attached and integrated with industrial equipment and the Internet will be able to collect and share analytical data over the cloud.
In regards to this new endeavor, CEO Jeffrey Immelt said that:
"our greatest challenge and opportunity is to manage and analyze this data in a highly secure way to deliver better outcomes for customers and society. We are developing more predictive solutions and equipping our products with sensors that constantly measure performance so our customers see major productivity gains and minimize no unplanned downtime. Observing, predicting and changing this performance is how the Industrial Internet will help airlines, railroads and power plants operate at peak efficiency."
Machine-to-machine (M2M) communications will not only improve efficiency, but will also allow for things such as remote Maintenance.
The connected-car
Tesla (NASDAQ:TSLA) is already taking advantage of the "remote maintenance" concept. Utilizing AT&T's (NYSE:T) network, Tesla's vehicles will have much more than just "infotainment" features, but will also offer services such as remote engine diagnostics and two-way vehicle communications.
It's not just Tesla either, as research firm GSMA predicts that 35 million cars will be sold with embedded mobile connectivity by 2018, which roughly equals a $50 billion market. Of course hackers will want their piece of the pie with anything that involves the Internet, so the increase in "hotspots on wheels" is something that could be very lucrative for them. Cisco, however, sees this security threat of the future right here, right now.
Cisco thinks that treating a car like an "enterprise". In other words each vehicle should have security and access permissions just like a self-contained network in an individual enterprise. The company is partnering with Continental, maker of auto parts, to help secure the connected car of the future. The connected-car is yet again another growth market with huge potential going forward that Cisco is dipping into early.
What is Industry and automobiles without the city?
As of July, Cisco and competitor International Business Machines (NYSE:IBM) were the top two Smart City Technology Vendors, according to Navigant Research. The firm also forecasted that smart city technology markets will grow from $6.1 billion in annual revenue in 2012 to $20.2 billion by 2020 globally.
Cisco, like its early forays into the Industrial Internet and the connected-car, got in early on the "smart city". Its first partnerships included cities such as San Francisco, Barcelona, Amsterdam and Songdo. Cisco has also partnered with companies in the past for city-smartening projects. For instance, the company partnered with GE to roll out "smart meters" in Miami to improve the city's smart grid back in 2009.
IBM has its Smarter Planet division, which encompasses its Smarter Cities projects. Public agencies that use Big Blue's platform include those from San Francisco, Boston, Toronto, and Hono­lulu. IBM sees great growth in this division, projecting Smarter Planet's overall revenue hitting $10 billion by 2015. IBM is helping cities with things such as water efficiency analytics, infrastructure planning, public transportation, and even crime fighting.
The "smart city" is expanding and is a lucrative source of future growth, and IBM and Cisco are the current leaders. I'd imagine that once established in a particular city, the barriers of entry would also be high for new competitors, which is good for IBM and Cisco.
Valuations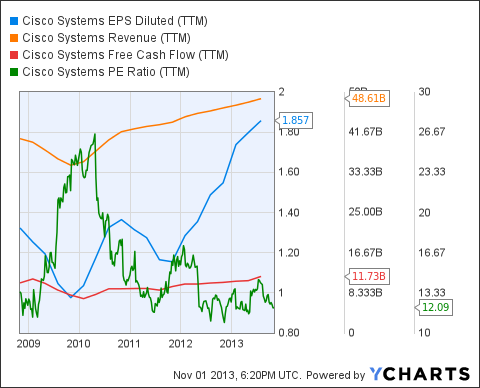 TTM) Chart">
CSCO EPS Diluted (TTM) data by YCharts
With everything you'd like to see trend upwards trending upwards-- earnings, revenues, free cash flow-- Cisco's share price hasn't caught up yet. Shares offer a lot of "bang for your buck" right now, especially if you factor in the company's extremely strong balance sheet.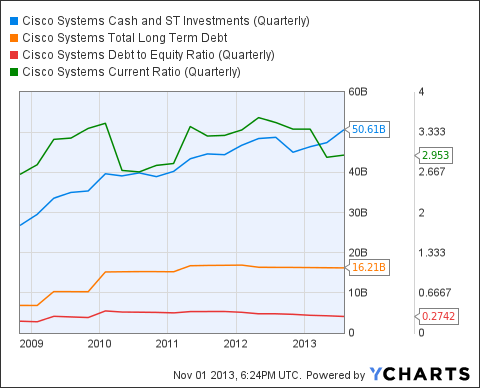 CSCO Cash and ST Investments (Quarterly) data by YCharts
The case for Cisco becomes even more compelling when you realize that it has finally decided to become a little more shareholder friendly with not only buybacks, but also a generously increasing dividend-- protected by the strong balance sheet and supported by a low payout ratio.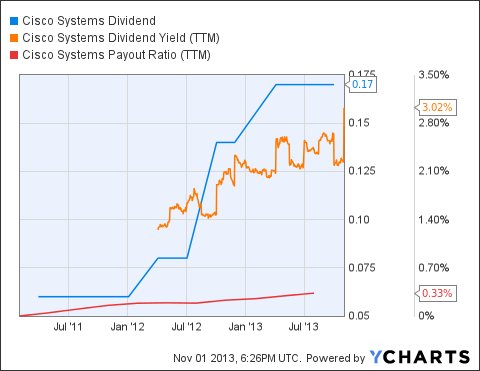 CSCO Dividend data by YCharts
The bottom line
Cisco is priced as a value play now, but will it always be? It's of my opinion that the IoE will bring good growth going forward for the company, as well as an opportunity to continue to produce and sell higher margin products and services. The company's balance sheet is strong and its 3% dividend yield is not only an income generator, but also a great starting yield for someone who is looking for continual annual increases going forward. With earnings and free cash flow trending upwards, the company is more than capable of transforming into a dividend growth star, especially when considering its low payout ratio. Capital appreciation would be an added bonus-- and possibly a big one over the next few years.
Disclosure: I am long CSCO, GE, T, IBM. I wrote this article myself, and it expresses my own opinions. I am not receiving compensation for it (other than from Seeking Alpha). I have no business relationship with any company whose stock is mentioned in this article.