The last time I published an article about salesforce.com (NYSE:CRM), I was forecasting a 30% share price increase. At its recent peak, salesforce.com increased about 28.5% since that time; currently the share price is up over 20% since that time. Twenty plus percent in two months is not a bad return. But now it is time to revisit salesforce.com and see what I should think about this company.
To be clear, I discovered some positives and some negatives, and the negatives outweigh the positives. The ExactTarget acquisition made goodwill larger than shareholders' equity; consequently, I think the write down risk is substantial. Also, I have concerns about a privacy backlash stemming from intrusive marketeers gathering information from social media websites, which could adversely impact the company's results of operations. Those are the negatives.
To expand on the privacy concerns statement, salesforce.com, according to its management team, plans to empower its customers with the ability to use people's social media posts to find out what is going on in their life and consequently be able to market products based on the social media disclosures. For instance, if I post on Facebook about my dog being ill, I would be targeted with dog wellness products. Personally I think there are too many instances where this type of marketing would cross lines that should not be crossed, privacy wise.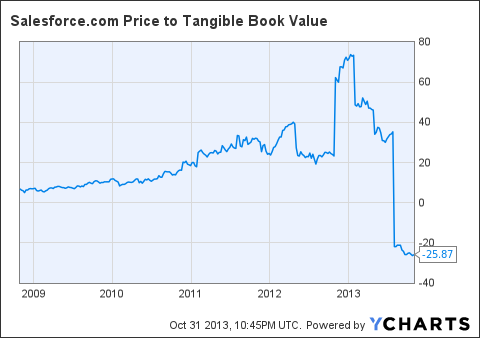 CRM Price to Tangible Book Value data by YCharts
On the other hand, the growth rate is above 20% and the company has strategic partnerships with several technology firms, including but not limited to Oracle Corporation (NYSE:ORCL) and Workday (NYSE:WDAY).
With that said, the write down risk is too substantial for me to risk long capital. But I would not short sell salesforce.com right now.
Recent Developments
Salesforce.com launched Salesforce Private AppExchange, enabling companies to deliver a one-stop shop for every app across their enterprise.
Marc Benioff is one of the highest-paid CEOs, according to Marketwatch.

Workday and saleforce.com announced plans to integrate the entire Salesforce and Workday product lines. I like this move from a long-term perspective as it integrates some of the best cloud-based sales, finance, and HR offerings in the market.
Financial Statements & Valuations
Salesforce.com has shown solid revenue growth with a gross margin over 75%.
Excluding the impact of the ExactTarget acquisition, revenue would have grown 5.4% sequentially in the quarter ending July 2013 and 28.6% over the year-ago quarter.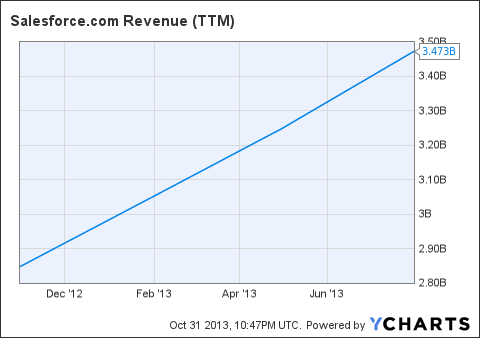 CRM Revenue (TTM) data by YCharts
Including the ExactTarget acquisition, fiscal second quarter revenue was at the midpoint of my forecast.
As a result, I'm maintaining my fiscal 2014 revenue forecast of $3.87-$4.12 billion, which is roughly inline with management's expectations.
For fiscal 2015, I am predicting revenue of $4.8 billion, which is 20% higher than $4 billion; I'm expecting the growth rate to slow in fiscal 2015.
I would like to see deferred revenue at the end of fiscal 2014 above $2.1 billion. At the end of fiscal 2015, I would like to see deferred revenue above $2.42 billion.
The cash flow from operations growth rate since the end of fiscal 2009 has been impressive and inline with revenue and industry growth.
On the other hand, management employed financial leverage while making strategic acquisitions and consequently leveraged the write down risk. I'm not impressed. The cash balance needs to grow to over $2 billion and/or total debt needs to decline.
I refuse to consider taking a long position in salesforce.com while the write down risk remains significant.
At the end of the July quarter, goodwill was 24% larger than total shareholders' equity.
If I adjust the valuations for forecasted financial performance, salesforce.com is undervalued relative to its 5-year average valuations. On an absolute basis, salesforce.com is overvalued. On a time-series basis, salesforce.com is overvalued. Consequently, salesforce.com is overvalued.
Portfolio Management
At this point, I know that salesforce.com is not a good long candidate. But following up on my previous thought of it being a long candidate, I will do some of the portfolio management work.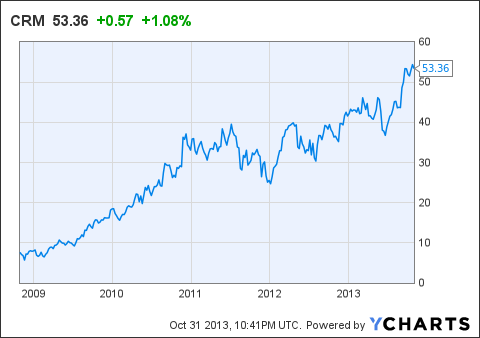 CRM data by YCharts
Salesforce.com is in a bull market of intermediate degree as part of a bull market of primary degree. The intermediate term bull market could be nearing an end; as a result, this is a solid point to exit long positions.
Disclosure: I have no positions in any stocks mentioned, and no plans to initiate any positions within the next 72 hours. I wrote this article myself, and it expresses my own opinions. I am not receiving compensation for it (other than from Seeking Alpha). I have no business relationship with any company whose stock is mentioned in this article.