Equity Futures: Dow +36.00. S&P +4.50. NASDAQ +8.25. Japanese Nikkei +10.00. German Dax +13.00.

European Trade: European markets moved into the green following the recent Bank Holidays. The major regional European indexes advanced approximately 0.50%, to reach the highest value in more than a year.

Since the European session opened, the DJ STOXX 50 index gained 0.50%, Luxembourg's LUXX index rose 1.10%, while the German Dax index advanced 0.65%. For the first time in a long period, the emerging European markets posted comparable gains with the mature Western European indices. The most notable of moves came from Greece's ASE index, which gained 1.00%.

Earlier in the day, the Asian stock markets closed broadly higher, helped by strong Chinese GDP estimates. The gains seen during the Asian session were led by the basic materials companies, the same sector that helped European stocks advance around the opening bell.

Throughout the overnight session S&P futures gained approximately 0.5%, to reach the highest value in 15 months. From the beginning of the current year S&P futures have advanced 26%, and from the low set in March, the futures index has advanced 55%, making the current uptrend one of the strongest on record.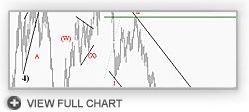 S&P Technical View: TheLFB Member Charts
4 Hour Chart Flows: Mixed Price Points: 1125, and 1135 Looking for: An ending diagonal (reversal pattern)

Momentum: The S&P futures market confirmed a Long momentum read on Nov 11th and built a solid near-term support base around 1095. The 1125 area will be a major resistance point to battle this week. The moves to test and hold support are impressive, and are backed with global equity markets that are also looking bullish.

Elliott Wave: S&P futures are looking bullish with prices that are trading above the early December highs, and our alternative wave count has now become our primary wave count.

We are looking for a complex wave 5) leg, as it seems that the market is forming a (W)-(X)-(Y) pattern in larger wave 5), with wave c of wave (Y) in progress at the moment. The target of this final bullish wave is shown at the 1125 region, followed by a second target at the 1135 zone, where a potential top may be hit.

Sector Moves: The vast majority of gains came from the basic materials sector, which added 1.20% in European trade. Gains were also seen in banks and carmakers, which moved 0.50% on average.

Even though the European and the Asian cash markets are holding in the green, there were some declines within some sectors. Food & beverages, health care and travel & leisure companies posted some small declines, of less than 0.15%.

The healthcare sector was driven lower by Roche (OTCQX:RHHBY), which is suing a rival company in order to stop its sales in the U.S., and by Merck (NYSE:MRK), after its CEO said that the company is looking for new acquisitions. Roche lost 0.9%, while Merck declined 0.3%.

Upcoming Economic Moves: Clear

Crude oil was recently trading at $78.25 per barrel, higher by $0.25

Gold was recently trading higher by $6.40 to $1111.20.

Disclosure: No position