What terms drove the greatest query volume spike? Did the holiday season affect consumer search terms? Let's take a look at some of the fastest growing terms since this time last year to get a better idea of the trend in consumer search interest.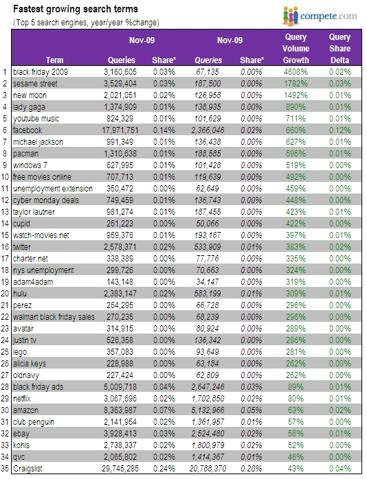 Findings:
Social networking sites show no sign of slowing down. Facebook and Twitter continue to outpace last year's counts.
Personals sites continue to gain steam. In particular, cupid and adam4adam have greatly increased their search share.
In entertainment, Sesame Street turns 40! Happy Birthday! New Moon opened Nov.20th, continuing its chart domination (Taylor Lautner is also on the charts). Will the Twilight related search terms be less popular in December or will search terms for the third installment make it onto the movers list? Lady Gaga announced her North American Tour in November and Alicia Keys released her fourth album (The Element of Freedom) on December 15, 2009 resulting in large search increases for both of them. Michael Jackson, Avatar (released Dec. 18th), and Perez (Hilton) round out the entertainment category.
On November 30, 2009, Charter Communications had its bankruptcy plan approved, which extinguished its stock and cut approximately $8 billion in debt. This caused an increase in search traffic of 335% over last year.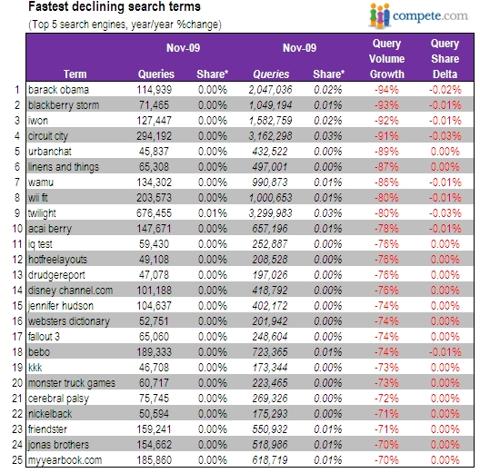 Findings:
Many of the top terms in decline are terms or trends we have seen over the last few months. All of the top 5 were discussed last month and continue on their decline.
Linens and things (Private:LIN) was a very popular search term last November after the company began liquidating its remaining stores in October 2008.
Acai berries were promoted as a cure/natural remedy for numerous ailments and were said to help with weight loss, libido, digestion, energy, sleep, etc. Almost all of the claims were scientifically unfounded and were used (in many cases) to lure consumers into continued billing and other scams.
Generic Twilight related terms are on the decline as searchers focus on the title of the new film and the names of specific actors. Other entertainment declines include the Disney Channel, Jennifer Hudson, Nickelback and the Jonas Brothers.
Fallout 3 is a strongly reviewed video game that was released in North America on October 28, 2008.
Drudge Report is a conservative news aggregation website that is run by Matt Drudge and links to national and international stories on numerous other websites.
Social networking sites MyYearBook and Friendster both appear to be on their way out as both of their search traffic has decreased by over 70% in the last year.
The biggest story of the month…. Shopping! With the Holidays arriving swiftly, shopping terms (Lego, Old Navy, Amazon (NASDAQ:AMZN), Kohls (NYSE:KSS)) are at an all time high. Many of the terms, while still shopping oriented, are focused on financial conscientiousness (black Friday 2009, cyber Monday deals, WalMart black Friday, black Friday ads, eBay (NASDAQ:EBAY), QVC, Craigslist – the biggest grower in number of searches – 9 million).
Speaking of frugality, multiple terms (unemployment extension, Charter.net, nys unemployment) still reflect the continued tightened state of the US economy. The term "unemployment extension" is, perhaps, most telling as it demonstrates that jobs are still hard to find more than a year after economic downturn.
Can you predict which topics will be hot search terms next month and do you remember what the major news flashes were last December? Now that black Friday is over, what shopping terms will increase as Christmas fast approaches? Will a new film or mania sweep the entertainment category now that New Moon has been released? Check back in next month for more insights.