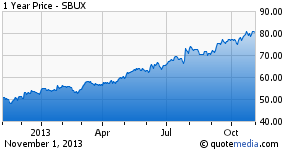 As consumers become more health conscious day by day, they are preferring beverages such as juice, tea, and coffee over soda and other carbonated drinks. In order to capitalize on this opportunity along with the juice giants, coffee giant Starbucks (SBUX) is making efforts and gearing up to add healthier drinks to its menu. It is expanding its portfolio beyond coffee by introducing juices and entering the tea industry.
A game changing event in beverage industry
Starbucks recently opened its first tea bar, a Teavana Fine Teas + Tea Bar, in New York City. Starbucks acquired Teavana, a specialty tea retailer in the U.S., last year and plans to add tea bars in the existing 300 Teavana stores. The company plans to introduce a wider range of tea drinks ranging from $3 to $15 along with food items such as sweets, flatbreads, and salads.
Starbucks is betting on the second most consumed beverage after water, tea. The global tea market is worth $90 billion. More than 50% of American residents drink tea on a daily basis. While American residents still prefer and consume more coffee than to tea, their taste for tea is slowly growing. According to data from Tea Association USA, the total sales for the tea industry have increased by 16% over the past five years. Starbucks plans to open around 1,000 Teavana tea bars in North America in the next five to ten years. The company plans to open its second tea bar in Seattle in late November. The acquisition of this specialty tea retailer should help Starbucks successfully establish itself in the tea industry.
Ample room for growth in the Chinese market
Starbucks is diversifying its U.S. portfolio by expanding beyond coffee. The company already serves Starbucks brand tea in China. Assuming Starbucks expands its tea bars in China, the company is likely to benefit since drinking tea has been an ancient tradition for Chinese residents. Starbucks is slowly gaining popularity in the predominantly tea-drinking culture of the Chinese market. Respecting the tea culture of China, the company launched a wide range of Starbucks branded tea in 2010. Starbucks foresees China to become its second largest market over the next few years. Starbucks coffee is famous among the younger generation and affluent customers in China, due to its quality and brand reputation. Starbucks has potential to target the rest of the population that is still inclined towards consumption of tea. According to Euromontior, tea holds 54% of the country's hot-drink market. This gives Starbucks ample room for growth in China. In fiscal year 2012, net revenue from the company's operations in China grew around 31%. If Starbucks expands its tea bar in China, we expect this growth in net sales to increase in the coming years.
Entry into Juice market
Recently, Starbucks subsidiary Evolution Fresh entered a partnership with Whole Foods Market (WFM). Starbucks entered the juice industry by acquiring Evolution Fresh in 2011 in order to expand its juice business nationwide. Under this partnership, Starbucks will sell Evolution Fresh juice and Evolution Harvest snack bars in Whole Foods Market stores. This will be a big opportunity for Starbucks to make its mark and gain recognition in the evolving health conscious and organic consumer market. This will also enhance Starbucks' distribution channel; through Whole Foods Market, it can introduce its Evolution Fresh beverages in more than 8,000 U.S. cafes and grocery retailers. The Evolution Fresh juices range from $2.99 to $6.99. The venture with Whole Foods will help Starbucks expand its Evolution Fresh products in more than 12,000 Starbucks stores in the U.S. in the coming years.
In terms of technology, Evolution Fresh uses high-pressure processed, or HPP, technology, a cold pressure process, instead of the traditional heat pasteurization process. Without adding any preservative, HPP technology lengthens the beverages' shelf life and retains the vitamins and nutrient in the juice. This makes Evolution Fresh distinct and superior from PepsiCo's (PEP) Tropicana and Ocean Spray, as they use the traditional heating process. Tropicana uses a flash pasteurization process, which is also called as high-temperature short time, or HTST, processing. By using this process, the juices are exposed to heat before filling into the bottles in order to kill microorganisms and maintain its flavor to make the product safer and extend its shelf life. This process can reduce some nutrients and vitamins, like vitamin C, that are found in juice. This clearly indicates that Evolution Fresh's HHP technology is better than Tropicana's pasteurization process, making Evolution Fresh juices healthier. The HPP technology will help the company expand its market share in the $1.6 billion super-premium juice industry. Starbucks revenue from the U.S. division increased by 10% year over year in 2012, and with the introduction of the tea bar and its entry in the juice industry, we expect this growth from its U.S. division will continue in the next year.
Conclusion
Starbucks is well positioned in terms of revenue growth, and its fundamentals discussed above will drive in revenue over the coming years. We believe that Starbucks expansion in tea industry will slowly gain momentum and generate higher revenue from its tea bars. Its Evolution Fresh juices are likely to attract customers due to its HPP technology that helps retain vitamins and nutrients. We believe Starbucks' expansion beyond coffee will bring growth in the coming years. The stock seems to be undervalued, as it is currently trailing at a PE ratio of 38.11 and a forward PE of 29.82, and it has a ROE of 28.74%, which indicates future growth potential. Thus, we continue to view this stock as a good option for investment.
Disclosure: I have no positions in any stocks mentioned, and no plans to initiate any positions within the next 72 hours. I wrote this article myself, and it expresses my own opinions. I am not receiving compensation for it (other than from Seeking Alpha). I have no business relationship with any company whose stock is mentioned in this article. Fusion Research is a team of equity analysts. This article was written by Shweta Dubey, one of our research analysts. We did not receive compensation for this article (other than from Seeking Alpha), and we have no business relationship with any company whose stock is mentioned in this article.