A couple of readers have emailed me about STEC (NASDAQ:STEC) which is now up 10 sessions in a row (i.e. 50% in that time frame!) and blowing through moving averages and now.... its early November gap as if they are do not exist. No answers from this chair, this is simply one of those names full of the daytrader types and once momentum begins it is hard to kill.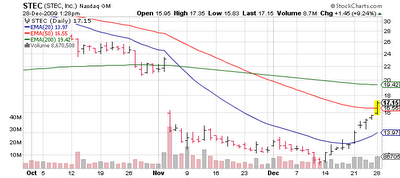 Barron's weighs in with
some ideas
. I don't know the short interest but if people are trying to pile in on the short side assuming "this cannot continue" - well, that is exactly how these types of move DO continue.
So, what's gotten into STEC shares? The solid-state drive company's shares are up today for the 10th session in a row; over that period the stock has gained more than 50%.
Last week, the stock picked up a Buy rating from Broadpoint Amtech analyst Dinesh Moorjani, who set a $23 price target. Moorjani noted that the stock was down dramatically from its highs earlier in the year on concerns about mounting competition in the enterprise SSD market. As recently as September, STEC was trading north of $40 a share; today the stock is up $1.47, or 9.3%, to $17.17.
Gordon Johnson, an analyst with Hapolaim Securities who made a prescient sell call on the stock back in October, calling STEC "the biggest short of all time," Monday reports via e-mail that the stock may be getting a boost from takeover speculation. But does he believe that someone might acquire STEC? "No way," he responds. "No one will buy STEC as everyone is developing their own technology. The higher this thing goes, the more one should be shorting. It's only a matter of time for these guys."
Aaron Rakers, an analyst at Stifel Nicolaus, writes in response to an inquiry that he likewise is skeptical about the possibility of an acquisition - and that competition remains a concern. "I understand the speculation, but I would not view that as likely here," he writes. "Would likely see competition materialize before that becomes a dynamic to consider, in my opinion."
Outside a few names like this, the market seems nearly comatose.
Disclosure: No position