Last week, shares of Weight Watchers (NYSE:WTW) collapsed after the company was forced to suspend its dividend because sales will fall by "low double-digits" next year. This sales decline is rooted in declining enrollment at Weight Watchers meetings, which has been falling steadily for months. I believe technology has left the WTW business model in secular decline. There are now smartphone apps that keep track of how many steps you take and calories you burn in a given day while others help you keep track of what you eat and how many calories you consume. Increasingly, Americans are using this technology to try and lose weight on their own, no longer finding the Weight Watchers group meetings necessary to lose weight. This has left WTW with declining sales and penetration even as obesity remains widespread.
That is why I believe Nutrisystem (NASDAQ:NTRI) is a far better weight-loss investment. The company is well known for its widespread advertising campaigns that focus on a program where they mail low-calorie food to you. If you eat only their food, they suggest most people will lose weight. However, I believe Nutrisystem's real growth prospects lie in its expanding distribution.
In August, the company announced it would be selling 5-day packs for $44.98 at 2000 Wal-Mart locations (NYSE:WMT). These have been dubbed "diet starter kits" and can get people hooked on Nutrisystem, buying into its program. I also believe that Wal-Mart was the perfect partner for NTRI to choose. In this country, obesity is focused more on the middle-class and poor with a tilt towards the South (see the chart below). Wal-Mart remains a South-centric company that caters to consumers of these income levels, giving Nutrisystem the best expansion potential.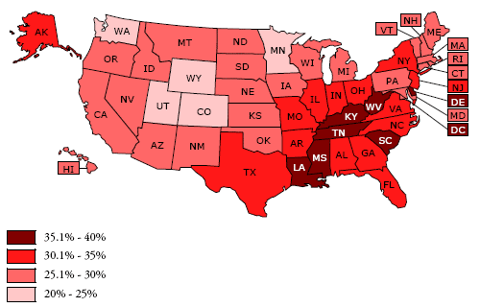 By partnering with Wal-Mart, Nutrisystem can expand its product to areas where the market is the largest. We are already seeing benefits from this expanded distribution channel with third-quarter sales up 5%, EPS ex-items up 50% to $0.15, and gross margins up 400bp. This 5% revenue growth is truly amazing as just a quarter ago revenue was falling 20% annually. The speed at which the retail distribution expansion has turned around earnings is nothing short of remarkable.
Excluding one-time items, cash flow through nine-months stands at $38.5 million, up 10% year over year. Importantly, NTRI is showing improvement into its two most important quarters as we are entering diet season as some consumers try to lose weight for the Holidays while millions try to lose weight as their New Year's Resolution. The Wal-Mart starter kit is perfect for New Year's Resolutions as it gets people started on a diet without a 6 month commitment that many are unwilling to make. Clearly, consumers like Nutrisystem's 5-day offering, especially compared to burdensome meetings or a longer-term commitment.
Nutrisystem's management has also hinted that the company is just at the beginning of its expansion. CEO Dawn Zier said, "Over the last year, we have researched and demonstrated that the Nutrisystem brand has strength and relevance across many platforms and configurations, as was seen with our expansion into retail. Consumers are giving us permission to do more with our brand. Consequently, based on our strategic wins and operational excellence over the past year, we are approaching this upcoming diet season with cautious optimism. Although there is still significant work that we need to do to realize our vision for the brand, with each quarter we grow increasingly confident that our plan will create both a strong Nutrisystem franchise and value for shareholders over the long term." Zier clearly is looking to expand the way Nutrisystem delivers products with the Wal-Mart expansion the beginning rather than the end.
In the next three months, I would look for NTRI to make different 5-day packs that contain other meals, so customers could buy them one after the other, sticking with NTRI for weeks without making that commitment up front. There is also the potential for offerings of slightly different sizes from 3-days to 14-days to capture more consumers. In the longer run, NTRI is well-positioned to take on companies like Lean Cuisine, which provide low-calorie meals individually. It would not be surprising if NTRI leverages its brand to offer individual meals at retailers to cater to those seeking flexible dieting in late 2014 or 2015.
With a one-quarter turnaround that saw sales go from falling 20% to rising 5%, it is clear that there is significant appetite for Nutrisystem at retailers, which presents the company with fantastic growth potential. Admittedly, the market is realizing this as well, sending shares up 138% YTD and 30% in the last month alone. Still at current prices the stock offers a 3.6% dividend yield, and based on analyst projections has a forward multiple of 29x on 13% revenue growth and 74% EPS growth. The company also has a pristine balance sheet with $40 million in cash against zero debt.
However given the rapid turnaround and further expansion opportunities, I do not believe analyst consensus is sufficiently optimistic. Given recent trends, I believe revenue growth of 20% is far more realistic for $430-$440 million in 2014 sales, which at current margins would translate to roughly $0.83-$0.87 in EPS for a forward multiple of 23x. In this market, it is hard to find a company growing sales by 20% and doubling EPS that trades at 23x, especially because this company has such a long runway for growth with competitors like Weight Watchers collapsing and its new expansionary distribution channels. I expect 2015 to show similar growth to 2014, which gives the company over $1.50 in earnings power and revenue that would still only be in-line with where NTRI was back in 2009, giving the company plenty of room to grow for several years. I would be willing to buy NTRI all the way up until $25. The run is far from over.
Disclosure: I have no positions in any stocks mentioned, and no plans to initiate any positions within the next 72 hours. I wrote this article myself, and it expresses my own opinions. I am not receiving compensation for it (other than from Seeking Alpha). I have no business relationship with any company whose stock is mentioned in this article.