Just before the Christmas holiday the SEC gave base metals investors a nice present in the form of approval of a platinum and palladium ETF. To be sure, this news was not unexpected, but it put a significant bid in the PGM market.
As a comparison, we looked at gold's reaction to the listing of the SPDR Gold ETF. In November 2004, GLD began trading on the NYSE; gold was trading at $450 an ounce.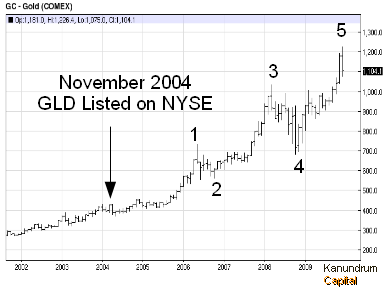 Over the next 6 years, gold almost tripled in price as demand surged and the dollar fell. The weak U.S. dollar coupled with rising demand created optimal growing conditions for the yellow metal. We see a similar occurrence in the PGMs.
Platinum and palladium are key ingredients in auto manufacturing as well as a plethora of industrial uses. As the global economy recovers, demand for these industrial metals should begin to rise. In fact, the recent run-up in prices is a result of the anticipated surge in demand. We have been playing the rise in palladium via a long position in North American Palladium (PAL).
We have been long this position for quite some time and will hold until at least our target of $3.80 has been hit.
Disclosure: Long PAL