Honeywell (NYSE:HON) is a conglomerate producing everything from fine chemicals to brake pads and security alarm systems. With its broad industrial footprint Honeywell is a bet on broad-based economic growth and its global operations add another layer of diversification to the business. Conglomerates like Honeywell have had a decent run over the last two years and stock prices are now relatively high compared to underlying profitability. Honeywell is not trading cheaply anymore and investors might want to look elsewhere to get bargain priced conglomerate exposure.
Share performance
Honeywell gained 61% over the last two years while General Electric (NYSE:GE) gained 62%, United Technologies (NYSE:UTX) 38% and Cummins (NYSE:CMI) 25%. Honeywell is one of the best performing conglomerates over the last one and two years. YTD it leads the peer group with a gain of 34%.
Free cash flow valuation
Honeywell presents solid operating cash flow growth over the last three years which I extrapolate into 2014. Investing cash outflows include property plant and equipment expenses, net investments and acquisition expenses. Honeywell's historical cash flows as well as my estimates of 2014 cash flows are depicted in the table below. I estimate that Honeywell will achieve a free cash flow to equity of $3.6 billion which equates to a FCFE of $4.58 per share. Honeywell currently trades at nearly 19 times my 2014 FCFE estimate which is a very rich multiple and makes it unlikely that investors find a decent-prized bargain in Honeywell.
If net borrowings in 2014 were set to zero, the resulting forward P/FCFE ratio would stand at nearly 23x making Honeywell even more expensive.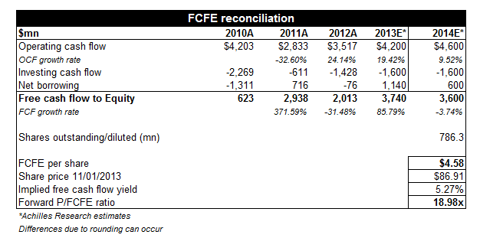 Applying a discounted cash flow model with a long-term growth rate of 4% and equity cost of capital of 10% yields an intrinsic value of $76.72. Honeywell presently trades at $86.91 and has nearly 12% downside potential correspondingly.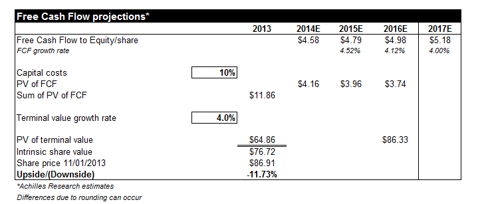 Market valuation
Honeywell is everything but cheap on an earnings basis as well. It trades at 15.67x forward earnings which is above the peer group average of 14.77. Cummins is the cheapest stock in the sector with a P/E of 13.11. United Technologies trades at 15.56x forward earnings and based on free cash flow profitability isn't a BUY either.
General Electric is the best dividend play in the conglomerate sector with a yield of 2.86%. Honeywell, United Technologies and Cummins are all producing yields just under the peer group average dividend yield of 2.27%.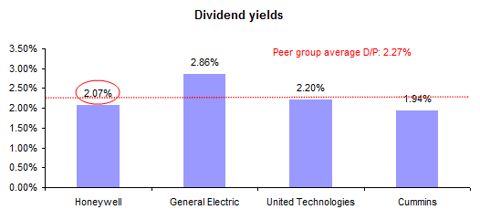 A summary of the most relevant valuation metrics is provided below. Honeywell trades at a slight premium (6.09%) to the peer group average P/E of 14.77. I find Honeywell's dividend yield not compelling considering the premium price investors are currently asked to put up.

Conclusion
Honeywell is operating a variety of segments that compete with other conglomerate structures in aerospace, defense, construction, energy, materials, automotive, transportation and others. All segments produce vital inputs for the manufacturing base and are likely to do well when the economy expands. However, investors already pay a premium price based on free cash flow and earnings. Investors now pay an estimated 19x forward free cash flow to equity and an earnings multiple approaching 16. Its dividend yield stands at just above 2% and isn't really enticing either. General Electric, on the other hand, may be a much better cyclical bet on an increase in economic momentum in the coming years.
Disclosure: I am long GE. I wrote this article myself, and it expresses my own opinions. I am not receiving compensation for it (other than from Seeking Alpha). I have no business relationship with any company whose stock is mentioned in this article.