When we outlined Whirlpool (NYSE:WHR) as one of our favorite housing-related plays in late May of this year, we thought shares would do well. From the May 29 write-up:
Whirlpool possesses tremendous operating leverage, so a small increase in sales will have a large impact on the bottom line. This aspect of its business model coupled with improving operational performance makes us confident that the appliance pure-play has room to the upside (the high end of our fair value range for Whirlpool is $175 per share).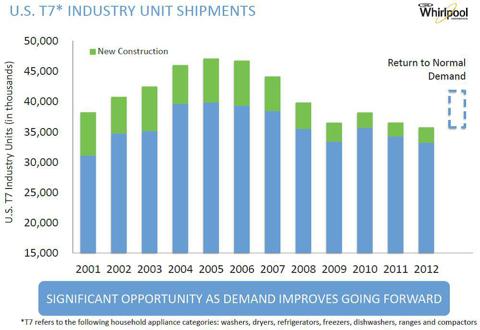 Recent equity price performance hasn't disappointed - the firm's stock has more than doubled the market return since that article was released (14.4% versus 6.2%), as shown below, and Whirlpool's third-quarter earnings, didn't disappoint either.
Revenue jumped 5% from the same period a year-ago, while adjusted earnings per share surged to $2.72 from $1.80 per share in the prior year. On an adjusted basis, operating profit roared higher by nearly 35%, as operating margins swelled to nearly 8% of sales from about 6% in the prior-year period. Importantly, Whirlpool raised its outlook for full-year adjusted operating diluted earnings per share to the range of $9.90-$10.10 from $9.50-$10.00 per share. We always love to see a raised and tighter guidance range, and the firm's operating leverage continues to be on display, suggesting significant earnings upside on any better-than-expected sales strength. Free cash flow is expected to be roughly $700 million for the year.
Valuentum's Take
We were pleased with Whirlpool's third-quarter performance. Demand trends continue to improve, and ongoing expansion should propel operating-income and margin improvement in the quarters ahead. Whirlpool continues to be one of our favorite housing-related ideas.
Disclosure: I have no positions in any stocks mentioned, and no plans to initiate any positions within the next 72 hours. I wrote this article myself, and it expresses my own opinions. I am not receiving compensation for it (other than from Seeking Alpha). I have no business relationship with any company whose stock is mentioned in this article.