NQ Mobile Inc. (NQ), a leading global provider of mobile internet services, will report third quarter earning results on November 12, 2013, after the close of the U.S. markets.
Following the results, NQ Mobile's management team will hold an earnings conference call to discuss the results and outlook at 8:00 p.m. U.S. Eastern Standard Time on Tuesday, November 12, 2013, (9:00 a.m. Beijing/Hong Kong Time on Wednesday, November 13, 2013).
After beating analyst expectations the last couple of quarters, will NQ Mobile be able to beat expectations once again? Let's take a look at the numbers.
Wall Street Expects:
Revenue: $50.9 Million
EPS: 0.27
4Q Guidance: $61.2 Million
So how has the company performed over the last year with its earning reports? The table below shows NQ's top line numbers over the past four quarters.
| | | | | |
| --- | --- | --- | --- | --- |
| Revenue History | November 2012 Q3 | March 2013 Q4 | May 2013 Q1 | August 2013 Q2 |
| Revenue Estimates: | $24.5M | $29.1M | $32.9M | $39.3M |
| Actual Revenue: | $25.8M | $30.0M | $33.2M | $41.4M |
| Difference: | +$1.3M | +$900K | +$300K | +$2.1M |
| Average: |   |   |   | +$1.15M |
As we can see from the table above, NQ Mobile has consecutively beaten the top line (revenue) for the last four quarters. Does this mean that the company is going to beat expectations once again? While it looks like they certainly will, there is never a guarantee in the markets.
Fortunately for shareholders, the company has already stated they expect third quarter revenues to exceed its previously issued guidance range of $50M-$51M. Because of this, I feel that investors should feel confident heading into earnings. Seeing as how the company has beaten estimates by an average of $1.1 million over the past four quarters, I would expect revenues this quarter to come in around $51.6 million.
During its earnings announcement in August, NQ's revenue outlook for the third quarter was $50M to $51M. The company also raised its full-year revenue outlook to $185M to $188M, up from the $179M to $184M it saw previously.
Analysts were expecting future 3Q guidance around $49M and full-year revenue of $181.4M. As we can see, analysts have moved their numbers up as the consensus now stands at $50.9M for the quarter.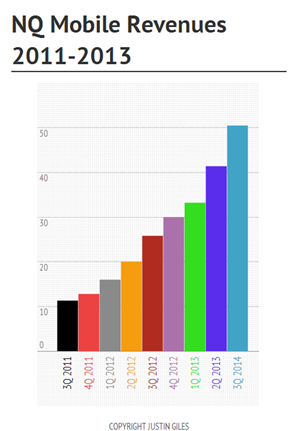 * 2013 3Q projected analyst estimates $50.9M
If you've been wondering why shares have been on fire this year, look no further than the graph above. Revenues have jumped and look to continue breaking records.
Looking over the bottom line figures [EPS] we can see that NQ has done a great job over the last couple of quarters, thanks in large part to better revenue results.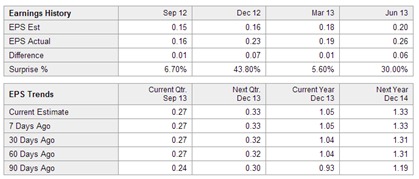 * Image from Yahoo!Finance
As we can see, NQ Mobile has beaten on both the top and bottom lines over the last four quarters. Not only that, but future EPS trends are going up as well. Clearly NQ's growth is not slowing down and only continues to grow at record levels.
While we can see that the company has posted positive surprises on the day of earnings, the real question for investors is how has the stock price reacted to the news? The table below tells the story.
| | | | | |
| --- | --- | --- | --- | --- |
| Earning Announcements | November 2012 | March 2013 | May 2013 | August 2013 |
| Stock Results: | -6% | +15% | -7% | +22% |
| Average: |   |   |   | +6% |
The reaction to NQ's earnings have been somewhat volatile as you can see. Over the last four quarters we can see that the average return on earnings day is around +6%. As we can see NQ is not a bad earnings play in the least.
Conclusion
There is no doubt that NQ Mobile has been one of Wall Street's hottest stocks this year, as shares have gained more than 300%. However, shares have recently tumbled from its highs after Muddy Waters accused the company of fraud.
NQ refuted those allegations and said Muddy Waters' report contained numerous errors, misleading speculations, and malicious interpretations of events. NQ Mobile held a special conference call the very next day to address and clear up those issues, but the damage was already done.
Shares haven't recovered to where the stock was trading before the report, but they are certainly clawing their way back and are on pace to fully recover by the end of next week. This provides investors with a great opportunity to make a lot of money and quick. The chart below shows how the company has performed this year against the market (DJIA, NASDAQ).
I like NQ Mobile going forward not just because of its fundamentals and team management, but because of the services they provide. Mobile security, gaming and other various products that NQ Mobile offers continues to grow by leaps and bounds. While NQ Mobile has positioned itself nicely in China, it's a company that is growing worldwide as well. While some companies like Qihoo 360 (NYSE:QIHU) focus on China and gaining market share, NQ Mobile looks to keep growing worldwide.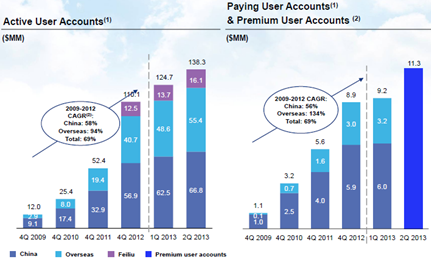 *Taken from NQ's 2013 2Q slides
On October 22, 2013, NQ Mobile introduced a new platform (NQ Live) that one analyst said has the potential for some 500 million users and more than $100 million in sales in two years. If this is indeed the case, NQ Mobile is even more undervalued than what it already is.
At current prices ($14.40) NQ Mobile has a forward P/E of just 10.8, with revenues growing over 100% year over year [yoy]. How many companies out there are growing revenues 100% yoy with a forward P/E of less than 11? The PEG ratio tells you why shares are still undervalued as it stands at just 0.29. To put that into perspective, technology giants such as Facebook and LinkedIn both have a PEG ratio well over 2. The average PEG ratio for other Chinese companies stands at 1.09. The table below looks at other Chinese companies and how they compare to NQ Mobile.
| | | | | | |
| --- | --- | --- | --- | --- | --- |
|   | Trailing P/E | Forward P/E | PEG Ratio | 2014 Sales Growth Estimates | Mean Price Target |
| QIHU | 168.3 | 39.2 | 1.23 | 56.50% | $84.65 |
| (NASDAQ:SINA) | N/A | 41.9 | 0.77 | 26.10% | $89.46 |
| (NYSE:VIPS) | 184.9 | 37.0 | 1.15 | 62.10% | $67.62 |
| (NASDAQ:SOHU) | 28.3 | 30.9 | N/A | 22.60% | $78.07 |
| (NASDAQ:BIDU) | 32.5 | 25.6 | 1.46 | 35.60% | $173.43 |
| (NASDAQ:YY) | 57.6 | 27.5 | 0.87 | 55.00% | $53.42 |
| Average | 94.3 | 33.7 | 1.09 | 42.9% | N/A |
Looking around the market we can see that a forward P/E for most companies is in the 10-40 range with the average being around 25. Looking at some of the bigger Chinese companies we can see that the forward P/E is towards the high end.
With NQ currently sitting at $14.40 it has a forward P/E of 10.8 which is 3X lower than most other Chinese companies. Does this make any sense? No, but it does allow plenty of room for profits going forward. If we give NQ a forward P/E relative to its Chinese peers, NQ should be valued around $44.82. This would represent an upside well over 300% in the stock.
| | | | | | |
| --- | --- | --- | --- | --- | --- |
|   | Trailing P/E | Forward P/E | PEG Ratio | 2014 Sales Growth Estimates | Price Target |
| NQ* | 73.7 | 10.8 | 0.29 | 43.50% | $27.00* |
| Average | 94.3 | 33.7 | 1.09 | 42.9% | N/A |
| NQ** |   | 33.7 |   | 43.50% | $44.82 |
* NQ as of October 31, 2013
** NQ with a Forward P/E (33.7) relative to other Chinese companies
Either NQ Mobile is significantly undervalued, or those other Chinese stocks that we just looked at are simply overvalued. I don't know about you, but it looks like the market has priced those companies fairly well. If this is indeed the case then NQ Mobile is significantly undervalued right now.
Analyst Price Targets
The day after Muddy Water's report came out, Canaccord Genuity analyst T. Michael Walkley maintained a Buy rating on the stock with a price target of $29.00. According to the report, Walkley continues to view the company as well positioned in mobile security and applications.
Topeka Capital maintained a Buy rating on NQ Mobile with a price target of $33.50. Analyst Frederick Ziegel said,
NQ Mobile conducted a very lengthy conference call this morning to address the assertions made in a report published by Muddy Waters. It will take some time to allay investor concerns/questions but, in our opinion, NQ did a very admirable job given the short notice.
Macquarie maintained an Outperform rating on NQ Mobile with a price target of $26.00. Analyst Jiong Shao called the recent decline in share price as a "rare opportunity." Analyst Mark Murphy of Piper Jaffray also maintained an overweight rating on the stock with a price target of $27.00.
Of Wall Street recommendations, the average opinion on NQ is a Buy, with an average price target of $27.00, or 90 percent above the recent closing price of $14.40. However, if we give NQ a favorable forward P/E like its Chinese peers, the stock would be worth more than $44.00. Because of this, I fully expect analysts to be upgrading the stock come earnings day.
Don't forget either that NQ has stated that they are looking for ways to boost share prices going forward. The company will go forward with its previously announced $35 million stock buyback program after the two day blackout window following the release of its earnings on November 12.
Matt Mathison, vice president of capital markets at NQ Mobile said, "We have a share buyback in place we're ready to use it aggressively." With hundreds of millions of dollars at its disposal, there is a good chance that the company could issue a bigger buyback program to boost shares and provide more stability.
The last couple of days have been nothing short of a rollercoaster ride for investors. While we are in the mix of trying to understand it all, you can't help but realize that analysts stepped up in a big way and defended the company. They certainly put themselves, as well as their business, and reputations on the line. Unless you are 100% confident in something why would you risk all of that?
Is NQ a fraud? I don't believe so and the stock price is beginning to show who investors are starting to believe. It should be noted that Muddy Waters is a company that shorts stocks. The company shorts stocks prior to the release of their reports. Is this someone that you would want to completely trust?
The one thing that investors should be thankful for this upcoming holiday season is the deep discount Muddy Waters has provided for investors. The attention surrounding this whole fiasco has caught the attention of many more investors. I'm a believer in bad publicity is still good publicity as NQ is now visible to an even broader range of investors.
I admit that holding shares in NQ Mobile can be nerve racking at times after seeing what took place last week. Until everything is resolved and settled, holding shares requires strong-willed investors who can tolerate all of the volatility in the stock.
As I've outlined in this article, NQ Mobile remains deeply undervalued and is a bargain at these levels. While the earnings season can be very volatile, knowing that management has already stated that they expect third quarter revenues to exceed its previously issued guidance, should give investors a lot of confidence heading into the earnings season.
Disclaimer: Investors are always reminded that before making any investment, you should do your own proper diligence on any stock mentioned in this article. Have a great day and as always, I look forward to hearing your thoughts or questions that you might have.
Disclosure: The author is long NQ. The author wrote this article themselves, and it expresses their own opinions. The author is not receiving compensation for it (other than from Seeking Alpha). The author has no business relationship with any company whose stock is mentioned in this article.