As a contrarian investor I am looking for beaten-down stocks in which investors have lost confidence. Restructurings, reorganizations as well as companies emerging from chapter 11 oftentimes make great contrarian investments. The main reason is that companies in such distressed situations have lost the confidence of investors who rather invest in 'safer' companies. As such, companies have to regain the trust of investors by producing better, tangible results. When those results are achieved the majority of gains have already occurred.
Mindset
I run two portfolios of which one is a contrarian-style, concentrated portfolio consisting of highly controversial long positions in stocks that many investors wouldn't touch. Many of those stocks receive overwhelmingly negative ratings and opinions in the media and here on Seeking Alpha. Surprisingly, many of those stocks seem to be doing well just when the mainstream declares a stock to have zombie characteristics. A few examples include Bank of America (NYSE:BAC) which was punished in 2010-2012 because of its mortgage woes, American International Group (NYSE:AIG) because of the financial bailout, Radian (NYSE:RDN) and Alpha Bank (OTCPK:ALBKY) because investors didn't believe in private capital moving into the sector, LyondellBasell (NYSE:LYB) because investors didn't believe in the prospects of a restructured entity and certainly Alcatel-Lucent (ALU) because investors aren't convinced yet about its turnaround chances and a transformational change in business model. My experience with special situations is that investors should pay very close attention to the developments in the company but need to be utterly resistant to negative mainstream talk. It is just staggering how many investors resort to pessimism and negativity when confronted with distress and uncertainty. As I have said before, the higher the uncertainty and the greater the distress, the more likely it is for investors to find a bargain-priced stock as shaky investors sell stocks indiscriminately. Investing in fallen angels, like Alcatel-Lucent, requires the necessary maturity to overcome and deal with cognitive dissonance. Further, it is my experience that investors are well advised to adopt a constructive approach to institutional problem solving. Many issues on a company level can and will be resolved by stakeholders coming together and finding acceptable solutions by negotiation and comprise. A problem, after all, is an opportunity in disguise.
Alcatel-Lucent is such a company. In the last five years the company has reported negative earnings in four years (with the exception of 2011). The equipment manufacturer was hit hard by Asian competition, an unfocused operations footprint and product mix. With adoption of the 'Shift Plan' Alcatel-Lucent aims to position itself in high-growth areas such as IP and Cloud Networking as well as Ultra-Broadband. The Shift plan in particular targets the re-direction of R&D expenditures and cost savings in the range of $1.3 billion until 2015 (from Alcatel-Lucent's webpage):
The Shift Plan to refocus Group innovation, with IP Networking and Ultra-Broadband Access representing 85% of R&D investment in 2015
The Shift Plan targets Euro 1 billion in fixed cost savings and asset sales of more than Euro 1 billion over 2013-2015
The Shift Plan targets Euro 2 billion in debt reprofiling over 2013-2015 and future debt reduction of Euro 2 billion.
The Shift Plan will ultimately lead to a more streamlined and focused operation, higher efficiency and much likely a lower cash-burn rate. Pushing out Alcatel-Lucent's maturity profile and reducing debt are also the right moves to disencumber cash flow and give the company the necessary financial flexibility in order to execute the transformational change in business model.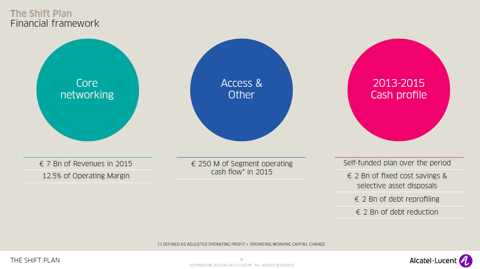 In the short-term the market is likely to solely focus on fixed costs savings while the majority of transformation will go on behind the scenes. Focusing on the short-term unfortunately often includes missing the bigger picture: Alcatel-Lucent is one of the most innovative companies in the tech space with 15,000+ patent applications and 30,000 active patents. Its innovative track record provides investors with confidence that Alcatel-Lucent can execute its intended transformation.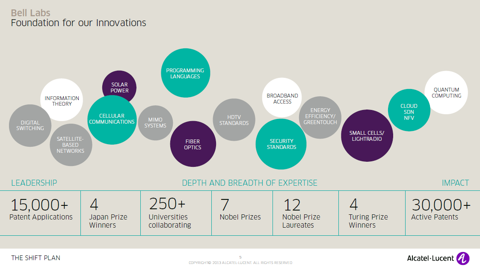 Asymmetric pay-off profile
The market has driven Alcatel-Lucent to unreasonable levels in the last five years but the stock has recovered quickly on beliefs that the change in business model can be executed. Investors have given Alcatel-Lucent credit for the repositioning of the company so far but I believe the market is still underestimating its true potential:
A repositioned, globally-operating Alcatel-Lucent will be one of the dominant players in the high-growth Ultra-Broadband and cloud computing markets
A short-term focus on fixed costs savings discounts Alcatel's long-term earnings- and cash flow prospects and increases chances that investors 'miss the story'
The market continues to perceive Alcatel-Lucent as a 'fallen angel' and the 'new Alcatel-Lucent' hasn't gained full traction in the minds of investors
A return to profitability could work as a substantial catalyst to drive share prices higher. I believe that Alcatel's attractive patent portfolio provides a floor value to the share price and a successful transition to a new business model with positive earnings justifies further upside.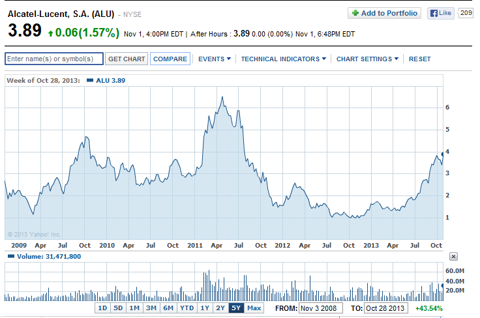 Conclusion
Alcatel-Lucent is a textbook example of a restructuring investment with large-scale business model alterations. The share price over the last five years indicates that investors lost belief in the company and the credibility of its restructuring concepts. The Shift Plan, on the other hand, reflects a comprehensive overhaul of both Alcatel's business model and balance sheet. Pushing out debt maturities, fixing the cost structure and transitioning to a high-growth broadband technology are all vital elements to get Alcatel-Lucent back on track to regain competitiveness.
With a purchase of Alcatel-Lucent investors bet on a successful implementation of the Shift Plan. Alcatel-Lucent's patent portfolio is truly impressive and I estimate it to be worth around $3 per share. Further upside is likely to come from operational improvements in the IP Routing and Wireless Access segments (LTE). I expect share gains to accelerate once Alcatel-Lucent reports meaningful success in streamlining operations and a rebound in earnings. I estimate the thesis to play out in 1-2 years when the market has come to terms with the idea of a different Alcatel-Lucent. In the case of a successful restructuring and a sustainable rebound in cash flow and earnings, the company could very well trade at $8 per share. Strong contrarian BUY with a holding period of 1-2 years.
Disclosure: I am long ALU, AIG, BAC, RDN, LYB. I wrote this article myself, and it expresses my own opinions. I am not receiving compensation for it (other than from Seeking Alpha). I have no business relationship with any company whose stock is mentioned in this article.