Solitron Devices (OTCPK:SODI) is a micro-cap company with a long and interesting background. The company emerged from bankruptcy in 1993, and until very recently it was still dealing with the aftermath of this event. The company had to repay pre-petition creditors a small amount of money each year, and also had to pay for environmental problems at its former facilities. In the mean time, the company has performed well operationally, and the amount of cash on the balance sheet has been growing steadily. Because the company has been unwilling to return cash to shareholders through dividends or share repurchases, it is trading at a severely depressed valuation. This has not gone unnoticed, and several activist investors have accumulated positions in the stock this year.
Last Friday Groveland Capital, run by Nick Swenson, announced a 9.5 percent stake in Solitron Devices in a form 13D filing. This is the same guy who successfully managed to get control of the board at Pro-Dex (NASDAQ:PDEX), and a compelling thesis behind this company was recently presented by Whopper Investments in an Alpha-Rich article. Groveland also settled a proxy fight with Air T (NASDAQ:AIRT) earlier this year after gaining representation on the board of directors. So what we have here is an experienced activist investor who's capable of getting things done.
Besides Groveland Capital, there are two other activist investors involved in Solitron that filed a form 13D. Ancora owns 6.5% of the outstanding shares while James Schembs owns 7.8%. Together, this group controls 24% of the outstanding shares, and with a shareholders' base that is very unsatisfied with the current capital allocation policy, this should be enough to push through some changes.
It's not easy to understate how unsatisfied shareholders are with the current situation, and the results of the general annual meeting last year clearly demonstrate this. Solitron was basically forced last year to hold a shareholder meeting, and rightly so: they didn't hold a single AGM since emerging from bankruptcy in 1993! The voting results on the director nominees give some insight into how shareholders feel. The two existing directors got just 458K votes while 866K votes were withheld. The relative high number of votes for the CEO reflect that from an operational perspective there are no big complaints.

The CEO of Solitron, Shevach Saraf, owns 218K shares: 10% of the total amount outstanding. We can safely assume that the CEO voted his shares in favor of the previous BOD, so just a very small proportion of the shareholder base seems to be happy with the current situation. We need to dig a little bit deeper though to see if the activist shareholders can gather the required support to push for changes. The CEO owns a significant amount of stock options that could be converted to voting stock. There are also a lot of investors who apparently don't really care what's going on (as demonstrated by the 595K of broker non-votes). Presumably, this group of people consists mainly of shareholders that got stock in the bankruptcy decades ago, and they have been slowly selling to (activist) investors.
If we would assume that the CEO exercises all his stock options he would own almost 25% of the stock, but since there are a large number of disinterested shareholders, he would most likely control a larger percentage of the vote. But since the number of shareholders that are content with the current situation is small, it is highly likely that Groveland Capital will be able to get the required support to make a difference:

The amount of 'happy shareholder' votes is calculated based on the number of votes for the previous BOD, adjusted for the number of shares owned by the CEO.
Value potential
I hope that by now I have presented a compelling case that activist investors will push for change, and that they are probably going to be successful in doing so. This fact alone isn't going do us any good, there needs to be value in Solitron as well that can be unlocked. Seeing that this is indeed the case isn't very hard. The company is currently debt free, and all environmental and bankruptcy liabilities have been paid off. What's left is a $6.7 million cash pile, and a business that is capable of generating roughly $750K of operating income/year. Since the company has a large deferred tax asset, the operating income flows straight to the bottom line. Solitron has net operating loss carryforwards of approximately $15,161,000 that expire through 2031: it's going to take a long time before the company has to start paying a meaningful amount of tax.
One thing that should be realized when looking at Solitron is how the historical reported financials are impacted by the legacy liabilities. While the payments to pre-petition creditors are effectively a form of debt repayment, it's not classified as a financing item on the cash flow statement, but it's part of the reported operating cash flow. This is because the 'debt' was classified as "accounts payable-pre-petition." A reconciliation of reported cash from operations to an adjusted free cash flow figure is provided in the table below, together with revenue and profitability statistics.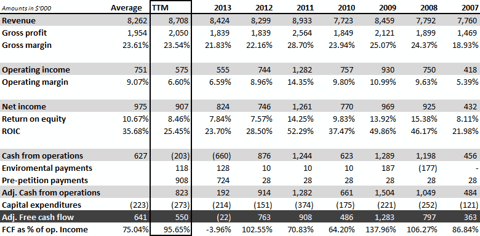 Taking into account the dilutive effect of options, Solitron has currently a market capitalization of $9.3 million. Subtract the $6.7 million in cash and you have a business that is effectively valued at just $2.6 million. If we would assume that a reasonable range for normalized net income is between $600K and $900K/year, it would imply a normalized PE between 2.9x and 4.3x. An 8.5x multiple seems more appropriate for a solid business with a long track record of profitability, so this implies that the value of Solitron should be between $11.8 and $14.4 million.
The opportunity
The above valuation has some rough edges, but it shows that there could be a meaningful amount of upside from the current price when activist investors are successful in either convincing Solitron to return cash to shareholders, or by taking control of the board. A conservative valuation implies that the upside could range from 25% to 55% while the downside is limited. The company has more than 70% of its market cap in cash, and while it isn't doing anything productive with it, it is also not squandering it away. Solitron has been profitable every single year the past decade, so it's hard to see how shareholders can lose from the current starting point. To finish with some timeless wisdom:
"Watch the downside, the upside will take care of itself" - Marty Gruss, former boss and mentor of John Paulson.
The twist in this thesis is that we probably don't have to wait very long for the upside, thanks to the activists' involvement.
Disclosure: I am long OTCPK:SODI. I wrote this article myself, and it expresses my own opinions. I am not receiving compensation for it (other than from Seeking Alpha). I have no business relationship with any company whose stock is mentioned in this article.