AAON, Inc. (NASDAQ:AAON) - $19.68 on NASDAQ on December 28, 2009
52 week price range: $22.32 – 14.54
Diluted shares: 17.3 million
Market cap: $340 million
Net debt: $(18 million) – Cash exceeds debt.
Enterprise value: $322 million
Annual dividend: $.36 – 1.8% yield
One quantitative measure of a good company is the ability to consistently generate a relatively high return on equity without the use of significant financial leverage. AAON does this, and it is indicative of a company that competes very effectively in its industry.
AAON, which is based in Tulsa, Oklahoma, is a manufacturer of air-conditioning and heating equipment including rooftop units, condensing units, chillers, boilers, and air-handling units, which are referred to as HVAC equipment. Its products are sold through a one-step distribution channel to commercial and institutional customers like stores, offices, restaurants, schools, and hospitals. Some of these products go into new construction, and some are for replacement.
Historically, AAON has generated extraordinarily good financial results. For the nine year period from 1999 through 2008, annual sales increased at a compound annual growth rate of 8.7% from $132 million to $280 million, while EPS grew at a compound annual growth rate of 15.4% from $.44 to $1.60. Over this same time period return on equity ranged from a high of 36.2% to a low of 10.9% and averaged 24.1% over the nine year period. Impressively, these relatively high returns on equity were generated without the use of any significant financial leverage, and these financial results are indicative of an exceptionally good business.
Company growth has been generated internally rather than from acquisitions, and a key element in achieving these financial results has been the fact that AAON has successfully differentiated itself from its main competitors that include Carrier, Trane, York, and Lennox. Whereas these other HVAC manufactures primarily sell standardized products; AAON offers customers "semi-custom" products that may offer better value, quality, function, serviceability, and efficiency; and for doing this the company is paid a premium price for its products. Also, AAON has been at the leading edge of transitions to more environmentally-friendly and energy-efficient HVAC equipment.
In recent years the company has made significant capital expenditures to increase their production capacity to where they could now be doing around $350 million to $400 million per year in sales vs. $280 million of sales in 2008 and estimated sales of $243 million in 2009. The company's differentiation strategy has proven itself in the past, and it should enable them to continue to generate growing sales and impressive profitability.
AAON's rising sales trend has been notably interrupted in 2009 by the overall weakness in the economy, which has been reflected in a decline in nonresidential construction spending. This weakness in nonresidential construction spending is likely to continue into 2010, but in my income model I assume a resumption of growth in 2011.
Even with the cyclical slowdown in nonresidential construction spending AAON continues to generate good profitability. My EPS estimates for 2009 and 2010 are $1.58 and $1.50 respectively.
The stock is currently trading at 12.5 times estimated EPS for 2009 and 13.1 times estimated EPS for 2010. Also, the current stock price implies enterprise value to EBITDA multiples of 6.1 and 6.4 based on estimated earnings for 2009 and 2010 respectively. These are modest valuation multiples for a debt free company, that can grow earnings at a compound annual rate of 11.0% for the next five years. My estimate of fair value based on a discounted cash flow model is $33.00 per share.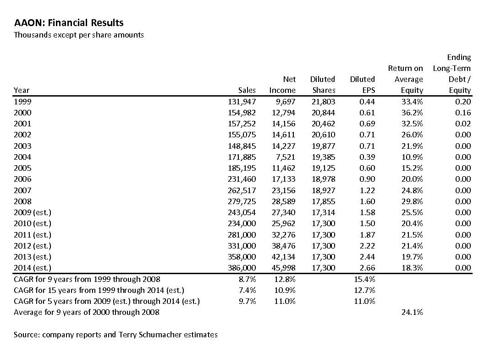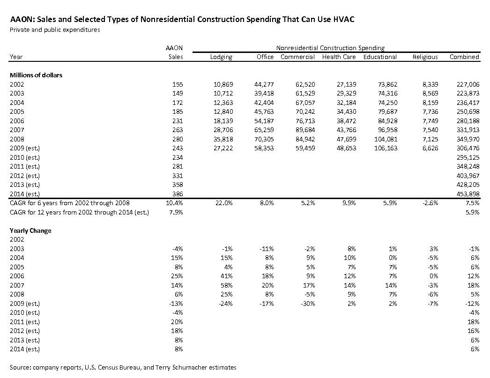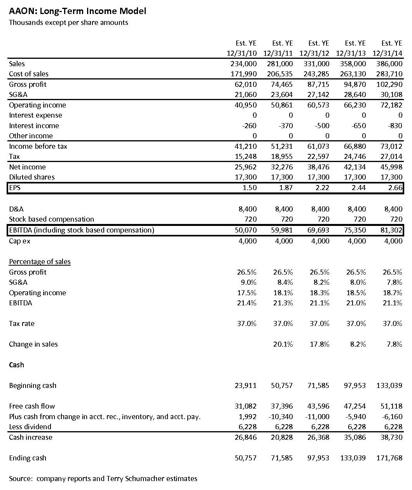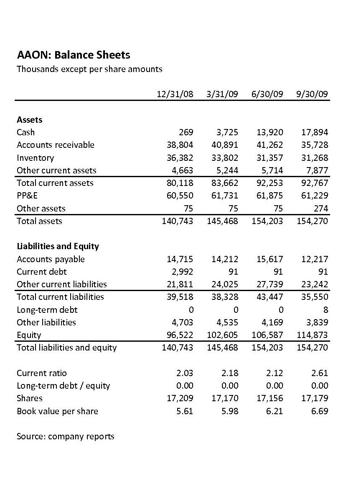 Disclosure: Terry Schumacher owns shares of AAON.