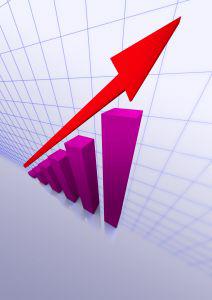 It looks like 2013's happy stock market could take a tumble. The steady, upward drumbeat of the bulls fell on deaf ears this week, with "frothy" and "bubble" descriptions taking front and center. A good example is this weekend's article in The Wall Street Journal: "Warning Signs Flash as Stock Market Soars to Record -- Some Analysts See a Replay of the Go-Go Market of the Late 1990s," complete with scary graphs and quotes. Summarizing, "Rising stocks usually create smiles on Wall Street, but these gains are also making some nervous."
What on earth has happened? And what should we do?
October: One up-month too many?
In each of 2013's first three quarters, the S&P 500 Stock Index has produced positive returns (including dividends):
10.6% (Q1)
2.9% (Q2)
5.2% (Q3)
The cumulative performance through those nine months was 19.8%. This return seemed a bit heady to many, taking into account slower economic and employment growth, possibly higher interest rates and government financial concerns. Hence, expectations were that the fourth quarter could be an "adjustment" period.
Instead, the market has risen 4.9% through last Friday (11/1) bringing the year-to-date performance up to 25.7%.
High return does not mean high anxiety
While this return is high, the market lacks the characteristics of a highly speculative one, especially as a 1999 redux as suggested by the WSJ. I described the missing bubble features in "'Frothy!' Warnings About Stock Market Are -- Well, Frothy":
"Frothy" (and its cousin, "bubble") are overstated descriptions of today's stock market. Missing are the tantalizing fundamentals with growth visions, wholehearted public investing in search of "easy" gains and unilaterally bullish media coverage.
However, the pronounced uptrend has produced some excesses
Emotions can triumph over reason whenever money is involved. The key ingredient is the return/risk ratio. Bump up the return and/or reduce the volatility for a period of time and investors gain confidence, raise return expectations and become complacent about risk.
Adding to the market's steady uptrend this time is the effect of an unusually large number of like-minded performing stocks. Looking at the S&P 500's stock returns for the year, we can see why virtually all investors have shared in the good times.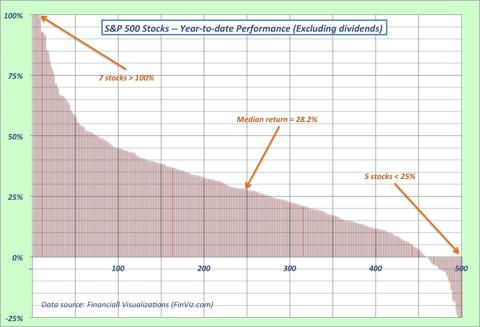 Unfortunately, this pleasant combination is a setup for disappointment. Any type of market decline will reinvigorate a fundamental "show me" return mentality combined with a "what if…" risk imagination.
So, what could happen?
Likely, the stock market will drop in light of today's height. With complacency currently above normal, this drop could deepen as investors adjust their expectations to more normal levels. As an add-on, the bubble market worry could cause prices to fall further - any market decline would be used as proof of the supposed bubble beginning to pop, thereby foreshadowing worse things to come.
Actions to take in preparation
The first step is to do a thorough housecleaning of the stock portfolio. This means getting rid of any holdings with a fundamental blemish that the market has seemingly overlooked. I did this last week, as described in "Stocks At Mesmerizing Point, So Consider A Little Selling."
With gains throughout my portfolio, it certainly felt like my decisions were correct and paying off. However, when I focused strictly on my rationale for buying each holding, I realized I was holding a few stocks that had had some negative aspect pop up, but I continued to hold because the stock prices had only had a minor hiccup.
The second step is to take advantage of the cash reserves built from the housecleaning sales. This step means preparing to buy future opportunities - either stocks we'd like to own at a lower price or unknown issues that will become evident later on.
The bottom line
Although the stock market doesn't have bubble characteristics, it has produced an especially positive trend this year. Both the size of the uptrend and its breadth have produced unrealistic return/risk expectations. The stock market eventually corrects for such excesses, meaning we could see some buying opportunities ahead.
An added ingredient is the worry about a bubble. As the market goes through any correction phase, there will probably be a ramp up in the prognostications of a serious collapse in the works. If so, conditions could be especially favorable for investors with cash and a willingness to buy.
Disclosure: I have no positions in any stocks mentioned, and no plans to initiate any positions within the next 72 hours. I wrote this article myself, and it expresses my own opinions. I am not receiving compensation for it (other than from Seeking Alpha). I have no business relationship with any company whose stock is mentioned in this article.
Additional disclosure: Positions held: Long U.S. stocks and cash reserves.