I have been an advocate of holding a variety of energy related stocks in every portfolio type the past several years, whether growth, value, income, capital preservation or capital conservation in focus. I have personally owned a basket of oil/gas, solar and coal investments during most of 2013, and written articles on Motley Fool and Covestor discussing my logic for doing so. Basically, the "Peak Oil" supply problem (it is getting harder to discover and tap cheap oil reserves) and Middle East turmoil have supported crude oil at the upper end of the price spectrum.
In addition, the low and falling cost of natural gas, solar and coal during 2011-13 will allow these important electricity generators to become the big energy demand winners moving into the next decade. In my opinion, all three of these energy resources will see increasing demand as the developing world appetite for basic energy matures the next 10-20 years, and the developed western economies hunt for cleaner fuel alternatives. The majority of new global electricity generation is being advanced using natural gas fired turbines. Natural gas holds relatively low cost, wide availability, and environmentally friendlier advantages over most other options. Solar is undergoing an important crossover in terms of acceptance, reliability, and cost structure, having little effect on the environment vs. fossil fuel burning. Utility-scale solar farm development in sunny areas of the planet is likely in the early stages of a multi-decade build out. Coal is the oldest technology, with the greatest acceptance globally, having very cheap upfront costs. In the developing nations, upfront costs excluding the negative effects of burning coal on the environment are the overriding concern. Asian demand for coal is growing at astounding rates and will almost surely continue to do so, even as the industrialized western economies look to diminish the carbon footprint of coal in their economies.
Middle East Turmoil
It is becoming more evident with each passing day President Obama has chosen a foreign policy direction that includes the withdrawal of U.S. armed forces and political influence from the Middle East. However, oil supply shock threats from 1) a soon nuclear-armed terrorist state in Iran, 2) a Syrian civil war having no end in sight, 3) a lingering Palestinian relocation dilemma following Israel's formation after World War II, 4) a rising tide of small terrorist organizations in Africa and Asia, and 5) a growing rift between the dominant Sunni and Shia Islamic groups cannot easily be ignored. We will almost surely witness large new Middle East wars in the next few years, with crude oil supply disruptions for the globe becoming an economic reality. The question is not "if" but "when" will these disruptions occur, and how long will they last?
The U.S. foreign policy predicament in the Middle East is similar to the Federal Reserve's difficulty in reining in record liquidity creation efforts for the overall economy. There is no easy way out, while the costs for both action and inaction increase daily. President Bush dove head first into this dangerous, but critical, oil exporting region of the world after the September 11, 2001 terrorist attacks with no exit strategy, just like the Federal Reserve jumped in to save the financial system after Lehman's failure in September 2008. Many Middle East policies and prospects for lasting peace demand a large U.S. military presence to succeed, just like the fragile global economy of 2013 requires an enormous protective moat of monetary liquidity by central bankers to function day to day. Nevertheless, real world costs for maintaining both systems of influence are rising daily, and will not continue indefinitely.
Fast forward to 2013 - America is in desperate need to cut government spending (remember out-of-control deficits). The United States cannot afford to park hundreds of thousands of troops and hundreds of billions in annual national treasure in the desert forever. However, leaving a vacuum from unkept promises, lost influence/credibility, and a smaller reactionary military presence opens up Pandora's box of problems on several levels for the disparate interests and peoples of this region. As we leave loose ends galore in our wake, one can argue yet bigger messes in the Middle East are coming soon. Our closest allies in the area, Israel and Saudi Arabia are furious at our lack of action in Syria and Iran in 2013. As mentioned in article after article published by the mainstream press during October 2013, Syria and Iran are prime examples of Obama's "look the other way" defense policy, witnessing diminishing returns and declining effectiveness.
Any way you slice it, as energy demand is projected to rise globally and crude supply constraints remain a problem years into the future, supply shortages in oil seem a logical argument. I have been focusing my energy investment exposure on U.S. centered oil/gas exploration and production, U.S. solar companies and coal miners far from the turmoil in the Middle East.
Best Positioned Oil & Gas Stocks
ConocoPhillips (NYSE:COP) and its 2012 spin-off Phillips 66 (NYSE:PSX) are two prime choices every investor should look at as core holdings. Super-investor Warren Buffett owns large stakes in each, and you are effectively his partner when you hold these names, as he helps oversee the proper allocation of capital reinvestment on your behalf.
ConocoPhillips is a major U.S. crude oil and natural gas producer. The company is reinvesting earnings and cash flows into U.S. centric exploration. After an acquisition spree over the past decade, the company has been divesting non-core assets of late. Using asset sales to raise cash and spin-offs to regain focus during 2012-13, ConocoPhillips is paying off debt and concentrating on its strong exploration and production roots. Today, ConocoPhillips shareholders are receiving a high dividend return of 3.7% annually at a $73 share price, greater than the equivalent 30-year U.S Treasury yield. Investors are paying less than 2x tangible book value, around 6x annual cash flow, and 12x yearly earnings based on Wall Street consensus estimates (available on Yahoo! Finance and other locations) for 2013. Compared to components of the Vanguard Energy ETF (NYSEARCA:VDE), a proxy for the sector, ConocoPhillips shares have considerably better current value than nearly every large capitalization option available.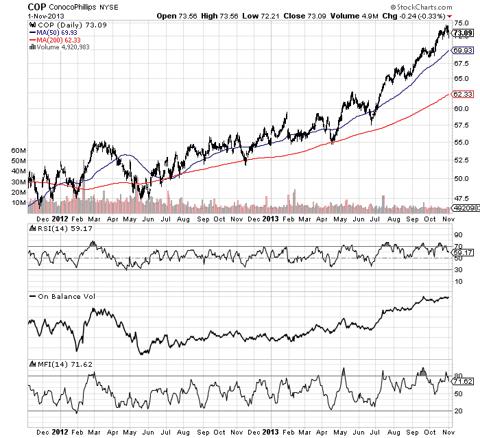 Charts courtesy of StockCharts.com
Phillips 66 is now the biggest independent refiner and marketer of crude oil and natural gas, outside of the fully-integrated majors. Refining crude oil into gasoline, distillates and aviation fuel mainly in the U.S., the company sells/markets its product mainly through 10,000 Phillips 66 and Conoco gas stations. U.S. refining capacity has undergone a major restructuring and cost rationalization process the past several years from below normal, market-driven, selling prices. A number of older, higher cost refineries have closed in America during 2012-13 as a result. A drop in refinery supply has combined with robust export demand to overseas nations to help refining margins increase smartly during 2013. Looking forward, environmental protection regulations (EPA mandated) have hampered new plant construction and development for years. Altogether, the long-term supply/demand fundamentals for Phillips 66 have never been stronger, as the company has become something of a cash cow the last 12-18 months for shareholders. The present 2.5% dividend payout per annum on today's $64 stock price will likely rise substantially in coming years. Investors are paying a little over 2x tangible book value, about 6x annual cash flow, and 10x projected earnings per share for 2013. Given the bottleneck in production capacity, any increase in economic activity and gasoline demand in America will quickly translate into oversized profits for Phillips 66.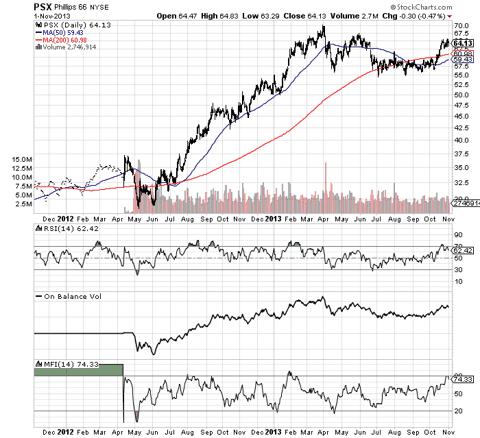 Hess (NYSE:HES) has been a favorite of mine for several years. A decade or two of mismanagement and lack of fiscal discipline are being corrected in 2011-14. The company is moving from a business with numerous tentacles and units in many countries to one focused on its best assets, namely U.S. oil/gas exploration and production. In 2012-13, concessions on board representation and the direction of the company have been won by activist investors in Hess, to the betterment of investors. The closing of an older, money losing refinery in the Caribbean in early 2012 started the turnaround effort. Plenty of value has been unlocked from the sale of upstream production assets overseas, the divestiture of midstream storage terminals and pipelines in the U.S., the closing of a second downstream refinery, and an agreement to sell its gas stations on the U.S. East Coast. In total, nearly $6 billion in assets have been liquidated in 2013 alone.
The overdue restructuring effort will make the company easier to understand and evaluate as an investor, create a lower investment risk entity (from exiting third world nation assets and lower margin businesses to pay down debt and reinvest in U.S. operations), and will be priced by Wall Street on its higher value, long-lived exploration and production assets only. While Hess is still a major international exploration player, the company spent about 70% of its capital budget on exploration and production in the United States during 2012. Another positive for investors, a limited number of Hess assets are located in politically troubled regions of the world, with Libya production and reserves its biggest exposure to the Middle East. Avoiding assets that could come under attack or witness supply disruptions in new wars is an energy theme I think prudent. Basis today's $81 stock price, investors are getting 1.2% in dividend return yearly from Hess. A liquid and conservative balance sheet is one positive result of the continuing reorganization, with the stock trading at just 1.3x tangible book value. The company is priced at 7x forward cash flow generation annually and about 14x earnings for 2014, using Wall Street consensus numbers. The upside for investors is the growth in U.S. oil/gas production volumes coming the next 3-5 years.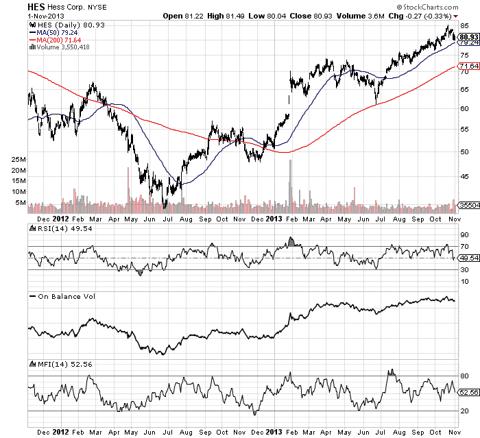 Devon Energy (NYSE:DVN) was really the leader in deciding years ago to shun its foreign assets, and focus purely on safer, U.S. land-based exploration and production strengths. Other companies have followed Devon's lead in 2012-13, including a number of oil/gas favorites mentioned in this article. Since 2009, Devon has been executing an interesting, aggressive and successful strategy of lowering its oil/gas asset risk profile. The company sold off all its overseas and offshore assets to concentrate on low environmental and political risk oil/gas production on land in the U.S. and Canada. The primary purpose has been to create a higher business valuation on Devon's earnings and cash flow for investors. Other positive side effects are an America first culture, more environmentally friendly operations, and better production consistency/efficiency.
Devon is continuing to restructure itself into a pure play on U.S. oil/gas exploration and production. Just last week, Devon announced a definitive plan to maximize the value of its midstream assets, by agreeing to form a new spin-off company that combines Devon's pipeline and storage assets with the Crosstex Energy (XTXI) entity. Two new publicly-traded partnerships, one limited and one general partner, will be the end result. Devon shareholders will retain a majority interest in both. Devon expects the merger will generate accretive returns for existing shareholders, from a lower cost structure and stronger profit margins on the contributed assets. The combined midstream business will have about 7,000 miles of pipeline, 13 processing plants, 6 fractionators, plus storage terminals and a trucking fleet to move oil/natural gas. This move will simplify Devon Energy's balance sheet and risk profile, while refocusing investor attention on its bread-and-butter exploration and production expertise. Devon's goal is both higher profitability and higher valuations on such profitability by Wall Street. At a $64 share price, investors are getting 1.4% in annual dividends, with a stock valuation of 1.7x tangible book value. Wall Street consensus numbers (available on Yahoo! Finance and other locations) forecast annual cash flow creation of less than 5x your share purchase price and a low 13x estimated earnings in 2014. Given the company's low-risk asset profile, I would look for outsized gains in Devon's stock price if oil and gas prices jump.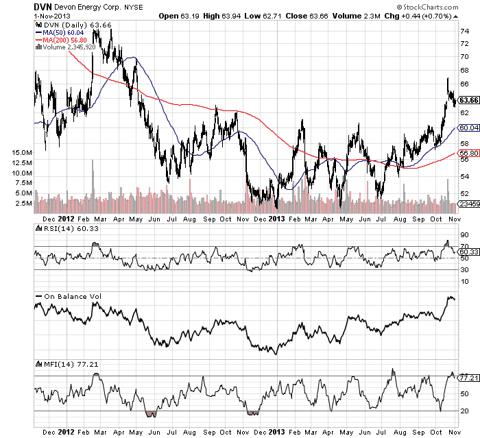 Top Blue-Chip Solar Company
First Solar (NASDAQ:FSLR) has been restructuring itself for several years, around a goal of becoming the largest pure play in utility-scale solar power plants in the world. I have been arguing since 2012 that management will be successful in "converting" the organization into something of a cross between an engineering firm, an electric utility, and a technology manufacturer, rolled up into one sleek investment vehicle. First Solar has a super-strong balance sheet and significant long-term owners in the Walton family (Wal-Mart money with great political connections). It was uniquely producing strong cash flows at the solar business cycle bottom in 2012. I love to buy the leading company in a sector when complete chaos and bearishness rule like the second half of 2012 and early 2013 in solar.
While the company is considered a leader in patented solar technology manufacturing, including panel efficiency rates and long-term cost analysis, it is moving quickly into new technologies and full-service solar farm management. First Solar bought out TetraSun in early 2013 and the General Electric (NYSE:GE) portfolio of solar assets and inventions a few months ago. The company is quietly purchasing solar farm projects that use "other" company technologies and panels to generate electricity. In the end, every international utility wanting to build a low and falling cost solar power plant will have to call First Solar to get a serious bid, and an honest plan of action. First Solar's service-related employment numbers are growing robustly in 2013 and beyond. After construction, First Solar generally retains a contract to maintain and run each plant for decades, even on the projects sold to third party investors like Warren Buffett's utility arm of Berkshire Hathaway (NYSE:BRK.B).
In my opinion, First Solar's growth prospects the next 3-5 years are top notch. The true cost of environmentally friendly, solar generation of electricity on desert solar farms is falling below the all-in-all expense of natural gas and coal in 2012-13, especially when you lock-in the accounting cost per unit upfront for decades and have government incentives to get them started. In reality, natural gas and coal prices will continue to climb from unprecedented money printing globally, as will their incremental and variable "cost" of generation profile, year-after-year going forward. When you factor in rising carbon taxes and increasing regulations on utilities that burn fossil fuels, alongside the declining expense of manufacturing panels, solar projects will make even more sense (and cents) in the future for owners.
Conventional wisdom on the relative solar cost issue vs. gas and coal fired equivalents has changed dramatically the last 6-12 months. The impact of the 2013 crossover in public opinion and the actual math taking place in favor of solar right now will have a material impact on demand for First Solar's products going forward, in my humble opinion.
It is not hard to imagine First Solar's project pipeline, revenues, free cash flow and earnings growing exponentially the next decade or two. As a result, the price you are paying today for potential income over time is very low, given a realistic long-term PEG (price to growth) evaluation beyond 2013-14. Plus, First Solar will have a more consistent revenue story going forward from its engineering and maintenance focus, than the competing technology-dependent solar manufacturers available to investors. Solid growth and greater consistency should be rewarded by Wall Street investors with much higher valuation multiples than current ratios. First Solar has no dividend, but is priced at just 1.4x tangible book value at $59 a share. To fund rapid growth, the company had almost no debt and a very liquid balance sheet with plenty of cash at the end of the September 2013 quarter. Based on Wall Street consensus views, First Solar is today trading at 7x yearly cash flow and 18x earnings estimates for 2014.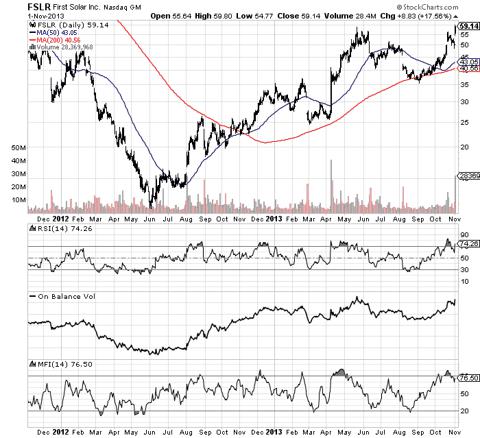 Largest Coal Company
Peabody Energy (NYSE:BTU) is the world's largest publicly-traded coal miner. The company owns 28 mines located almost exclusively in the United States and Australia. During 2012, Peabody purchased Macarthur Coal in Australia to become one of the major coal suppliers to fast growing Asia. The company has expanded operations from its original mines in the eastern half of the U.S. to a major Wyoming and Rocky Mountain mine presence, and today a growing reserve and production footprint in Australia's rich coal export market. The company is uniquely diversified geographically, and has the lowest cost structure in the coal mining industry.
Excluding the long-term environmental effects of burning it for electricity generation, coal is still the lowest cost energy resource on many parts of the planet. While regulations in the U.S. and other western economies are discouraging the building of new coal fired electricity capacity, the appetite for quick construction and cheap energy has led to outsized coal demand in China, India and other Southeast Asian economies the past decade. Forecasts call for a strong leap in coal demand far into the future in this region.
While coal prices have weakened the last several years, expanding long-term demand trends will soon take hold again in my estimation and overwhelm the short-term oversupply situation. Specifically, coal demand has been very weak in the U.S. in 2012-13 as electric utilities have used the excuse of abnormally low natural gas prices (vs. the rest of the world) to run gas plants overtime, and idle capacity at their coal plants. Sharply increased domestic production of natural gas in America has led to a supply surplus, with limited options for export to higher priced markets overseas.
On the plus side for Peabody shareholders, the low price environment is leading other coal miners to shut high cost mines and drop production in the U.S. At the same time, 2013 Asian demand for coal is rising better than +10% year over year, with demand for imported coal climbing at even greater clips. Peabody's September quarter earnings press release has good data points on the moving parts of the global coal market.
The oversized drop from $70 a share in early 2011 to $20 today presents a terrific long-term buying opportunity in Peabody. The company has a 1.8% dividend return at this price and is trading around its tangible book value. Peabody has remained free cash flow positive in the depressed coal price market of 2012-13. Forward Wall Street guidance puts the current stock quote at 6x annual cash flow and 28x an ultra-low expectation of earnings for 2014.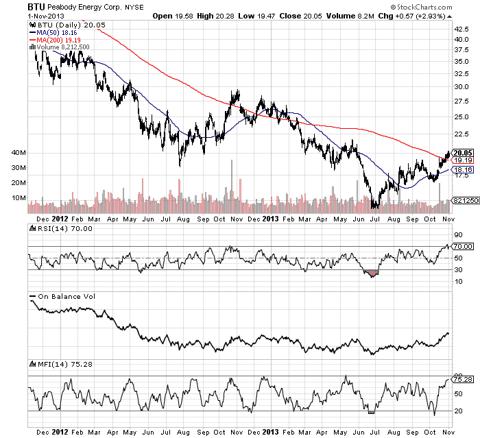 Mini-Portfolio
When reviewing undervalued stocks, I utilize several systems and formulas to find those that are currently witnessing accumulation or a sharp reversal of a price downtrend. Using these momentum techniques helps to ferret out the nutritious wheat from the bulk of not very tasty chaff - the profitable/rising stock holdings for investors from the companies still in waiting patterns. In combination on an equally weighted basis, the six stocks mentioned in this article have "outperformed" the Vanguard Energy ETF and S&P 500 on every intermediate-term time metric. On a trailing 1-month, 3-month, 6-month and 1-year chart, you can see different stocks have pulled their weight, and taken turns leading. However, as a group, ConocoPhillips, Phillips 66, Hess, Devon, First Solar and Peabody have proven to be solid investments the past year or so.
1-MONTH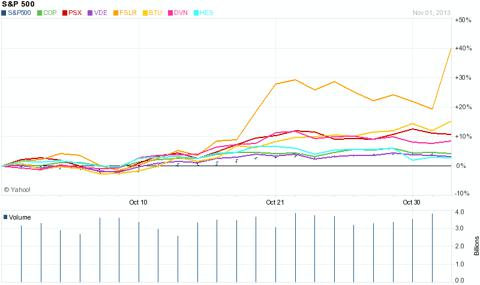 3-MONTH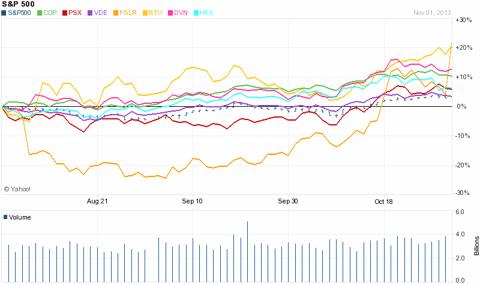 6-MONTH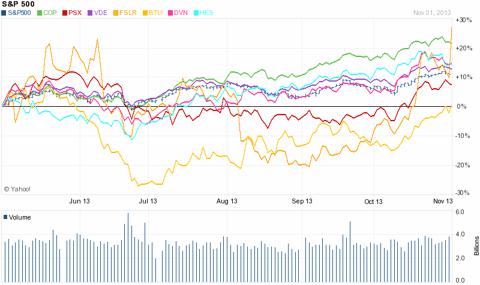 1-YEAR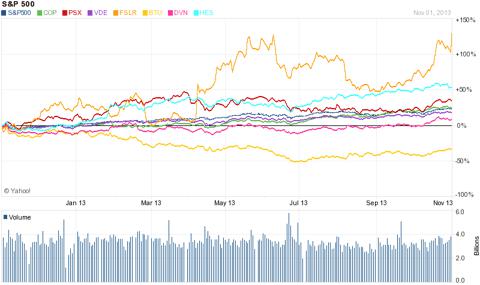 Charts Courtesy of Yahoo!
Conclusion
All six have strong undervaluation characteristics and rising technical momentum. They hold the main ingredients of past big winners, stocks that pull off multi-year price rises. While the future is unpredictable by nature, each of the six has turnaround catalysts, ongoing restructurings, improving operational focus, and more buyers of the stock than sellers of late.
If you are searching for some good dart board choices to aim your investment dollars, each of the six candidates in this article series are solid selections to begin your own due diligence. In my 27 years of trading/investing experience, long-term outperformance in your portfolio is a function of throwing plenty of darts at the right types of dart board targets. If you are aiming at the wrong dart boards, you are 100% guaranteed to never outperform.
Disclosure: I am long PSX, FSLR. I wrote this article myself, and it expresses my own opinions. I am not receiving compensation for it (other than from Seeking Alpha). I have no business relationship with any company whose stock is mentioned in this article.