In my previous article Do Trackers Offer Good Value? I presented analysis (based on the FTSE 100 index) about the disadvantages of investing in index trackers outweighing the advantages.
As we know, indexes are massively dominated by just a handful of the largest companies, especially in an index like the FTSE 100 where there is such a big range between the largest company Royal Dutch (NYSE:RDS.A)/(NYSE:RDS.B) at combined market cap of £134bn and Vedanta Resources (OTCPK:VDNRF) at just £2.8bn. The Nasdaq 100 tells a similar story. The market caps range from Apple (NASDAQ:AAPL) at $468bn down to Nuance Communications (NASDAQ:NUAN) at $4.8bn. The largest 10 companies in the Nasdaq 100 account for more than half of its total size.
It is therefore of interest to the investor of ETF trackers to know just how dominant the largest companies are. In other words, how many stocks would we need to be able to replicate an index to a high degree of accuracy? In an index like the FTSE 100, the answer is not many, typically no more than 10.
If we take the 10 largest companies currently in the FTSE 100 index and construct an index based on the same market cap methodology - let's call the new index the FTSE 10 - the resulting FTSE 10 produces an index with a very close correlation to the FTSE 100 - see table and chart below.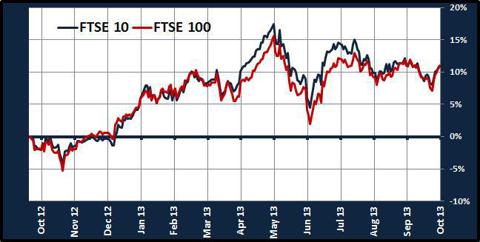 | | | | |
| --- | --- | --- | --- |
| | FTSE 10 | | FTSE 100 |
| Return | 10.90% | | 11.06% |
| 12-month volatility | 12.31% | | 12.32% |
| Sharpe Ratio | 0.89 | | 0.90 |
| Alpha | 1.28% | | 0.00% |
| Beta | 0.95 | | 1.00 |
| Correlation | 0.95 | | 1.00 |
So the largest 10 stocks in the FTSE 100 are dominating to such an extent that one can practically ignore the other 90 stocks in the index.
Taking things a bit further still and successively reducing the number of stocks and constructing the indexes: FTSE 9, FTSE 8, FTSE 7 etc. down to the FTSE 3 which contains Royal Dutch A and B &; HSBC (HBC) and Vodafone (NASDAQ:VOD), the results are very interesting and illustrate very clearly that just a tiny number of the largest stocks are dominating the fortunes of entire indexes. This highlights probably the major flaw in investing in market capitalization-based equity trackers like SPDR S&P 500 (NYSEARCA:SPY), PowerShares Nasdaq (NASDAQ:QQQ), and SPDR Russell 1000 (NYSEARCA:ONEK).
So what ETFs can we buy which offer the investor an alternative to the market capitalization standard? One such group is the FTSE RAFI ETFs which weights the constituents using a combination of 4 economic fundamentals of the underlying stocks: book value; cash flow; sales and dividends. There are many of these FTSE RAFI ETFs available and 3 of the most popular include: PowerShares FTSE RAFI US 1500 Small-Mid (NASDAQ:PRFZ), PowerShares FTSE RAFI Dev Mkts ex-U.S. S/M (NYSEARCA:PDN), and PowerShares FTSE RAFI US 1000 (NYSEARCA:PRF).
As an illustration, let's now focus on one of these ETFs, the PowerShares FTSE RAFI US 1000. Essentially this ETF is made up of Russell 1000 stocks so let's compare the performance of PRF against the iShares Russell 1000 ETF (NYSEARCA:IWB) which is a traditional market cap index tracker.
Over the past 12 months to October 31 2013, PRF has outperformed IWB by nearly 3% (28.76% to 25.87%) with little difference in volatility between the 2 ETFs (12% annualised for both). The slightly higher total expense ratio of the PRF compared with the IWB (0.39% to 0.15%) appears to be the only minor downside.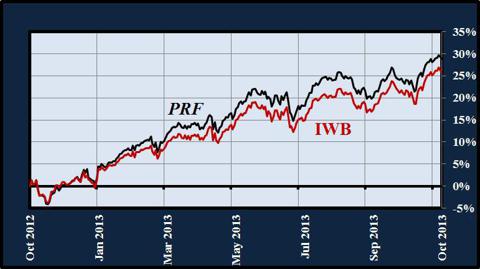 In conclusion then, because traditional index trackers are often exposing investors (who may be largely unaware) to a very high concentration risk to a handful of the largest stocks in an index, investors may want to look at ETFs which offer better value through improved diversification. Fundamental index ETFs like the FTSE RAFI family are certainly giving investors a promising alternative.
Disclosure: I have no positions in any stocks mentioned, and no plans to initiate any positions within the next 72 hours. I wrote this article myself, and it expresses my own opinions. I am not receiving compensation for it. I have no business relationship with any company whose stock is mentioned in this article.