With the third quarter of 2013 likely to be remembered by higher home prices, elevated interest rates and turmoil in Washington, investors have good reason to be concerned about acquiring shares of publicly traded homebuilders. The National Association of Home Builders/Wells Fargo Housing Market Index released on October 16th confirmed that fear when it showed a lower level of confidence in the industry following a downwardly revised reading in the prior month. To add further uncertainty to the equation, with the government shut down for a few weeks, the closely tracked Housing Starts report was not released.
The data is beginning to show what appears to be a brief period of "consolidation" or "cooling down" in the housing market. While many bearish investors will claim we have peaked in housing and another bubble is clearly in place, I would argue their logic is flawed. The handful of builders who have reported quarterly earnings over the past few weeks all revealed similar levels of weakness but optimism still remains high. Meritage Homes CEO Steve Hilton summed up the quarter in a statement that is likely agreeable throughout the industry, "The recovery in the housing market that began last year drove strong sales growth and price appreciation through the middle of this year, until buyers reacted to successive price increases and higher interest rates by pausing their purchasing decisions, thereby moderating the demand for new homes. In some ways, the slower pace of sales seen in the third quarter is healthy for the market, allowing subcontractors and suppliers to catch up before the next spring selling season, and taking some upward pressure off costs."
So why jump into homebuilder stocks with all the uncertainty? Aren't they all going to respond the same if we have continued weakness in the data released over the coming weeks? These are legitimate questions and concerns, however not all builders operate in the same markets, and certain geographic locations are responding differently than the national averages which are reported. A great example of a company bucking the trend is Meritage Homes (NYSE:MTH), who although not immune to the "cooling down" period, still managed to grow revenues 44% and new home orders by 8% in the recent quarter.
Brief Overview of Meritage Homes
Scottsdale, Arizona based Meritage Homes has been building homes since 1985. Following the acquisition of a Tennessee builder (to be mentioned later), the company now operates in seven states covering 15 different markets. Meritage has a presence in 12 of the top 20 fastest growing markets, as measured by building permits in 2012. If you were to review the most recent S&P/Case-Shiller home price index you will see that many of the fastest growing cities are all located where Meritage builds new homes.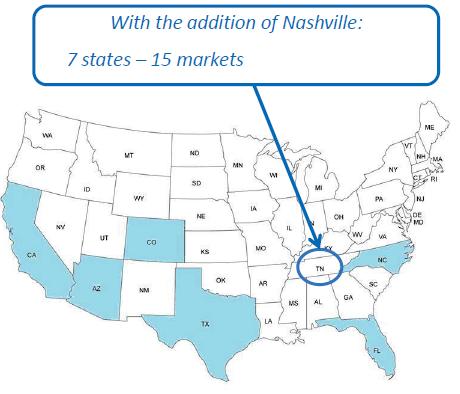 Source: Meritage Homes Investor Presentations
Meritage Homes caters mainly towards move-up buyers, a group which typically exhibits the healthiest personal balance sheets. When interest rates tick higher (as we have seen over the past few months), buyers who have lower income levels tend to feel the pain first. In the chart below you can see that the lowest income levels (typically entry level buyers) spend the largest percentage of their income on housing. This clearly explains why an increase in mortgage rates (i.e. monthly mortgage payments) could cause would-be buyers to turn away. A common misconception in the industry is that all builders will be hurt equally if rates jump. While Meritage is likely to lose out on a portion of sales, the builders customers have an average FICO score of 741, likely suggesting that higher rates will not affect their customer base to the same magnitude as other builders.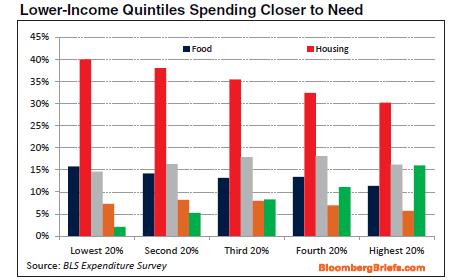 Future Planning
I mentioned earlier that sentiment amongst many homebuilder CEO's continues to remain optimistic. Occasionally this is just lip service and a way to please investors, but in the current environment many builders are putting their money where their mouth is. Meritage is one of those builders, and during the third quarter spent approximately $166.7 million on land acquisition and development. Inventory as of 9/30/13 has ballooned to an adjusted level of $1,316,216,000. (Note: I exclude capitalized interest, a common practice amongst many builders, because this is technically not a tangible piece of inventory)
Another way Meritage is investing for the future is through strategic acquisitions. On September 4th the company acquired Phillips Builders in Nashville, Tennessee, giving further exposure to another region with promising growth rates. The purchase added 500 lots to the existing supply and 150-200 homes are expected to close in 2014. You can see in the table below that land and acquisitions made over the past few years have caused the lot supply to increase dramatically, currently sitting at just over 25,000. Meritage estimates they control all the lots needed to satisfy projected closing through not only 2014 but 85% of projected closings in 2015. While builders have been known for their overly optimistic attitudes (and we know how that ended up just a few years ago), the current real estate environment is very different compared to previous cycles. My personal beliefs are that the underlying fundamentals continue to support a strong argument for new home demand and justify the rapid increase in lot supply.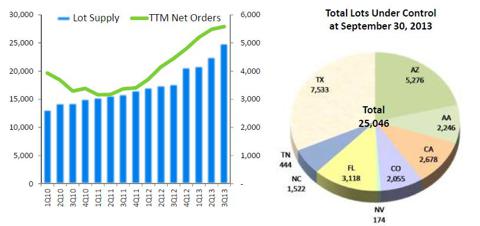 Source: Meritage Homes Investor Presentations
Backlog
A trend which appears evident across the industry is a lower number of homes in backlog during the recent quarter. If home prices continue to appreciate at their current pace, this is not an issue as higher selling prices will offset lower unit sales. However if home prices begin to slow, we may see lower revenues than many are projecting. In the recent S&P/Case -Shiller home price index David Blitzer, Chairman of the Index Committee, stated, "The monthly percentage changes for the 20-City composite show the peak rate of gain in home prices was last April. Since then home prices continued to rise, but at a slower pace each month." Keep in mind that this report (which was released on October 29th) shows data for the month of August. The significant lag in this index could be masking the weakness in home price appreciation experienced in September and October. While I am not overly concerned about this period of "cooling off", investors need to keep an eye on average selling prices for Meritage Homes and the number of homes in backlog.
One way I like to keep track of future revenue is a ratio of homes in backlog to homes closed. As long as this number is above one, and average selling prices are not declining, one can reasonably estimate that future revenues will be higher than currently reported data. Since homebuilding is seasonal in nature (more homes ordered in Q2 and Q3, more homes closed in Q4 and Q1) the data is choppy (blue line). I have included a four period moving average (black line) to smooth out the ratio, and as the chart below displays, we have been steadily trending upward.
Keep in mind that this is not a perfect indicator (as no indicator is), and often times there is a legitimate story as to why backlog declined during a particular quarter. Take California for example, Meritage's largest and most profitable market. The company has been selling communities in California faster than they can be replaced, a good problem to have. The average community count was down 21% year-over-year and orders were down 33%, obviously dragging down backlog levels.
Valuation
It can be challenging to value publicly traded homebuilders due to the cyclicality of the industry and subjective accounting surrounding the use of deferred tax assets. One of the simplest ways to value Meritage Homes versus its peer group is utilizing a price-to-sales ratio. All builders in the industry play on a level surface when booking revenue. Until the new home is completed, and delivered to the buyer, revenue will not be booked. In the chart below you can see that Meritage Homes trades at the low end of the P/S ratio for its peer group. This seems low given their ability to grow new home orders during the quarter (while many competitors saw this metric decline) and grow the average selling price of both new homes and homes in backlog.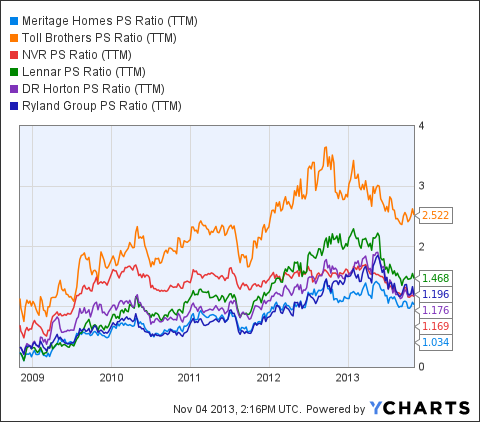 TTM) Chart">
data by YCharts
During the prepared remarks of the recent earnings release Meritage Homes stated, "Based on our reported results year to date and assuming continued strength in our markets, we have revised our models and are projecting home closing revenue of approximately $1.8 billion for 2013". Assuming managements estimates are correct and the year ended with a diluted share count of 38.9 million, sales per share would be $46.27. If shares of MTH traded at 1.2x TTM sales, in line with the peer group, shares would be worth roughly $55.50 over the next few months. This would leave shareholders with upside potential of roughly 25%.
I caution investors to stay away from the readily available price-to-earnings ratio. As builders begin to reverse their valuation allowances and utilize deferred tax assets, the "E" in P/E can often be manipulated (For a perfect example of this, take a look at PulteGroups recent quarter when $2.1 billion was utilized and gave a significant boost to earnings). Meritage Homes utilized a substantial portion of their DTA during Q4 of 2012 and continues to release small portions each quarter depending on specific state guidelines. There is no strict rule for when and how much DTA can be utilized and investors who simply skim a P/E metric will likely be mislead.
Risks
There are many risks involved in owning shares of Meritage Homes, for a complete list of risks I recommend investors review the most recent 10-k filing. One area which has caught investor's attention over the past few quarters is the tremendous gross margin appreciation. As home prices continue to grow at double digit rates, Meritage has been increasing average selling prices and capturing the excess profit. If we begin to see home price growth slow, and building costs do not follow suit, gross margins are likely to be pressured. An example of this and a common problem across the industry is the lack of skilled construction workers. The demand for new homes has far outpaced the available labor and wages in this industry continue to climb.
Another area to watch is commodity prices. Lumber, a main component of new homes, fell significantly during the middle part of 2013, resulting in very impressive margins for builders (lower cost of supplies) during the recently reported quarter. Meritage does not engage in significant hedging activities and is subject to fluctuations in this commodity. As the chart below illustrates, and as witnessed in the first month of Q4, lumber prices are beginning to move upward again. While I am not going to forecast lumber prices over the next few months, one would assume that higher costs are not going to be easily passed along to the customer if home prices are not appreciating at the rapid rates as we witnessed a few months prior.
Concluding Remarks
All recoveries have periods where consolidation occurs and the pessimists jump in and reveal their case as to why the recovery was doomed from the start. We are currently experiencing a similar story in the housing recovery in this country. However when you take time to review employment growth, demographic trends, and home price affordability, it appears the housing market has room to run further. Given these optimistic viewpoints I suggest investors carefully inspect each homebuilder rather than blindly buying an index fund to provide exposure to the industry.
Meritage Homes is a company which I believe has attractive real estate in their inventory, a credible management team and adequate capital to participate in the housing recovery. Additionally, their core customer is likely to continue buying homes even if rates tick higher over the next few years. The market appears to be discounting the revenue generating potential of this company and this potential mispricing can create an attractive entry point for investors. Consider your investment goals and objectives before initiating a position in Meritage Homes, and remember that the value of investments in equity securities, like MTH, will fluctuate in response to general economic conditions and to changes in the prospects of particular companies and/or sectors in the economy.
Note: All data reported and graphed is pulled directly from Meritage Homes SEC Filings, Press Releases, and Investor Presentations.
Disclosure: I have no positions in any stocks mentioned, and no plans to initiate any positions within the next 72 hours. I wrote this article myself, and it expresses my own opinions. I am not receiving compensation for it (other than from Seeking Alpha). I have no business relationship with any company whose stock is mentioned in this article.