The oil and petroleum shipping industry is a capital intensive industry that has suffered since the economic downturn with low daily rates. Before the downturn, the companies were expanding by issuing both debt and equity. Now, it's obvious that only the most well managed and fiscally sound of the companies will survive.
While there are many indicators of the health and survivability of a company, there are three indicators worth looking at in addition to the bottom lines. The first is the sell side indicators and short interest, analyst recommendations and ownership. A quick view of these helps to provide an indication of how a company compares with its competitors.
Short interest

While a high short interest helps to identify those that are on shaky ground, it can also indicate volatile stocks as well. When looking at the tankers, the two that pop out as having extremely low short interest are Tsakos Energy Navigation Inc (NYSE:TNP), and Scorpio Tankers Inc (NYSE:STNG). On the other end Frontline (NYSE:FRO) and Nordic American Tanker (NYSE:NAT) have a high percentage of short percentage of float.
Analyst Recommendations

When looking at Analyst Recommendations Tsakos Energy Navigation and Teekay (NYSE:TK) are the two with the highest averages. On the other side FRO, NAT and Teekay Tankers Limited (NYSE:TNK) had mild sell indicators.
Ownership

I believe ownership can be telling in as much as it shows who cares about the company. High insider ownership means those at the helm are playing with their money. High institutional ownership should signal confidence in management by Wall Street. For the tankers, Tsakos Energy and Teekay both have a high percentage of insider ownership. Frontline and Scorpio Tankers both have high institutional ownership.
Recommendations
Tsakos Energy is a well diversified small cap ($280M) tanker company that has weathered the storm well of volatile shipping rates. In addition to descent stock appreciation, they also offer a dividend paying almost 4%. Since the beginning of the year they have been on an uptick with the 20, 50, and 100 day moving averages converging.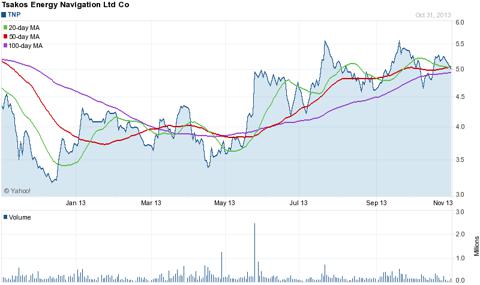 Of the companies, Frontline is one that I am the most pessimistic on, and have written about before. The company has over $1.3 billion in long-term debt, yet has a market cap of $179M. The company has expressed its concern over the bonds that mature in April 2015 and not having the cash to cover them. While they are working to resolve the issue, I doubt the answer will come from increased revenues.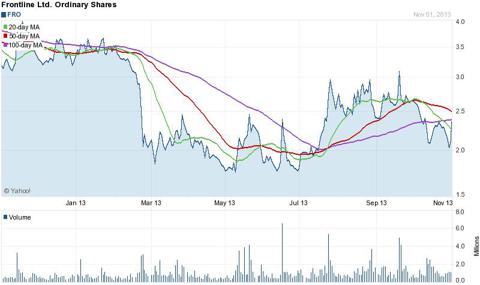 The tanker market is still a ways off from a complete recovery. Some of the companies today might not survive to see better rates for many reasons, but looking at ownership, short sellers and analyst recommendations can help identify the best companies to invest in.
Disclosure: I have no positions in any stocks mentioned, and no plans to initiate any positions within the next 72 hours. I wrote this article myself, and it expresses my own opinions. I am not receiving compensation for it (other than from Seeking Alpha). I have no business relationship with any company whose stock is mentioned in this article.