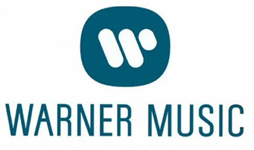 If you are a musician for the money, it's likely that your music is less appealing to the majority of your audience. But what about the companies who make music their business? The last few years has ushered in dramatic changes for the music industry and at this point most participants are struggling to survive. We're going to take a look at Warner Music Group Corp (WMG) as a potential short candidate for the new year.
At first blush, you might think that WMG has a strong business which owns the rights to some very high profile artists. Warner represents Fleetwood Mac, Linkin Park, Gnarls Barkley, Faith Hill, and many other up and coming stars. Now my sense of pop culture is a bit deficient so these artists may not be a good representation of the talent Warner represents, but with the company pulling in more than $800 million dollars in revenue each quarter it is clear that they have at least a few products which resonate with the average music buyer.
But the technology changes in how music is distributed along with a sharp decline in the global economy has thrown WMG a one-two punch which has left profitability reeling. Today, many listeners use free services such as YouTube, or Pandora to listen to music, and the revenue models for these services are primarily based on advertising rather than the purchase of music. Warner has been scrambling to keep up with the changing world, but it currently appears that the company is falling behind from a business standpoint.
Just before Christmas, Warner announced a new agreement with Hulu in which WMG will offer music videos and concert footage to Hulu viewers. The agreement could help WMG capture some of the advertising revenue as they will likely operate under a revenue split agreement. Both companies are already working together to determine what content will be available with Muse being the first artist featured. Theoretically, as Warner exposes their artists to the broad audience which Hulu has assembled, sales of the artists records will pick up leading to stronger product revenue. But the success of this model has yet to be proven.
Last month Warner announced results for its fiscal fourth quarter which ended September 30. The company saw revenue of $861 million which was up 1% from last year. Management seemed especially proud of the fact that digital revenue was $184 million which represents 21% of total revenue. It stands to reason that in today's technological world, media companies should see their digital revenue make up a larger portion of total revenue if they are to stay in business.
WMG had a strong quarter, increasing revenue, growing our cash balance to $384 million and raising digital revenue to 24% of total Recorded Music revenue. Over the fiscal year, even in the midst of difficult economic and industry trends, we grew our market share to 21% in the U.S. and continued progress on our key strategic goals: diversifying our revenue mix, improving our financial flexibility and maintaining our leadership in the industry's digital transition. ~Edgar Bronfman Jr., CEO
To hear the CEO speak, you would think that this was a positive quarter for the music company. But in actuality, WMG ended up losing 12 cents per share for the quarter and a full 64 cents per share for the year. Also, while management may boast about their cash balance being a third of a billion dollars, you should note that long-term debt is stuck at $1.939 billion which dwarfs the company's cash levels.
Warner's balance sheet appears to carry a significant amount of risk. Total assets are listed at $4.07 billion with total liabilities listed at $4.21 billion. So the company actually has a negative book value. The asset side of the equation is also a bit disturbing with $1.04 billion in goodwill and another $1.32 billion in "intangible assets subject to amortization." While I don't necessarily doubt that these assets carry value, the math suggests that the company has a tangible book value that is more than $2 billion in the red! As long as the company can continue to service the large debt load, they will stay in business. But as we have seen in the past 18 months, there are times when debt service becomes nearly impossible even for strong companies.
Looking to 2010, analysts expect WMG to lose another 59 cents per share. Now that's better than the 64 cent loss of 2009, but it still represents losses for shareholders. After rebounding from below $2.00 per share, the stock is now at $5.70 and appears very vulnerable. There is a significant amount of volatility, but I wouldn't be surprised if the stock tested or even broke below it's March low in the next 12 months.
One caveat is that the company has some relatively easy hurdles to beat in 2010 when compared to 2009. So it is not outlandish to think that the company could post revenue gains over last year, and profit losses that are less dramatic than we saw in 2009. News releases will likely be skewed positively so while the company is posting a loss, management assumes that it is good news. This positive spin could easily sent the stock higher – if only temporarily – which can cause losses if you are short.
So please use caution when trading WMG. It may make sense to use option strategies that lower risk such as shorting the stock and then selling puts, or buying the puts with the understanding that the time decay could make the trade less profitable than shorting the stock outright. But despite the volatility I expect the next year to favor short-sellers in this financially challenged stock.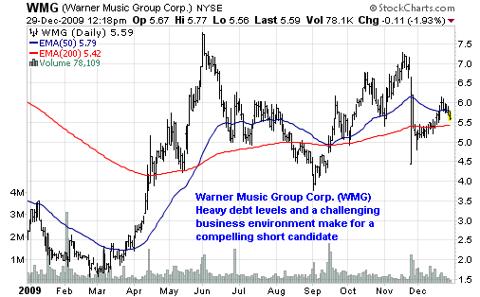 Disclosure: Author does not have a position in WMG