In 2012, when Apple (NASDAQ:AAPL) was in its early trajectory towards $700/share, I wrote "Apple: Eeny, Meeny, Miny and Mo" with these hypothesis in mind:
The dot.com era's stock market returns was mainly led by the 4 horsemen of the Technology stocks - Microsoft (NASDAQ:MSFT), Cisco (NASDAQ:CSCO), Intel (NASDAQ:INTC), and Dell (NASDAQ:DELL). Can we outperform the market by finding the next horsemen?
How do we pick the next generation of horsemen? How would we allocate our funds?
Can a simple approach beat the market consistently?
Using a $100,000 portfolio, the funds were allocated this way:

How were the above 4 stocks picked? I simply asked my kids to name 4 technology companies that they would love to own at that point in time. Facebook (NASDAQ:FB) did come up but I ruled it out as it didn't have any history yet (boy was I wrong and the kids were right).
Using the sorting system discussed in that article; the bias would have been to load up more on Apple as it had the highest score based on the screens used. Good thing that wasn't the case!
So, how did the portfolio perform over time?
It did pretty well; returning at least 33.3% in 15 months. It would have been worth $134,017 today.
So, what can we learn from this and what adjustments can we do to try to improve on this strategy? The two main observations that stuck out to me were:
Leave your bias at the door. In hindsight, it was easy to ignore Amazon (NASDAQ:AMZN) due to its valuations, Microsoft due to its prospects, and Google (NASDAQ:GOOG) as it didn't technically break out yet.
Fundamentals didn't seem to matter.
What if, during the annual balancing, 25% of the funds were at least allocated to the laggard(s) and the remaining funds were used to purchase the rest of the portfolio in equal weights?
What can we do differently based on what we've learned?
I would close my position on Microsoft and take profits in Google , and Amazon .
This is what the portfolio would look like: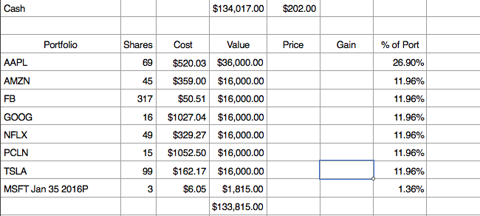 Moving forward, the plan will simply be:
Hold the stocks till the end of October next year and rebalance accordingly.
Sell any at least half of the holdings that have gained 50% or more or have lost 20%.
For the record, SPY was at $176.21.
Before I move on to talk about how the new stocks were picked; I think it would be as important to talk about:
Why Microsoft was jettisoned.
Does fundamental analysis matter still?
This was the fundamental valuation of each stock in the original portfolio...
...and this was the return on the very same portfolio:

What pops out at you? Yep, despite being fundamentally undervalued vis a vis its peers, both Microsoft and Apple underperformed.
This is the current fundamental valuation of the new portfolio:

Given my natural affinity to growth stocks with reasonable valuations (aka Apple), the newly created portfolio is filled with 'what were you thinking when you bought those POS with nosebleed valuation' stocks?
These stocks have performed so well over that past year that it is enough to give me an ulcer holding them over a year....

...hence, it is for this very reason that the conservative guy in me led me to allocate at least 25% of the funds in the stock that relatively cheap vis a vis the rest - and that stock happens to be Apple. It would be pretty funny if Apple continues to be a dog for the 2nd year in a row.
Now, onto some interesting thought processes:
How were this years' stocks picked?
I Went back to my wife and kids to pick one stock each that they wanted to add to the portfolio and asked them to provide me with a simple answer as to why they would want to own that business.
My daughter picked Facebook as she uses it (not as often now) and thought it was a great platform for target marketing. My wife picked Priceline as she books there often and thinks its great to be able to 'name your price' for a plane or hotel fare. My son picked Netflix as he sees it as the perfect cable replacement if only it could carry sports as well! I picked Tesla as I see it to be a great disruptive force in the auto industry.
In a nutshell, the picks didn't involve in any rocket science.
Why was Microsoft jettisoned?
When I wrote "Will the iPad mini even scratch the Surface", I surmised that the mini iPad launched followed the strategy of containment - controlling the opponents advance while expanding itself. Pundits were more concerned about the iPad cannibalization.
So, how did it pan out? The Surface struggled to gained traction and Microsoft was forced to write off $900M. What if Apple never released the iPad mini during the same time? Was it a wonder that Apple crammed the release of multiple products in the fall of 2012? My assumptions were...

Today, the iPad line covers the price point from $299 to $929. Given that the models from $300 to $929 will now be outfitted with a 64bit gen A7/M7 chip combo, it would be hard for Surface or any Android tablet to gain traction in this space. They will be left to compete in the $299 and below market.
Frank Shaw's rant reminded me of the reality distortion field that plagued the joint CEO at Blackberry (NASDAQ:BBRY). We all know how that story transpired.
Apple is now giving its core software away for free (and possibly its future updates). Mavericks, its core OS, if free. iWork (slimmed down version of Office if you will), is also free for all new Apple iOS devices. Can Microsoft produce a compelling suit of hardware to enable them to bundle the software for free? So far, the answer has been no. Given that their OEM partners now have the capability to build Chrome based PCs'; Microsoft is at risk to lose its software cash cow.
If Microsoft does not release Office to the iPad line; consumers will get used to using replacements that are good enough. Not all excel user, for example, are power users. Numbers (Apple's version of Excel) will be good enough and so will Google's cloud based docs. If it does release Office to the iPad line, it runs the risk of erasing whatever chance Surface has to gain traction in the tablet space.
Ballmer retired. How come no one's fretting who will replace him like when Steve left? Why is it taking so long?
Will we start seeing sequential decline in its OS revenues?
Do we really need to explain things in Crayola on how dire the situation is in the PC market? From Asymco...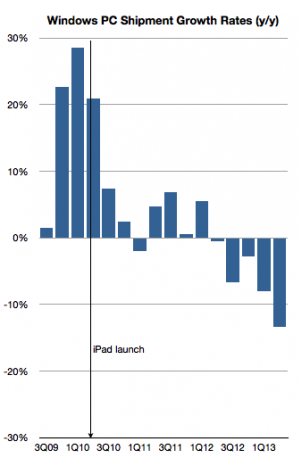 Why continue to hold Apple given that it has done nothing so far?
When I wrote "Apple: Gearing up to go thermonuclear in 2012", I omitted to mention an armament that I thought was in use but I had no proof of. The art of spinning the truth is a powerful armament. Samsung (OTC:SSNGY) was recently caught doing that to HTC (OTC:HTCCY). Samsung was also recently caught cheating on benchmark scores amongst other transgressions. How much of an impact does Samsungs' marketing budget have on shaping the minds of consumers (remember those fake tweets touting the new Samsung gears but the tweet came from an iGadget)?
Samsung does not release any specific sales data that is comparable to what Apple does. The Chinese white label Android makers do not release any sales data as well. Given the above, how can the pundits safely conclude that Android is winning? How is winning defined?
If Android is indeed winning by having the biggest market share; doesn't it follow that it may also stand to lose the most?
Why is there a double standard when it comes to measuring Apple's performance? For a closer look, Tom Shaughnessy did a great job on the comparing Apple, Google and Amazon in his article.
As per my last article, I expected a retracement in Apple after earnings and wanted it to provide us with a Gross Margin guidance of at least 39bps and higher Revenue and EPS guidance. Without the deferral (as OS are now free), GM would have been close to where we wanted it to be. Given the new iPad lineup, I expect Apple to pre-announce that they will exceed guidance again.
Because Apple has underperformed vis a vis its peers, the contrarian in me thinks this would be the best time to add on any dips at the $490/$500 level.
I'll try to write an update every quarter. Till then, happy trades!
Disclosure: I am long AAPL, TSLA. I wrote this article myself, and it expresses my own opinions. I am not receiving compensation for it (other than from Seeking Alpha). I have no business relationship with any company whose stock is mentioned in this article.
Additional disclosure: short MSFT