It appears that Legg Mason (NYSE:LM) is rolling out its public relations machine and finding amicable partners in the media to help bolster its reputation along with that of its most recognized fund manager, Bill Miller. This Bloomberg article attempts to repair Miller's deservedly tattered reputation but the authors missed a few key points that potential Value Trust investors should consider.
The Bloomberg article points out that Miller's Value Trust fund rose 43% through December 23rd, beating 93% of its peers. This performance has led to some self-congratulatory comments, with Miller stating, "Even when things were really bad last fall, it was pretty clear that there would be a cyclical bullish phase to the market", and, "It is too early to pat ourselves on the back...we're just one year off of a very bad period, so we can't get complacent."
This mentality of feeling like "you're back" after one good year despite prior years of destroying your investors capital through incompetent stock selection compounded by high fees is sickening, particularly to younger investment managers like myself. Rather than even consider complacency, Miller should feel shame in his long-term performance and disregard for any risk management. Miller should also show some level of concern for his investors, as those that placed capital in Value Trust as far back as 1997 are underwater. Even worse, Miller and his team were highly compensated for this incompetence.
CHART I: LEGG MASON VALUE TRUST ("LMVTX") HISTORICAL PERFORMANCE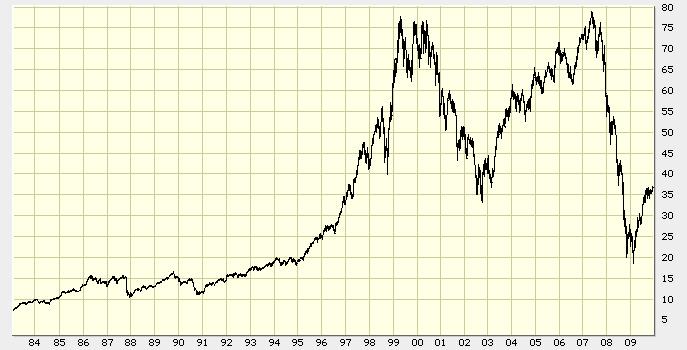 Miller is optimistic about 2010 despite plenty of evidence that suggests growth in the coming years will be tepid. According to the Bloomberg article, Miller expects that 4% GDP growth is enough to correspond to a 15% increase in the S&P500. His view is not surprising as Miller's statement is just blatant marketing which amounts to: good economy equals good stock performance... invest in Value Trust. However, Miller provides no actual discussion of valuation metrics for the market which would have as large, if not larger, an impact on the potential performance of the S&P500 than GDP growth. After all, a 2% GDP growth level on a market valued at 6.0x earnings could lead to a much higher percentage increase in the index, compared to a 6% GDP growth level on a market valued at 50.0x earnings.
Ultimately, Bill Miller represents all that is wrong with the mutual fund and investment management industry. As Chart I illustrates, those that put capital into Value Trust since as far back as 1997 have barely broken even and in many cases are suffering significant losses despite a one-year "comeback" by Miller. In contrast, while Value Trust investors have suffered, Bill Miller has been allowed to recklessly gamble his clients' capital and enrich himself year after year despite shameful performance. Even worse, Miller's star power and marketing machine have also allowed Value Trust to levy high fees despite this performance. For the sake of investors, the financial media should make an effort to provide the full score rather than give managers like Miller a perpetual free ride.
Last, in previous pieces discussing Miller, some asked how I differentiate myself, suggesting I am just a competitor no different from Miller, armed with my own abysmal track record and charging investors as much as Miller. This is not the case, as I love investing for myself and investors/clients but to some extent am disenfranchised by the investment industry. In any case, for the purpose of limiting marketing but wanting to set the record straight: my fund has outperformed Miller, all investors since inception in 2007 are in the black, I re-credited all fees to my investors mid-year in 2008 due to my own disgust with my performance, and this year my fund is outperforming Miller's figures by over a margin of 2 to 1. The main difference between investment managers for large institutions and those like myself is that we want our investors/clients to also have the yachts...
DISCLOSURE: NONE