Conclusion: High Premium Closed End Funds ("HighPrem") have an average higher return-of-capital ("ROC") component to their distribution relative to a similar sized control group of CEFs ("Control") with median CEF premium/discounts.
The HighPrem CEFs have an average 51% ROC component to their distributions versus 2.4% for the Control CEFs. HighPrem CEFs have an average nominal yield of 11.1%. When the ROC component is stripped out of the HighPrem CEFs, the average return-on-investment distribution is 5.5%.
This is compared against Control CEFs that generate a nominal yield of 7.2%. Less the ROC distribution component, the Control CEFs generate a return-on-investment distribution yield of 6.9%.
Investment Theme: Therefore, investors who are purchasing the highest premium CEFs are paying excessive premiums for sub-CEF returns-on-investment while accepting a greater capital risk. Of the 15 CEFs that are trading at a premium greater than 20%, out of a CEF universe of 610 CEFs, prospective investors are paying an average 34.1% premium for a 20.2% less return-on-current investment when compared to the Control CEFs.
Sources of Irrational Investing: There are several reasons why investors may choose to purchase HighPrem CEFs in the face of lower relative investment returns and greater capital risk. The following are the four such reasons with each followed by an estimate, expressed as a percentage of 100%, of the plausibility of the explanation for such irrational behavior.
1) Accounting and tax considerations facilitating an ROC distribution as an efficient tax mechanism (15%);
2) The underlying NAV is not being adequately reflected (10%);
3) The "greater fool" investment theory (25%);
4) Investors not distinguishing between the nominal distribution yield and the return-of-capital component of that distribution (50%).
HighPrem Recommendations: The broad investment recommendation is to avoid excessive premium CEFs based on nominal yields. This is not news to veteran CEF investors who typically pass over CEFs selling at excessive premiums.
Regarding the HighPrem CEFs cited above and highlighted in table below:
1. The three micro-cap Cornerstone sponsored funds seem the most egregious in their valuation. They are trading at an average premium of 45% with an ROC component of over 90%.
2. The two HighPrem utility CEFs Gabelli Utility Trust (NYSE:GUT) and Evergreen Utilities & High Income Fund (NYSEMKT:ERH) note a word of caution. GUT's distribution yield less its ROC component is a paltry 0.9%. While ERH is not currently paying out a ROC distribution, it slashed its distribution 52.2% at the end of last year. It is now yielding a moderate 8.5%.
3. Both Alpine sponsored funds deserve further scrutiny. Alpine Total Dynamic Dividend Fund (NYSE:AOD) cut its distribution 33.3% last year. While currently yielding 16.0% with no current ROC distribution component, the imputed net investment income return on NAV is 20.4%. With little undistributed net income to fall back on it will depend on non-recurring capital gains to sustain its current distribution rate for which investors should pay very little.
4. A more difficult call is the energy MLPs Cushing MLP Total Return Fund (SRV), Kayne Anderson MLP (NYSE:KYN) and Tortoise Energy Infrastructure (NYSE:TYG). Such CEFs may be receiving a return-of-capital distribution from their portfolio holdings due to non-cash depletion allowances afforded that asset class. Such distributions may be passed on to its shareholders in the form of ROC distributions. There may be a legitimate reason for the ROC distribution component.
5. The three PIMCO-sponsored CEFs are trading at a 33.4% premium with an average ROC of 6.2%. Two are not currently paying a ROC distribution. PIMCO is considered a strong brand in the fixed-income asset class. You might just be paying for the label.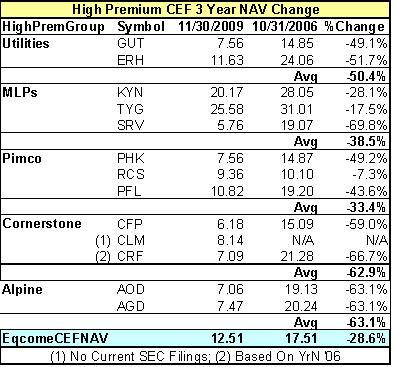 When is ROC a Bad Idea?
Since a return-of-capital distribution can "eat away" at a CEF's NAV, a good check on the wisdom of such a policy is the growth of the NAV. If the NAV is being supplemented by other sources of asset appreciation, a return-of-capital distribution would not be as deleterious.
No Good News Here: The accompanying table reviews the three year NAV change for the CEF market sector as well as for the high premium CEFs groups outlined below in a separate table. In each case the CEF market segment decline was less than each of the high premium groups. So, a case can not be made that high ROC CEFs are able to overcome the "picking away" at the capital base by other sources of asset growth.
Parting Observations This analysis lends further support to the contention that buying high premium CEFs may be a sub-optimal investment strategy. Now we're just talking about degrees of investment stupidity. In addition to paying more for less investment return, the potential for "gravitation-to-the-mean" premium/discount can add an additional element of pain.
The following is a chart of the High Premium and Control CEF Groups. (Click to enlarge)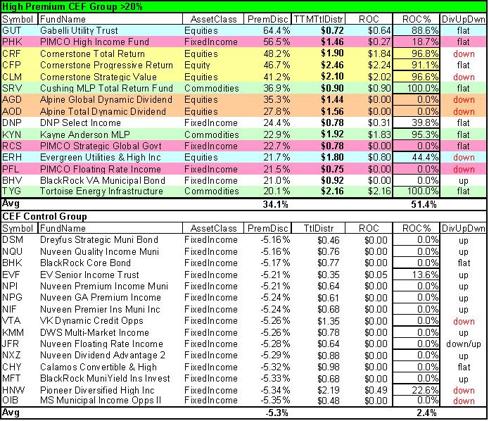 Disclosure: None
[1] Excluded from this sample was "Buy/Write" CEFs because of the non-transparency of options expiration and the complexity of accounting for profit recognition.