The 2007-2009 global financial panic and collapse provided investors with a once in a lifetime rollercoaster ride as all asset classes except for treasury bonds dropped to extreme lows. A vast spectrum of emotions accompanied investors on this thrill-ride and not surprisingly many of these emotions are shaping investors' current investment decisions.
In a search for safety and income, investors are stampeding into the apparent safety of government bonds and bond mutual funds. Over the last year, bonds have been purchased in record amounts despite historic low interest rate levels. It is likely that many of these investors do not understand the risks in bonds. These investors, with a false sense of security, are unknowingly setting themselves up for another rough rollercoaster ride ahead.
Warning Sign: High Level of Flows to Bond Funds
Despite the remarkable rally in stocks over the last nine months, the distrust in equity markets is still widespread. The cash flow figures into bond mutual funds this year illustrate this point (click on chart below) as almost $313 billion has been invested in bond funds compared to the $2 billion added to stock funds through October. In addition, insignificant yields on money market funds are testing investors' patience and are yet another reason for the remarkable cash flow into bonds.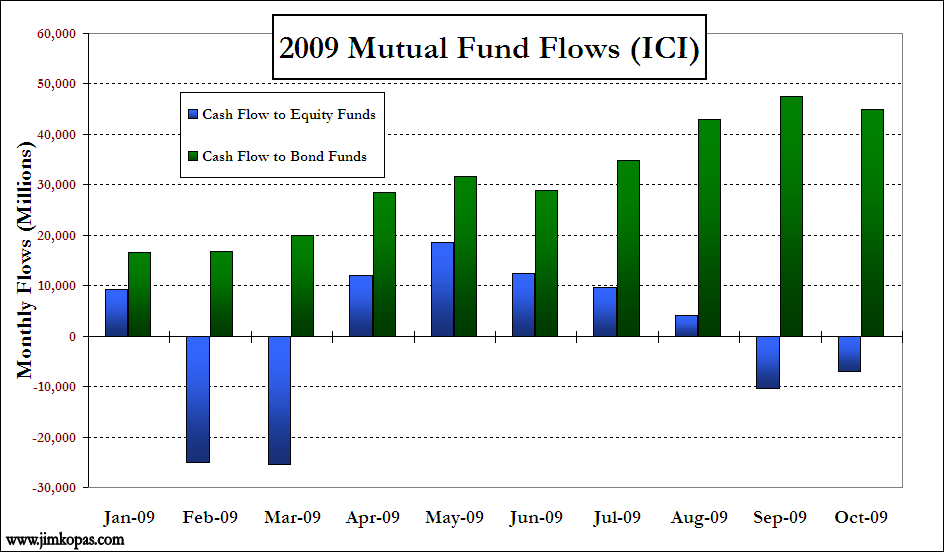 History shows that cash flows to mutual funds tend to follow strong outperformance by a particular asset class and can provide a contrarian warning sign when a particular class is becoming too popular. For example, in 1999-2000, the cash flow to mutual funds was a mirror image of today's environment as investors were taking money out of bond funds to invest in stock funds. The dilemma that many investors face today is that they are too afraid to invest in stocks and too impatient to wait for money market yields to increase. Unfortunately these investors are settling for bonds without fully understanding the risks involved.
The Risk in Bonds
The biggest risk bond investors face is the potential for interest rates to rise. Bond prices move inversely with interest rates (as interest rates rise, bond prices fall and as interest rates fall, bond prices rise). In addition, the lower the coupon rate of a bond the more vulnerable it is to interest rate risk. With interest rates at historic low levels and likely to rise in the year ahead, now more then ever, bonds are highly susceptible to interest rate risk.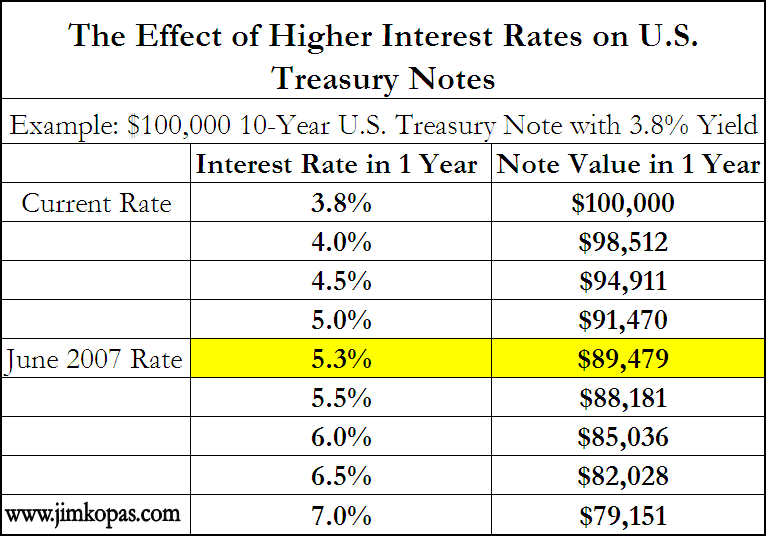 The chart above () demonstrates how higher interest rates can affect the value of a 10-Year U.S. Treasury Note. The chart answers the question: how much will a $100,000 investment in treasury notes be worth in one year? The value of the note depends on the future interest rate. For example, an investor's initial $100,000 purchase would drop in value to $89,479 in one year if interest rates simply recovered to the June 2007 level of 5.3%. If investors choose to invest in bonds with longer maturities then the negative returns due to interest rate, risk will be amplified. This chart clearly shows the potential loss of principal due to modest interest rate increases that would eliminate any potential gains from coupon payments.
What Can Bond Investors Do?
The premise of this post is not to convince bond investors to liquidate all holdings, but to alert them to change their investment tactics. Bonds are a vital element of investment success as they provide diversification which can significantly temper the risks of an investment portfolio. However, it is critical that investors stick to bonds with short term maturities and not over-emphasize long term bonds at this time.
Today's low level of interest rates is only a temporary condition of this business cycle. Interest rates will continue to move up as the economy picks up steam, offering patient investors a better opportunity to receive higher levels of income from bonds. Our business cycle research at Pring Turner Capital Group indicates it is very late and too risky to be pouring money into bonds. Potential losses in principal value will quickly swamp any income received as interest rates inevitably move up and bond prices decline.
As always, thanks for reading and please feel free to voice your opinions in the comments section below. I hope you all have a Happy and Safe New Year.