I trust SA readers will listen to the Government's GDP figures this Thursday. Expect the same old story: slow growth, held back (no doubt) because the Federal Government isn't spending enough of your hard earned money to keep bureaucrat office lights on for a few more hours every day.
Or you can listen to the story of the markets. Especially the story being told by that most cyclical of averages, the Dow Jones Transports. Over the last six months they have rallied in the face of a taper, in the face of a non taper (yet there are still Wall Street analysts who think the taper matters...), in the face of Syria, in the face of the debt limit, and most notably, smack in the face of a shutdown that was supposed to bring our economy to its knees.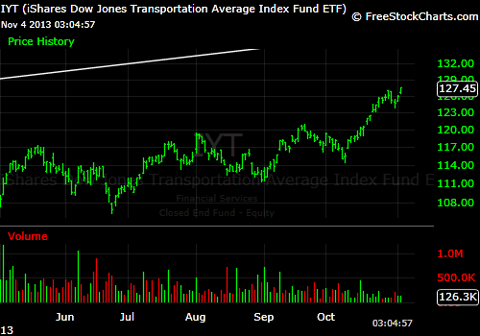 source: www.freestockcharts.com
Will someone tell me...if goods (and services) are being shipped at a record rate across this great nation, just why should we think the economy is slowing down? What are all these railroads, airlines, pipelines, and trucking companies carrying? Bad News???
No, they are not. Peruse the issues in the iShares Dow Jones Transportation ETF (NYSEARCA:IYT) and you will find unparalleled strength. You can see this from the advance decline line based upon this very same ETF: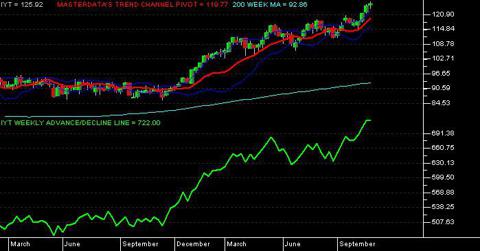 source: www.masterdata.com with jpeg conversion.
A record number of transport stocks are reaching new highs, as well.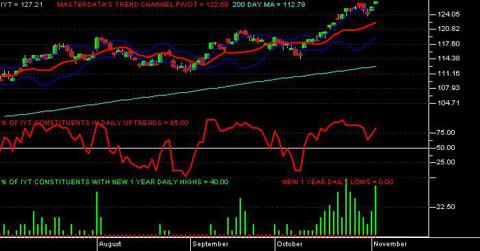 I wish to make two points.
There is no way strength in such a cyclical sector can occur in the face of a slowing economy or one that needs, ad infinitum, perpetual easy money from a central bank.
Some analysts have suggested this strength is due to lower fossil fuel prices, which is (they claim) due to our slowing economy. They have it sbrawkcad. Energy prices are falling because of record supply from fracking and shale drilling: one of the few sectors actually booming these days.
Thursday we get the GDP figures. Will they disappoint analysts? If so, the market will swoon for an hour or a day or so, as it happened repeatedly earlier this year.
Or maybe... any day now... the underlying strength in our economy will show through.
Disclosure: I am long IYT. I wrote this article myself, and it expresses my own opinions. I am not receiving compensation for it (other than from Seeking Alpha). I have no business relationship with any company whose stock is mentioned in this article.