As the stock market continues to trade at 15-month highs, Sabrient's SectorCast-ETF model is getting even more defensive, even though we are in a historically bullish time of year. The fundamentals-based quantitative model has a GARP (growth at reasonable price) focus, and this week there are significant changes to the sector rankings.
The emergence of InfoTech earlier in the month was indeed a bullish sign, but the latest rankings might be indicating that a flight to quality is imminent.
Latest rankings: For the first time in a long time, Sector Detector is telling us that Healthcare (XLV) is no longer the strongest forward-looking sector. Although it still sports a strong score of 76, it is down from its 87 of the past couple of weeks. Supplanting it at the top is Consumer Staples (XLP), which leaped strongly to an 82 from last week's 71 score. Last week's second place sector was Utilities, and it now sits back in third with a score of 72. The high score for XLP is powered primarily by its top rank for the number of analyst upward earnings revisions among its constituent stocks this week and its strong return on equity rank. Healthcare still carries the lowest aggregate projected price to earnings ratio for its constituent stocks.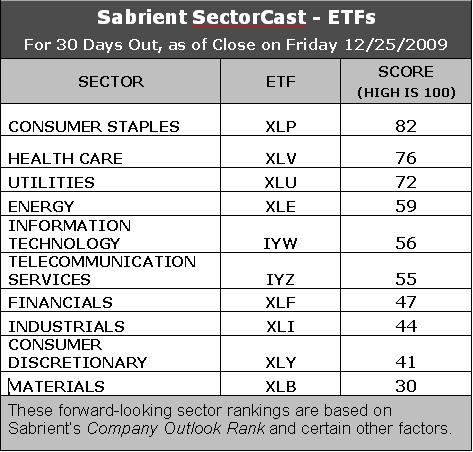 Top-ranked stocks within XLP and XLV include Dean Foods (NYSE:DF), ConAgra (NYSE:CAG), Cigna (NYSE:CI), and Forest Labs (NYSE:FRX).
At the bottom of the rankings, we again find Materials (XLB) as the fundamentally most overvalued sector with an improving score of 30 (up from 24 last week). It remains saddled with the highest aggregate projected P/E and negative trailing 12-month return ratios. Industrials (NYSEARCA:XLI) has risen somewhat and is no longer in ninth (of the 10 sectors). It has been replaced by Consumer Discretionary (XLY), which has weakened somewhat relative to Energy and Industrials, particularly with regard to the number of analyst upward earnings revisions among its constituent stocks, and now sports an overall score of 41.
Low-ranked stocks within these sectors include Alcoa (NYSE:AA), International Paper (NYSE:IP), Harley Davidson (NYSE:HOG), and Harman International (NYSE:HAR).
These scores represent the view that Consumer Staples and Healthcare stocks may be undervalued overall, while Materials and Consumer Discretionary stocks may be overvalued.
Performance: The table below shows the performance of each of the prior four weekly portfolio as of the market close on Tuesday, 12/29/09. XLV has slowed its excellent outperformance somewhat, and shorting XLB has hurt. However, the 12/16 portfolio benefited greatly from strong performance by the IYW.

Although December performance has been lagging a bit, the absolute return approach is still highly desirable for positioning an ETF portfolio to survive and thrive in any market climate.
Disclosure: Author has no positions in stocks or ETFs mentioned.