There's been little movement in the gold price over the Christmas period. Trading is likely to start again for many investors in the new year. Support for the dollar in recent weeks has led to a dip in the bullion price, but going forward we await key US jobs data, coming out in early January, to see what will be the next movement for gold prices.

News is thin but in China optimism remains bullish as gold jewellery sales jumped 30 percent over the weekend in Beijing. Consumers sought to take advantage of the Christmas and new years sales promotions. [Read China Daily's article here] Because of the lack of movement in bullion our attention turns to some rather odd things occurring at the Russian gold miner formerly known as Peter Hambro Mining, Petropavlovsk.

During December there was a lot of talk about the miner being a new entrant to the FTSE 100. This failed to materialise and, on 16th December, the company revised its yearly production estimates downward by approximately 6%.

Previously the company estimated that annual production would be approximately 500k. That figure was updated to 470k on the back of maintenance work [see the press release here]

Just 1 day after the surprised cut in estimated production companies associated with Dr Pavel Maslovskiy, Petropavlovsk's Chief Executive, sold 2m shares at £11.93 per share. The sale was to a non related party based on a ten day volume weighted average price.

On the same day, 17th December, Chairman Peter Hambro also disposed of shares, donating 4650 shares worth a total of more than £55k to two UK charities.

Looking at Petropavlovsk's share price during December we can see it's suffered from a drop in the gold price, however, this miner still has potential in its Iron Ore business which will allow the company to diversify from gold.
Petropavlovsk's share price over December 2009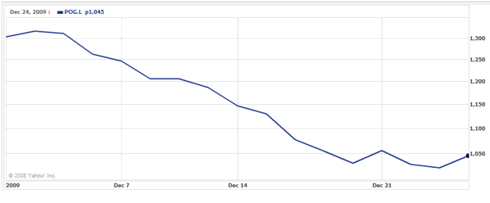 This miner remains on our radar and we'll keep an eye on it over the coming months. Remember to sign up to receive your weekly email and stay up to date with the gold price.

Disclosure: No Positions