Great news from BlackBerry (BBRY) for shareholders yesterday: The fire sale to Fairfax Financial is off. Unfortunately, the average shareholder started to panic right away because the mediocre deal premium of 9% couldn't be realized. As a result, the stock literally collapsed and closed 16.41% lower.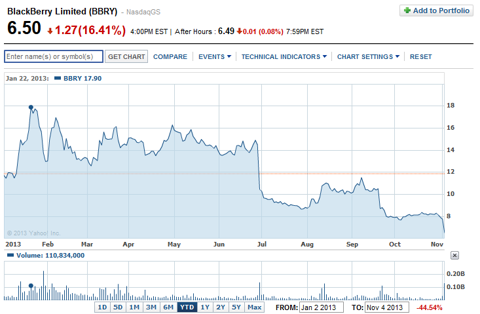 Yesterday BlackBerry announced that Fairfax Financial's bid to take the company private at $9 per share is off the table. From BlackBerry's press release:
Company Concludes Review of Strategic Alternatives and Announces Changes to Board and Leadership Team

Waterloo, ON, and Toronto, ON - (November 4, 2013) - BlackBerry (Nasdaq: BBRY; TSX: BB), a world leader in the mobile communications market, today announced that it has entered into an agreement pursuant to which Fairfax Financial Holdings Limited ("Fairfax") and other institutional investors (collectively, the "Purchasers") will invest in BlackBerry through a U.S. $1 billion private placement of convertible debentures. Fairfax has agreed to acquire U.S.$250 million principal amount of the Debentures. The transaction is expected to be completed within the next two weeks.

Under the terms of the transaction, the Purchasers will subscribe for U.S. $1 billion aggregate principal amount of 6% unsecured subordinated convertible debentures (the "Debentures") convertible into common shares of BlackBerry at a price of U.S. $10.00 per common share (the "Transaction"), a 28.7% premium to the closing price of BlackBerry common shares on November 1, 2013. The Debentures have a term of seven years. Based on the number of common shares currently outstanding, if all of the U.S. $1 billion of Debentures were converted, the common shares issued upon conversion would represent approximately 16% of the common shares outstanding after giving effect to the conversion.

Upon the closing of the transaction, John S. Chen will be appointed Executive Chair of BlackBerry's Board of Directors and, in that role, will be responsible for the strategic direction, strategic relationships and organizational goals of BlackBerry. Prem Watsa, Chairman and CEO of Fairfax, will be appointed Lead Director and Chair of the Compensation, Nomination and Governance Committee and Thorsten Heins and David Kerr intend to resign from the Board at closing.

In addition, Mr. Heins will step down as Chief Executive Officer at closing and Mr. Chen will serve as Interim Chief Executive Officer pending completion of a search for a new Chief Executive Officer.
To sum up: The deal to take the company private has failed, Fairfax Financial will resort to a second-best solution by investing $1 billion into the company together with other institutional investors and the CEO will be replaced. A lot of bombshells for investors to deal with.
Not selling to Fairfax Financial is the best deal
The failed sale to Fairfax Financial is a good thing for shareholders. Prem Watsa's preliminary offer substantially undervalued the company and at $9 per share Fairfax would have gotten a steal.
I believe that BlackBerry is worth way more than the current irrational basement price of $6.50. I estimate that BlackBerry has about $5 per share in patents, $6.50 per share in a first-class Service Business and around $4.50 per share in cash. The intrinsic value stands at least at $16 per share and BlackBerry now trades at a near 60% discount to intrinsic value. Put differently: With $4.50 per share in cash and short-term securities BlackBerry's current market capitalization consists to nearly 70% of cash and short-term securities. This shows how irrationally low BlackBerry's price has been driven by short-term oriented investors (I also implicitly assume here that BlackBerry's current cash burn rate will be offset by the impending $1 billion investment).
Of course, there is going to be massive speculation as to why the deal was taken off the table. Reuters reported that Fairfax Financial might indeed have had problems raising the necessary funds to complete the transaction. There is no specific information if other companies involved in the due diligence process were interested in acquiring BlackBerry or parts of it and for what reason the negotiations went bust. This is clearly a negative in the short-term but should not obscure the fact that BlackBerry has substantial value that I peg at around $16 a share.
Mindset
BlackBerry has become a hardcore restructuring investment with a variety of negative catalysts and plunging confidence in the prospects of the company. In other words: A fantastic contrarian BUY. Readers that follow my articles about contrarian investing now that I am magically drawn to every stock that the market seems to have given up on: Alcatel-Lucent (ALU), Fannie Mae (OTCQB:FNMA), AIG (NYSE:AIG), Radian (NYSE:RDN) are all examples companies that were pronounced dead but made staggering comebacks. The sentiment surrounding BlackBerry reminds me specifically of my investment in Bank of America (NYSE:BAC) which I bought two years back at $6 per share. The only news and headlines related to Bank of America were overwhelmingly negative and pessimistic and commentators were talking about a 'zombie bank' and 'mortgage woes' etc. Just when it seemed there was no way out of the mess and pessimism peaked, the shares turned around. Which isn't really surprising because the shareholder base needs to be restructured just like the operations of a firm and its balance sheet.
Conclusion
A sale of BlackBerry to Fairfax Financial would have substantially undervalued the company at only $9 per share. I estimate BlackBerry's intrinsic value to be somewhere in the neighborhood of $16 per share maybe a bit less if investors want to incorporate a lower cash and securities value per share.
I have previously owned BlackBerry and have now doubled down on my position. Pessimism is at least close to peaking and is accompanied by a variety of short-term negative catalysts (Deal implosion, CEO change). Contrarian investors could find decent value in BlackBerry with potential to double their investment once the company has presented its take on the strategic alternatives it intends to pursue.
After all, let's all be real here: The stock is down 65% since the beginning of the year. BlackBerry's low market valuation compared to its fundamentals and liquidation value makes this stock a risky, but very promising contrarian turnaround play. Strong contrarian BUY on basement valuation, fear-driven selling and negative headlines.
Disclosure: I am long BBRY, AIG, BAC, RDN, OTCQB:FNMA. I wrote this article myself, and it expresses my own opinions. I am not receiving compensation for it (other than from Seeking Alpha). I have no business relationship with any company whose stock is mentioned in this article.