Overview:
Following my article detailing the differences between the iPad Air and its competitors, I have come across the notion that two of Apple's (NASDAQ:AAPL) latest products are not all that different. The iPad Air and the iPad Mini with Retina display are very much like - sharing all of the same major components. There are some notable differences though in price, screen size and picture quality that may offer Apple as a company and its shareholders more than just a product.
iPad Air vs. iPad Mini: The Differences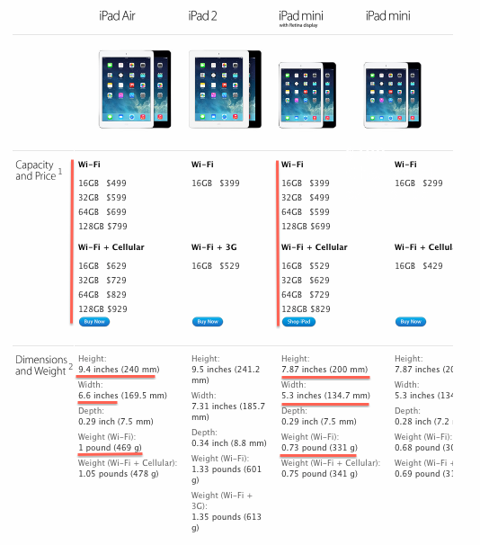 The upcoming iPad Mini with Retina Display and the iPad Air have three differences with regard to each other.
The iPad Air rocks a 9.7 inch display at 264ppi (pixels per inch), while the iPad Mini rocks a 7.9 inch display at 326ppi. This means that the iPad Mini offers a 23.5% better screen clarity at an 18.6% smaller size than the iPad Air.
The iPad Air is exactly $100 more expensive for each storage model.
The iPad Air is 37% heavier at the Wi-Fi model at 469 grams versus 331 grams - not that anyone will notice.
The Similarities: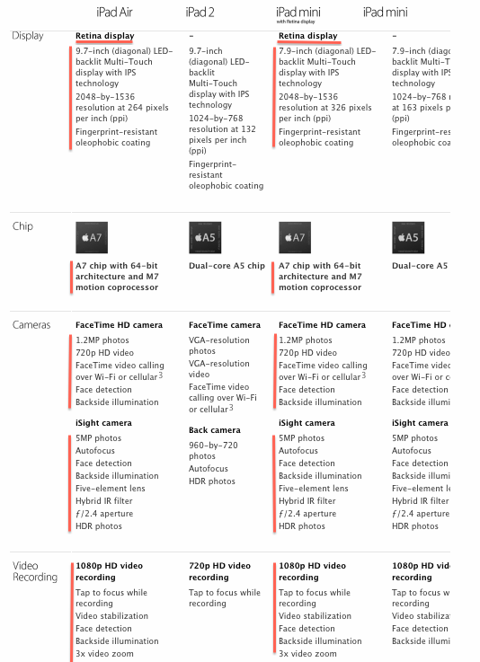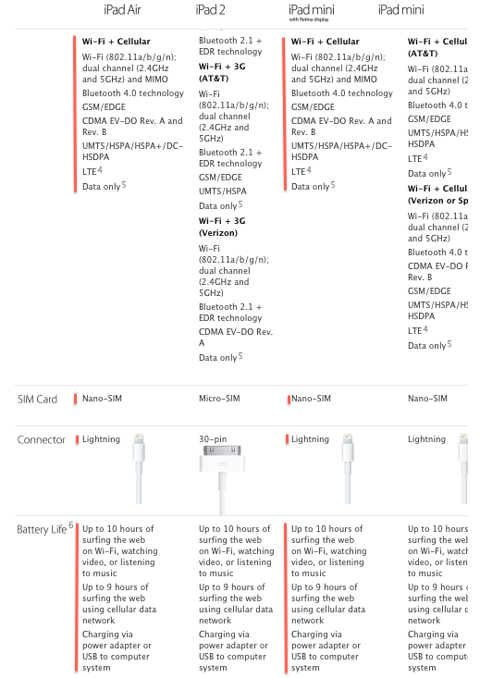 The iPad Air and the iPad Mini with Retina display actually have many similarities, and share many major device components.
As detailed in my article regarding the iPhone 5S, both of these iPad models rock the powerful A7 chip and M7 co-processor.
Both models do offer the same screen resolution at 2048 x 1536.
The same FaceTime HD and iSight cameras.
Identical video recording capabilities.
Matching Wi-Fi and cellular abilities
Synonymous nano-sim card build, connector and battery life capabilities.
Identical Accelerometer, gyroscope and compass.
The Consumer
The two iPad models being offered by Apple are very closely related. For the consumer, it comes down to a higher price with a larger screen with the iPad Air or a cheaper price, smaller screen and better ppi with the iPad Mini with retina display. It comes down more for the consumer's choice on which model they prefer.
Apple:
The onslaught of two iPad models that are very similar expands Apple's ability to serve more types of customer demands. Moreover, it expands Apple scope of products through slight diversification that can better serve customers that are pushing for more or less features with each product.
Moreover, it provides Apple with a powerful tool - a marketing investigation in the real world. Instead of jumping the gun and offering a 7 or 8 inch iPhone model, Apple has introduced the iPad Mini with retina display. Now Apple can see how the product is taken up by the consumer, and if successful, Apple can even offer iPhone capabilities in the future in the iPad Mini line - as Apple will eventually have to offer a larger iPhone lineup than the current 4 inch display.
Opponents:
Opponents of Apple can argue that the company has not innovated with the introduction of two closely related iPad models. Although this argument does not hold up when comparing Apple to one of their largest competitor - Samsung (OTC:SSNLF). Samsung offers tablets at 7'', 8'' and 10.1'' sizes. Apple's introduction of differing iPad models offers a 7.9'' and 9.7'' models that can compete with the diversified lineup that Samsung offers. Although having an iPad Air model with a ppi on the iPad Mini's level would be innovative, it would destroy diversification in the product line and decrease the consumer's choice among Apple's products.
Conclusion
Apple's iPad Air started selling on November 1st and the iPad Mini with Retina Display is set to launch later in November, possibly November 22. Apple's iPad sales may be better seen taken together, rather than comparing the future sales of the individual lines with too much emphasis due to the fact that the company is offering a diversified product line to better serve the consumer. Whether the consumer wants a larger, more expensive iPad or a smaller one with a high screen quality, Apple has revamped their iPad lineup successfully again.
Below you will see a recent chart outlining iPad sales by Apple and its competitors before the introduction of these two new iPad models, it will be interesting to see next quarter if Apple is able to regain ground and take the lead back in the iPad market. As new events unfold, I will update this discussion with a part 2 article in the future. As for the time being, Samsung has had strong YOY growth at 123% as Apple has nearly stalled at 1% YOY growth.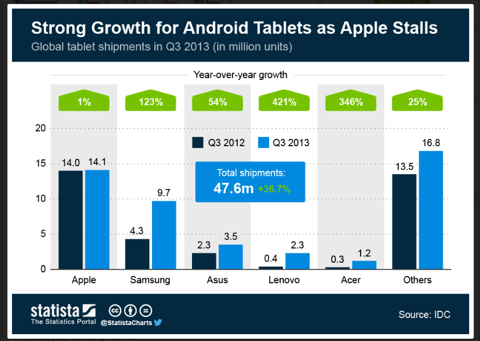 Disclosure: I have no positions in any stocks mentioned, and no plans to initiate any positions within the next 72 hours. I wrote this article myself, and it expresses my own opinions. I am not receiving compensation for it (other than from Seeking Alpha). I have no business relationship with any company whose stock is mentioned in this article.
Additional disclosure: This article is informational and in my personal opinion. Always do your own research and contact a financial professional before executing any trades.