So far this earnings season, 62.6% of the companies that have reported have beaten earnings estimates (through 10/24/13).
As shown below, this quarter's reading is at the moment the highest seen since Q4 2010, but given that there are still more than 1,000 companies left to report, this is far from set in stone. Historically, the earnings beat rate has drifted lower as the reporting period progresses, so our guess would be that it finishes somewhere around the 60% mark.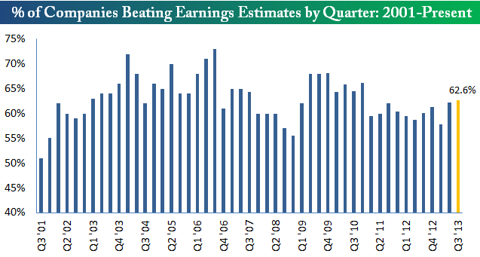 While the earnings beat rate has been pretty strong, guidance has been weak, which is nothing new to this market. At the moment, the spread between the percentage of companies raising guidance minus the percentage lowering guidance stands at -5.3 percentage points. As shown below, if the guidance spread remains in negative territory through the end of earnings season, it will be the ninth consecutive quarter where more companies have lowered guidance than raised guidance. It has been a long while now since corporate America collectively had a rosy view of the future.