Christopher Pavese is President and Chief Investment Officer of the Broyhill Affinity Fund, and Managing Director at Lenoir, NC-based Broyhill Asset Management, LLC, an SEC registered investment advisor, and BMC Fund, Inc., an SEC registered investment company.

Prior to joining the Broyhill, Chris worked as a Vice President and Portfolio Manager for The JPMorgan Private Bank, where he managed over $1 billion in discretionary assets for high net worth individuals, trusts, endowments and foundations.
We asked Chris to share his investment thesis for his highest conviction position in his portfolio. It's a stock his fund holds a short position in - Pitney Bowes (NYSE:PBI).
• • •

Our highest conviction ideas are driven by a combination of macroeconomic trends, indepth security analysis, valuation and sentiment. While opportunities often arise from one or two of these factors, it is rare that we see all of them in a given story. Unlike players sitting down at the World Series of Poker, investors don't have to play every hand they are dealt and don't have to worry about scaring the "dumb money" out of the pot. We can simply sit back and observe until the odds are stacked in our favor, and then push our chips into the pot. For those willing to sell shares short, we believe Pitney Bowes (PBI) offers investors such an opportunity today.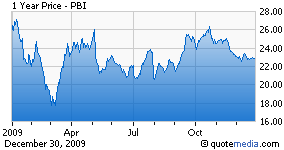 PBI, founded in 1920, has a near monopoly on the dormant postage meter business with an 80% share of the domestic market and 65% share internationally. The company's main offerings include mail processing equipment, integrated mail solutions and related products. Mailstream Solutions accounts for 70% of revenues and 90% of EBIT with US Mailing about 50% of segment revenues and 75% of profits.
Can you talk a bit about the industry/sector?
Postal industry dynamics and regulations have been a tailwind for PBI in recent years. The company has benefited from legislation that established a shape-based pricing system from a pure weight-based pricing system. Because PBI sells various mail systems, it has profited from this trend as customers converted to equipment with this functionality and traded up to more expensive machines. Importantly, we think this tailwind is stalling and should soon become a troublesome headwind in future quarters. We believe this upgrade cycle is largely complete and the market for higher end machines, which have inflated revenues of late, is close to saturation.
The nostalgic image of the U.S. postman has quickly become old-fashioned. Mailing volumes worldwide have been stagnant since the new millennium - substitution of electronic forms of communication via the internet is an inevitable process in the long run. Personal mail has steadily migrated to email, text and social-networking sites just as news has shifted from print to desktops (i.e. WSJ to Seeking Alpha). The Great Recession has simply expedited this transformation, as companies have slashed direct-mail budgets and embraced the internet to reduce costs and maintain margins. The disruption to PBI's largest customers (i.e. financial services, retail, etc.) has fundamentally changed many of these business models. Corporations are encouraging customers to do more business online and are increasingly sensitive to demands for "going green" resulting in reductions in printed material.
Can you describe the company's competitive environment?
Postage meters are a highly regulated industry by governments in their respective countries. This provides companies within the industry with significant barriers to entry and limits competition. PBI's only true competitor globally is Neopost [EPA:NEO], a French company that has emerged as a scrappy market share gainer in the U.S. and in Europe. Neopost has been much more aggressive on price relative to PBI, which has been the primary reason for changes in market share, as there appears to be little distinction between machines. PBI's long history and brand recognition have slowed this process as many domestic post office managers are simply accustomed to ordering from PBI, but a name alone will not halt this process. Neopost is gaining share.
To make matters worse, it would appear that management is responding to competitive pricing pressures with even more aggressive discounts, resulting in a price war between the two industry bellwethers. We have seen this movie before, and it doesn't have a happy ending. The result is likely to be deteriorating revenue trends and margins at both companies.
Can you talk about valuation?
We look at valuation from a few different lenses to reduce the margin of error in our estimates. It is also important to recognize that valuation is just one pillar of any short thesis, as richly priced stocks can quickly go from expensive to extremely expensive with just minor shifts in sentiment. In other words, a multi-factor approach is critical to success for a profitable short. Relying on valuation alone can easily frustrate investors.
That said, valuation is still an important conditional component which allows us to assess the potential profitability of an investment once other factors fall into place. While we firmly believe valuation is an absolute concept, relative valuation can assist in gauging sentiment. In this case, there are few comparisons in the mailing industry, so we believe it is more appropriate to compare PBI to other mature companies in secular decline. The defining characteristics here are large deteriorating cash flows supporting heavy debt loads, and financial statements full of "non-recurring" (translation: recurring) restructuring charges. After a massive junk rally from the March lows, these companies now trade at 5x – 10x EBITDA today. We think this range of valuations reflects quite optimistic expectations given the huge rebound in the group over the past nine months. Considering the combination of both secular and cyclical challenges facing PBI, and the company's low quality cash flow, we assign a multiple at the low end of this range, producing a target price range of $14 to $18 per share, more than 20% downside from the current share price.
In determining absolute valuation, cash is king. We believe that reported earnings are a poor proxy for economic value, as most accounting ratios have a tremendous ability to distort economic reality. There is no substitute for "counting the cash." We use AFG's Economic Margin Framework to value PBI, which emphasizes the key factors that create value rather than non-cash accounting rules. Economic Margin (EM) provides a complete set of value drivers which incorporate levels of investment, profitability and risk (through a capital charge on all the firm's cashflows and de-leveraging the income statement).
Economic Margin is a simple concept which views economic profit (operating income less capital charges) relative to invested capital. EM has a strong, systemic link to market value such that investing in companies with improving EMs, which are reinvesting in their business, produces superior risk-adjusted returns. Alternatively, companies with negative or declining EMs should be divesting businesses and returning cash to shareholders. This is emphatically not the case with PBI, as management has followed a growth-by-acquisition strategy in a desperate hope to diversify away from its core business into others where it has no competitive advantage.
Changing EM levels lead to changes in market based valuation multiples. Ultimately, what drives value are returns above a firm's cost of capital. In this regard, PBI is a wealth destroying business, with declining economic performance. Our estimate of intrinsic value is $8.50 per share using this framework, providing investors with a very attractive opportunity to sell shares short at current levels.
What is the current sentiment on the stock?
Institutional coverage is minimal on the stock with half of the analysts covering the name rating it a "strong buy," but there are some red flags in our analysis of internals which warn of weak institutional sponsorship: market sentiment is at a level which has historically been unfavorable for the stock; price-volume action is showing weakness; short term indicators are overbought; while long term relative strength is in a steady decline. This combination of factors points to an attractive risk-reward profile for investors to sell shares.
How does your view differ from the consensus?
Bulls point to PBI's dominant market share, recurring revenues, steady cash flow generation and attractive dividend yield, but we believe there are both secular and cyclical issues brewing beneath this bullish superficial façade. PBI's primary business is in secular decline due to the ongoing and rapid transition to the internet. Recent testimony from the USPS acknowledges these challenges:
The long-term continued decline in volume reflects the impact of electronic diversion as businesses, non-profit organizations, governments and households continue to convert to electronic methods of communication.
Importantly, the industry's secular decline is being exaggerated by cyclical challenges. PBI's core business is closely linked to the business cycle as end demand shrinks along with the economy. Recent weakness appears to have accelerated the decline in mail volumes, suggesting that the mix of PBI customers requiring new or larger equipment is shrinking. Increasingly, these customers are trading down or turning in their machines altogether, preferring the much cheaper and delicious American pastime of "stamp-licking."
The main reason investors hang onto the declining stock boils down to the company's ability to generate cash and an attractive dividend. But we think that management's cash flow guidance is deceptive. Investors would be wise to look closely at the quality of management's definition of "cash flow." PBI has an impressive and recurrent history of restructuring its operations. Given that the company has been in a permanent state of restructuring, these charges should be viewed as recurring, rather than "one-time" in nature. Once the cash flow statement is adjusted to reflect these charges, PBI's cash generation is not as strong as "the Street" contends. Consequently, investors should begin to place less emphasis on the company's "pro-forma" earnings and cash flow definitions - particularly as the gap between these figures continues to widen as restructuring charges grow.

Does the company's management play a role in your position?
Murray Martin has been the company's CEO since May 2007. Martin is also PBI's chairman, which hinders the board's independence from management. Corporate governance is also hampered from staggered board elections, which obstruct director turnover.
We believe management is making decisions that are eroding economic value. Rather than investing in new businesses that are unrelated to PBI's core competencies, management should be more focused on returning cash to shareholders as economic margins continue to deteriorate. Furthermore, current management appears to be blind to the secular nature of the decline in mailing volume. Despite USPS data, which has shown ten consecutive quarters of deterioration, management continues to view the existing downturn in the industry as being purely cyclical. As we discussed above, we believe they are sadly mistaken, and that management's view represents a major misclassification with severe consequences for capital allocation decisions and negative implications for shareholder value.
What catalysts do you see that could move the stock?
Given our broad investment pallete, we spend most of our time taking a good hard look at the forest, rather than analyzing individual leaves on each tree. So we don't see a lot of value in scrutinizing each quarter to estimate earnings to the nearest penny. That said, we do expect revenue declines to be significantly greater than current consensus expectations given our negative outlook. Lower sales would likely be accompanied by lower margins, increasing the potential for negative surprises in the year ahead.
What could go wrong with this stock pick?
Management is hopeful that a recovery in GDP would drive a coincident rebound in mail volumes and industry revenues. We recommend that management take the advice of our friend Keith McCullough at Research Edge who reminds us daily that "hope is not an investment process." More importantly, the USPS illustrates that "trends in employment, investment, expenditures, and retail sales are better indicators of mail volume trends."
Accordingly, the obvious risk to our short thesis is that these trends surprise on the upside. While our regular readers might surmise that the potential for upside growth surprises is quite low as we discussed here and here, for illustrative purposes, let's give PBI the benefit of the doubt. Estimates of the stock's intrinsic value, assuming a strong recovery in employment and a rapid upturn in the metrics most correlated with mail volume trends, still fall short of current price levels. According to our work, PBI would need to generate roughly 17% annual sales growth for the next five years merely to justify today's price! Alternatively, assuming consensus expectations for sales growth, shareholders are implicitly hoping for a 500 basis point increase in EBITDA margins to rationalize the stock's current price. Suffice it to say that there is a sufficient margin of safety in our estimates of intrinsic value, even in the unlikely case we do experience the v-shaped recovery so many Wall Street bankers asked Santa for this holiday season.
Thanks, Chris, and Happy New Year.
My pleasure.
Disclosure: At the time of publication, the author was short shares of Pitney Bowes and Neopost, although positions may change at any time.