So here we are in the last week of 2009, and what a year it has been for the automakers. Two of Detroit's "Big Three" filed for bankruptcy and are now shells of their former selves. General Motors (OTC:MTLQQ) after filing for bankruptcy on June 1 is in the midst of trying to get rid of four of its brands (Pontiac, Saturn, Saab, and Hummer). It had an agreement to offload Opel and Vauxhall but that deal fell through and the board has decided to turn its attention to turning around GM Europe operations next (more on this later in the article).
The other of Detroit's Big Three to file for bankruptcy was Chrysler, which after filing for bankruptcy in April has since been basically sold to Fiat (FIATY.PK) (and the U.S. and Canadian governments). Chrysler is still a long way from rebounding, but there are signs that General Motors is on the verge of a resurgence.
The lone American automaker not to take government loans (and to avoid bankruptcy) was our favorite investment opportunity in the industry, Ford (NYSE:F). For those that have been following our advice, you would have almost doubled your money since June, so taking some money off the table now would be prudent.
It is not only the American automakers that fell upon financial troubles in 2009, as the once infallible Toyota (NYSE:TM) reported an annual loss for its most recent fiscal year, and expects to report another annual loss during fiscal year 2010.
The following two charts outline two points. First, that auto sales have been dismal for most of 2009, but since "Cash for Clunkers" back in August have actually been steadily improving (sequentially) and becoming "less bad." And second, that Ford and Toyota's market share have been improving at the expense of General Motors and Chrysler (as well as Honda (NYSE:HMC) and Nissan (OTCPK:NSANY), which aren't shown). (Click to enlarge)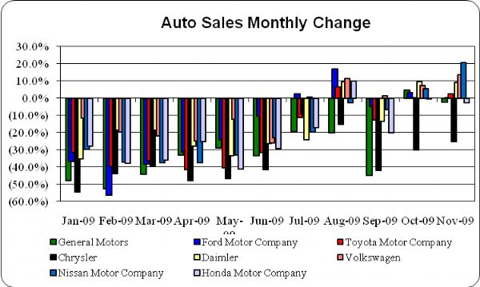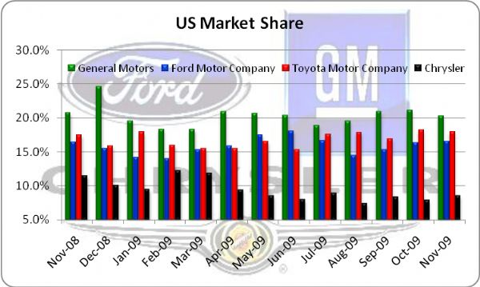 Billions of dollars have been thrown at the auto industry, whether it be direct aid to General Motors and Chrysler or the Cash for Clunkers program, which one could argue helped foreign automakers even more than domestics. However, what the programs did do was spur production, and at a time when the nation was hemorrhaging manufacturing jobs, Ford and General Motors oddly enough reversed the flow and actually announced production increases.
General Motors Has Fire Sale
After deals for Saturn, Saab, and Opel fell through, General Motors announced that Saturn would follow Pontiac (and Oldsmobile) to the land of retired brands. In an effort to not have some of the problems that it had when winding down the Oldsmobile nameplate, General Motors announced a "fire sale" for cars under its Pontiac and Saturn nameplates. The deal will be $7,000 off the sticker price, but there are a few caveats that prevent the deal from going straight to consumers. That $7,000 off the sticker price has to go through a dealer first so it would be registered as a fleet sale from General Motors. That car, in turn, would be resold to the public as a used car. The dealer could then sell the car for more than it normally would and potentially make some of the $7,000 back. About 20% of a new car's value is lost when it drives off the lot, which in some cases could actually give customers a better deal.
Pontiac and Saturn had approximately 15,000 units left of inventory, and this is a push to get that inventory off General Motors' books and onto dealers books as well as provide a nice jump in cash flow. The company will take a loss for each vehicle that is sold under the deal (which is through January 4), but the positives greatly outweigh the negatives. At most, the company would miss out on $105 million, and that is assuming that each of the 15,000 units left is sold before January 4.
December Auto Sales
So looking forward to the January 5 monthly sales announcements, we are anticipating another sequential improvement from November; however, the month was marked by severe weather across much of the country (namely the Midwest and Northeast).
The table below shows the year over year sales percentage changes for the main automakers over the past four months. The industry is going up against easier comparisons in December (and in the first few months of 2010), but we do expect it to deliver a relatively strong month. The incentive action increased during November for most of the automakers and we are expecting another sequential increase in December (aside from the aforementioned fire sales).
Including the fire sale numbers, we expect General Motors to see a mid-to high single digit percentage increase in sales, while Ford and Toyota should see small single-digit percentage increases. Hyundai (OTCPK:HYMLF) has been an absolute monster over the past four months, averaging a 42.3% sales increase; we expect another strong month from the Korean automaker. (Click to enlarge)

Written by David Silver, a Research Analyst for Wall Street Strategies (wstreet.com) covering companies in the Transports, Autos, and Beverage sectors.

Disclosure: Long F