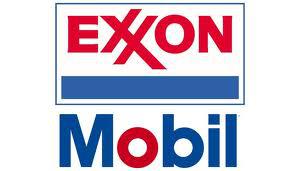 ExxonMobil's (NYSE:XOM) recent Q3 results, while hailed by some as "good" and a "turning point", were only "good" because they were not as bad as we have come to expect over the last few years. Since when did net income being down -18% year-over-year become "good"? It shows just how far the bar has been lowered for XOM as compared to the glory days of Lee Raymond. The results were more proof of what many have been saying for quite some time now: XOM needs to sell off assets and use the proceeds to reward long suffering shareholders. If Chairman and CEO Rex Tillerson doesn't agree, it's time for Exxon Mobil's board-of-directors to "get 'er done".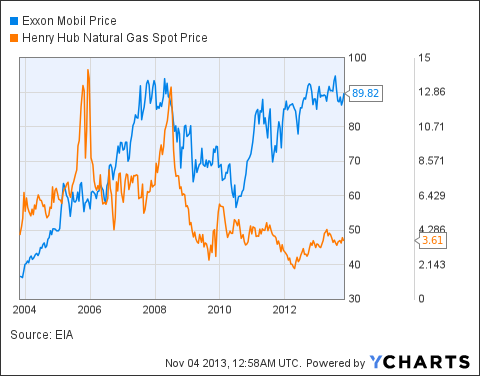 As the chart above shows, XOM's stock is still at the same of over six years ago (mid 2007). Rex Tillerson took over as Chairman and CEO on January 1, 2006 following the retirement of Lee Raymond. In 2009, Exxon acquired XTO, a major natural gas producer, for $41 billion in stock and debt. Overnight the purchase made Exxon the #1 natural gas producer in the US but also the most exposed as the bottom fell out of natural gas prices. Later in 2009, a Wall Street article, King Rex Tillerson's Legacy Rides on XTO Deal, summed up the situation very well. So far, T-Rex's takeover of XTO pales when compared to Lee Raymond's very successful takeover of Mobil 1998, after which XOM more than doubled over the next 9 years. Tillerson has a long way to go to match the shareholder returns Lee Raymond provided. At this point, there is no indication Tillerson is up to the task.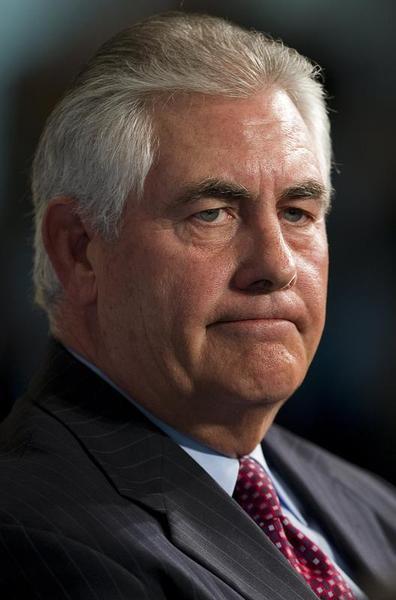 Now don't get me wrong, I am not faulting Tillerson's purchase of XTO, for which the company obtained a wealth of expertise, technology, quality acreage, and gas production that in time will show value. Nobody, the author included, could have foreseen the massive dry gas production spike and subsequent drop in domestic dry gas prices that fracking unleashed. That said, it is very hard to understand why Exxon's management and BOD has been negligent in addressing a number of very important issues to shareholders:
The stock's drastic underperformance over the last 5 years.
The lowest dividend yield in the peer group.
The failure to pound the table for natural gas transportation.
The failure to see two energy plays (the Barnett and Eagle Ford shales) right in its own backyard in Texas.
The failure to take steps to unlock value for shareholders.
Proof of the first bullet's truth is clearly proved by the stock chart above and by noting that over the past 5 years the S&P500 is up close to 90% while XOM hasn't budged.
As for the dividend yield, here is XOM as compared to its peer group: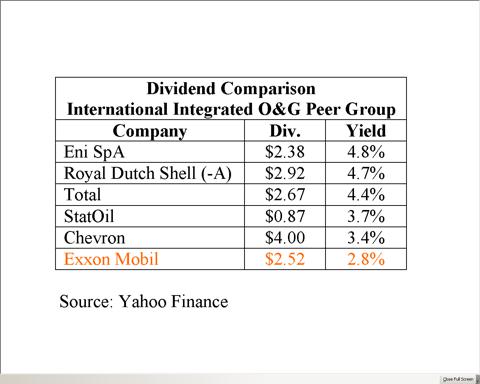 And there she is - the most profitable and highest valued publicly traded major integrated oil company in the world, with a credit rating better than the US government, sitting in last place with the lowest dividend yield in its peer group. As a result, not only have XOM shareholders gotten little or no share price appreciation over the last 5 years, they have been on the receiving end of a very low dividend yield as well.
Natural Gas Transportation
You would think Exxon, being the #1 natural gas producer in the US, would be pounding the table for natural gas transportation. Indeed, just in case the company was not aware of the potential, I wrote an article (Why Exxon Should Support Natural Gas Transportation) and listed 7 reasons why natural gas transportation would be great for the company. But alas, while Tillerson has been outspoken in his support of natural gas for electric power generation, he has more or less dismissed natural gas as a surface fuel for the American car and truck fleet. Despite its large refining business, it is difficult to understand how Exxon could pour millions into algae research to generate transportation fuel when it has all the natural gas it could desire coming out its ears, selling for under $4/MMBtu (currently $3.42!), and badly in need of a new source of demand (i.e. natural gas transportation).
The Barnett & Eagle Ford Shale Plays
Not much to say here is that the Barnett is literally in ExxonMobil's headquarters' backyard. The Eagle Ford is right down the road on the other side of Austin. Why does ExxonMobil's management get a pass for missing these plays right there in Texas? While EOG Resources (NYSE:EOG) and ConocoPhillips (NYSE:COP) are making a fortune as the #1 and #2 (respectively) exploiters of the Eagle Ford, Exxon is nowhere to be found. ExxonMobil seems to think nothing is worth investing in unless it is huge and can "move the needle". Perhaps the answer isn't in getting bigger just for the sake of being big. Perhaps the answer is to slim down, get lean and mean, smaller, and more profitable.
Exxon Needs to Unlock Value and Reward Shareholders
In 2012's Q2, Exxon reaped $7.5 billion in proceeds from divestitures - mainly from the sale of refining and chemical operations in Japan. Yet the company did not use proceeds to directly reward ordinary shareholders. In fact, in 2012, Exxon spent more than twice the amount on share buybacks ($20 billion) as it did on dividends directly to shareholders ($10 billion). And all that money was spent on buying a stock that has yet to appreciate in value. This "strategy" provoked my article Exxon: Buyback Heavy, Dividend Light. Amazingly (at least to me), most of the comments to that article were supportive of XOM management. It's hard for me to understand XOM investors being content with Tillerson's 8 year record. They always say "don't worry, XOM is being managed for the long-run". To which I reply, what major integrated oil company isn't managed for the long term? And, how long is long? Is 5 years of no-returns during a bull market long enough? Should we wait 5 more years of no returns while XOM builds out LNG export terminals in the US?
The first step in fixing a problem is acknowledging that the problem exists in the first place.
It's clear analysts following the company believe asset sales to reward shareholders is the right approach at this point. They continually ask management about the issue on every conference call and the Q3 conference call transcript was typical of XOM's management response. Responding to a question on asset sales from Blake Fernandez at Howard Weil, David Rosenthal, VP of Investor Relations said:
You did see us with about as I recall $20 billion over the last two years '11 and '12 in cash flow from asset sales; several billion dollars in earnings so that program was very successful.
But who participated in the success? As many analysts, and even Jim Cramer, have pointed out - stock buybacks typically reward executive management much more so than ordinary shareholders. And this is obviously the case with XOM considering ordinary shareholders have not benefited in terms of either share price appreciation or a competitive dividend.
Doug Leggate of Bank of America is also clearly exasperated with the company. He asked:
....the share has been very awful this year on a relative and absolute basis, how is management thinking about the kind of reward, some of your overseas competitors apart by cutting back capital and how are you thinking about maybe even bit more aggressive on the buyback, taking advantage of or at least address the weakness that we've seen so far this year...
The response from Rosenthal was typical - basically no change in the company's strategy, we know what we are doing, and we are managing the company for the long term. If I had a nickel for every time I heard that kind of response over the past 5 years, I'd probably have more of a return than from the stock's dividend.
Summary & Conclusion
Rex Tillerson's near 8-year tenure at ExxonMobil has left shareholders with little in their pockets other than the company's bottom feeder dividend yield. Despite year after year of substandard performance, XOM's executive management appears unwilling to acknowledge the underperformance of its stock price and dividend. It is time for the board of directors to step and force a change. Rex Tillerson should be replaced. At the very least, Exxon should take a look at it vast portfolio of upstream, downstream, midstream and chemical assets, in over 40 countries worldwide, and monetize those that are not of strategic value and/or are underperforming. The proceeds should be used to boost the dividend to reward long suffering shareholders.
For those that own Exxon and are sitting on long-term capital gains, the stock is a HOLD. For those with no position in XOM, and barring any action by the board of directors, I would avoid the stock. There are simply too many other big energy companies that are more actively managed and shareholder friendly. Two that readily come to mind are Chevron (NYSE:CVX) and ConocoPhillips.
ExxonMobil's Global Asset Base: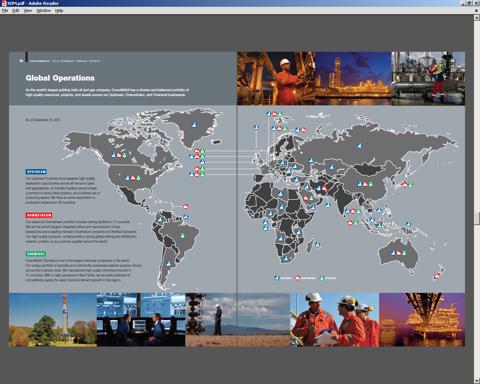 Disclosure: I am long COP, CVX, XOM. I wrote this article myself, and it expresses my own opinions. I am not receiving compensation for it (other than from Seeking Alpha). I have no business relationship with any company whose stock is mentioned in this article.
Additional disclosure: I am an engineer, not a CFA. The information and data presented in this article was obtained from company documents and/or sources believed to be reliable, but has not been independently verified. Therefore, the author cannot guarantee its accuracy. Please do your own research and contact a qualified investment advisor. I am not responsible for investment decisions you make. Thanks for reading and good luck!