Seeing trends in options activity has led to many great trades for me, and while looking through my nightly data set I noticed that a number of REITs showed up as having the highest put/call ratios in the market yesterday.

After some more digging I noticed that the trend was option traders hitting the bid (sellers) in February and March dated puts in a variety of stocks.

The positions were taken in sizable lots of contracts, showing institutional interest, and were not tied to equity. With the recent run higher in REITs, one would think that puts would be bought as protection to equity positions, but this action shows that traders are either selling puts naked or the positions are cash-secured, traders willing to have shares put to them at the various strikes being sold.

Most of the put selling was done at strikes no more than 5% below current prices, showing the sentiment that there is limited downside in REITs. The IYR is the ETF often used to track real estate, and on a technical basis, the IYR is at trend support of an upward sloping channel, suggesting a move higher is in order.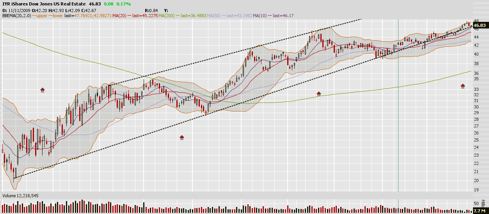 A brief explanation of which stocks were targeted with put sellers, and where:

ProLogis (NYSE:PLD) saw more than 4,100 February $13 puts trade vs OI of 222, hitting the bid on most positions.

Macerich (NYSE:MAC) traded 2,078 March $35 puts vs OI of 683, all the action hitting the bid, sellers.

Boston Properties (NYSE:BXP) traded 2,285 February $65 puts against OI of 1, also all put sellers at the bid.

LaSalle Hotel (NYSE:LHO) traded 700X average put volume with more than 3,500 March $20 puts trading, almost every contract hitting the bid with put sellers feeling shares are unlikely to give back much of its recent gains.

Vornado (NYSE:VNO) had a seller of 800 February $60 puts at the bid and Digital Realty (NYSE:DLR) had small sellers in the February $45 puts.

As you can see there is a mix of Industrial, Office, Retail, and Hotel REITs, so the traders are bullish on the entire group.

I feel that the overall market is set for a short term breather but this put selling strategy allows for dips. Option traders are looking out two to three months with confidence that REITs will continue an impressive move higher.

Disclosure: No Position in Stocks Mentioned Above