In a series of upcoming articles, I will be taking a look at General Electric's (NYSE:GE) entire portfolio of businesses piece by piece. As GE is a conglomerate of many diverse businesses I believe there is value in examining the sum of the parts and comparing it to the market's valuation of the entire company. It is important to note the criteria I'm using for this analysis. I'm taking each segment's revenue and operating profit (a proxy for EBIT) numbers and assigning average growth rates based on revenue growth and profit margin expansion or contraction. I'll then use this multiple to determine how much each business is worth and then, when all segments have been examined, I'll determine any premium or discount the company's market cap implies based on my sum of the parts analysis.
In this installment, we'll take a look at GE's Home and Business Solutions segment, or HBS. This division of GE sells mainly consumer products including major appliances and lighting solutions. To begin the analysis, the chart below depicts HBS' results since 2008.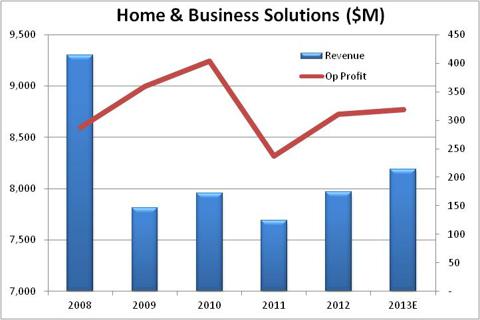 By any measure, this is a huge business for GE. This segment has been producing roughly $8 billion in yearly revenue for GE for a long time and the GE appliance and lighting products sold to consumers and businesses are well-recognized and respected brands. While we see a substantial drop in revenue following the financial crisis, growth has been decent since 2011 with my estimate of 2013 revenue coming in at roughly $8.2 billion.
If we take a look at operating profit, we can see that although GE lost revenue from this business in 2009, it actually increased operating margins to the point where still saw higher profits despite revenue plummeting. We see operating profits increase from $300 million in 2008 to $400 million in 2010 but declining margins have hampered profit growth in this segment since that time. This business is highly commoditized with many very capable competitors so low margins are a hazard of competing in this arena.
Below, we can see HBS' operating margins for the same time period as above.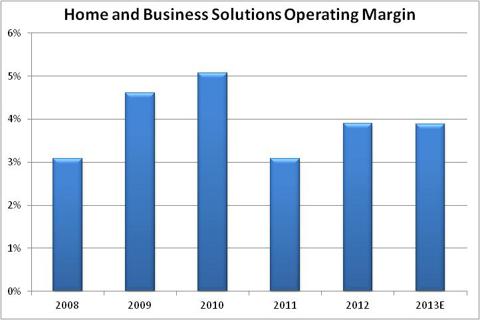 As we already knew, operating margins in this business are very low. This is structural to this business so there is no way for GE to gain any sort of pricing advantage that would allow it to raise operating margins. However, the segment is still EBIT positive so we'll take a look now at what it may be worth on its own.
With very low operating margins HBS will have a lower EBIT multiple than if it had, say, a double digit operating margin. Low margins mean low operating leverage; essentially, it takes lots of new revenue to increase earnings because so much of revenue is eaten up by costs. Thus, all else equal, low margin businesses command smaller premiums than higher margin businesses.
With revenue and operating profit growth virtually nonexistent at HBS, it deserves a low EBIT multiple. As a proxy for what HBS should be valued at, Whirlpool (NYSE:WHR) is a good fit. WHR engages in many of the same businesses that HBS does so for this analysis, WHR is a fair comparison. WHR has also experienced stagnant revenue and operating profits in recent years but has very high growth expectations. WHR's trailing EBIT multiple of 15.2 is a good place to start with HBS. As I said, WHR has very high growth expectations and whether they come true or not is moot at this point for this analysis; the market is pricing it in currently. HBS isn't expected to grow at ~30% like WHR is so a trailing EBIT multiple of 15+ is unrealistic. Thus, I feel it is proper to apply an EBIT multiple of 12 to GE's HBS business' 2013 estimated earnings.
If we do this, HBS would be worth about $3.8 billion given its current state of operations. This would mean a decent discount to WHR's price to sales ratio as well (0.62 for WHR, 0.47 for HBS) but again, I feel it is warranted given WHR's growth expectations and HBS' lack thereof.
In subsequent pieces, we'll take a look at GE's remaining business segments individually: Energy Management, Power and Water, Oil and Gas, Aviation, Healthcare, Transportation, and GE Capital. Each segment will receive a similar analysis to this and when all segments have been valued, we'll take a look at the sum of the parts in relation to GE's current market cap.
Disclosure: I am long GE. I wrote this article myself, and it expresses my own opinions. I am not receiving compensation for it (other than from Seeking Alpha). I have no business relationship with any company whose stock is mentioned in this article.