It's hard to throw the old 'patience is a virtue' tagline into proper context when dealing with the social media sector. After all, a company such as Twitter (NYSE:TWTR) didn't even exist eight years ago. Now it's about to become a noteworthy IPO.
Still, noteworthy alone doesn't guarantee financial gain for investors. Not in this sector. Not in the short term.
Of course, it's easy to throw that memorable Facebook (NASDAQ:FB) debacle into the mix when trying to warn others who dangerously assume Twitter's shares will skyrocket once trading begins on November 7. Still, for all those who warn of Facebook, a plethora more will gloat of the remarkable advance LinkedIn (LNKD) made upon its entrance to the market.
However, even LinkedIn's chart should concern those foolishly assuming Twitter's shares will undoubtedly move higher.
Sure, LinkedIn had a glamorous opening day of trading. But from the stock's high of $122.70 that day to its close of $94.25, shares retraced over 23%. Just over six months later, the stock crept below $56 or less than half the price it traded throughout much of its IPO day. In the end, it took shares about 16 months to break above the initial high the stock enjoyed.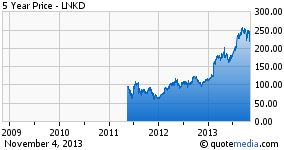 Shares of Facebook may have carried with them a little more negative publicity after a less-than-stellar launch, but the end result in many ways was very similar to that of LinkedIn. Within three months, shares traded under $20 or well less than half the $45 price tag the stock opened trading with. Still, even more troubling, or uplifting depending on how you wish to view the chart, was the fact shares climbed back above $45, or its IPO high, in approximately 16 months. That mirrors the timeframe in which shares of LinkedIn broke out.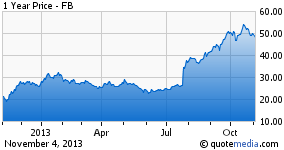 Past history and chart patterns in this instance tell us two things. One, they prove knowing exactly how shares of Twitter will react come Thursday is close to impossible. Maybe they surge, maybe they underperform. Or perhaps shares trade somewhere in the middle. Above mediocrity, but without the glamour. In the end, I don't know the answer and would never pretend like I do.
Second, all this information allows us to avoid the redundant mistakes others will continue to probably make. Many will jump into Twitter as soon as shares begin trading. Without the utmost perfect timing, the charts above signal this is more than likely a losing strategy. Others will probably lose faith when that inevitable pullback comes to fruition. Instead of buying, they will either sell or lose interest.
Now despite the risk, there will be some that trade shares of Twitter as soon as they hit the market and enjoy a solid return in the process. Still, I like the odds of making a winning trade in a little over a year far more than my odds of hitting the jackpot come Thursday.
Disclosure: I have no positions in any stocks mentioned, and no plans to initiate any positions within the next 72 hours. I wrote this article myself, and it expresses my own opinions. I am not receiving compensation for it (other than from Seeking Alpha). I have no business relationship with any company whose stock is mentioned in this article.