On October 8, 2013, SFX Entertainment (SFXE), an electronic dance music, or EDM, company based out of New York came up with its initial public offering of 20 million shares at an initial price of $13.00 per share. SFX Entertainment is the world's largest promoter of live events and digital entertainment concerts. Exclusively focused on the electronic music culture, SFX Entertainment made several acquisitions to tap the growing opportunity in the EDM business.
Electronic Dance Music Industry
According to International Music Summit Report, the global EDM industry is valued at over $4.5 billion in 2012-13. This industry is subdivided into various categories -- live events, recorded music, brand sponsorship, and other products. SFX Entertainment is operating primarily in the live events category, which is the largest segment of the EDM industry. In past few years, EDM events have gained huge popularity; since 2007, the festival capacity in the U.S. has grown at the pace of around 50% every year. The EDM clubs in Vegas made more than $600 million in 2012. Also, the event popularity over the social media streams is huge, and in 2012, Tomorrowland (an electronic musical festival) received about 3.4 million likes on Facebook (NASDAQ:FB), and 72 million hits on its after-movie video.
EDM organizers receive significant earnings from the sale of tickets, merchandise, food & beverages and the sponsorship. Hence, the revenue generation of EDM companies' highly depends on the popularity of its event and the fan turnout.
Value proposition
To understand the value proposition of SFX Entertainment, let's take a close look at the company's key assets and its popularity amongst the fans. SFX Entertainment has some of the most popular events and festivals under its brand. Through its acquisition strategy, SFX Entertainment has targeted those festivals that witnessed the highest fan turnout in recent years.
SFX Entertainment's key assets
Asset

Description

ID&T and ID&T North America JV

SFX Entertainment is currently the 75% stake owner of Dutch company ID&T, which has exclusive rights of international premier EDM festivals, like Sensation, Tomorrowland, TomorrowWorld, Mysteryland, Decibel, and Q-Dance.

Tomorrowland and TomorrowWorld

Tomorrowland is a major outdoor dance event organized by ID&T and is held in Belgium. The 2012 Tomorrowland festival had 7.9 million live views on YouTube and the official Tomorrowland long-form after movies had over 157 million online views. The festival consists of two parts: the actual festival and a camping festival. In 2013, 180,000 visitors from over 214 countries attended this festival, and the most amazing fact about Tomorrowland's popularity is that in 2013 all its tickets were sold out in just few seconds. The TomorrowWorld festival, organized in the U.S. during September 2013, also had capacity for 180,000 visitors for three days.

2. Sensation

Started in Amsterdam, Sensation is a premier EDM event typically held in indoor arenas. Sensation is now organized in 18 countries across the world. The first Sensation event in the U.S., held in New York, attracted over 22,000 visitors.

3. Mysteryland

Mysteryland is a fantasy themed outdoor festival held in the Netherlands and Chile. The 2012 Mysteryland festival had over 60,000 music and dance lovers in attendance in Netherlands and over 40,000 fans in Chile.

4. Q-Dance

Q-Dance, which is characterized by its unique style of increased beats per minute music, has organized 15 events in 2012, with over 209,000 fans in attendance.

5. Decibel

ID&T owns 50% of Decibel, an outdoor dance event held in the Netherlands and attended by 50,000 fans in 2012. The tickets for its 2013 event sold out in just one hour.

Life in Color

Life in Color organizes a single day event at college campuses and major cities in the U.S., and features Live DJs and distinctive events like paint blast and acrobatics. In 2012, Life in Color organized 142 festivals that witnessed over 437,000 attendees.

Disco Donnie Presents or DDP

DDP has organized about 600 small scale events and festivals that attracted over 850,000 fans across North America.

Miami Marketing Group

Miami Marketing Group is in the business of managing EDM venues and earns fees from the venue owners for the services. The group currently manages three venues in Miami, which are LIV, LIV Sun Life Stadium, and Story

i-Motion

It is the leading promoter and producer of EDM events in Germany and organizes festivals like Nature-One, which hosted over 80,000 fans in 2012, Ruhe-In-Love, visited by over 40,000 fans in 2012, and the MayDay Festival, witnessing 22,000 fans visit in 2012.

Totem

Operating in Australia, Totem organizes festivals like Stereosonic, which witnessed about 194,000 fan visits in 2012.

Made

Made organizes the Electric Zoo festival, which is held annually in New York during Labor Day weekend. In 2012, Electric Zoo attracted over 100,000 attendees for over three days. Electric Zoo sold approximately 125,000 tickets to its three-day event in 2013

Beatport

Beatport is one of the principal sources of high quality audio files required by EDM DJs to produce music tracks for their live performances. It offers over 2.5 million tracks from over 22,000 labels.
All the major festivals in SFX Entertainment's basket are witnessing an immense response from EDM fans. The festivals and events are gaining popularity with each passing year. Major festivals like Tomorrowland selling out in just few seconds, show the fans' craze for EDM events.
The company has chosen the route of acquisitions to capture this growing EDM market. From its planned acquisition of popular events, SFX Entertainment has attracted over 2.8 million fans in 2012, an increase of 22% in its fan base as compared to 2011.
Growth Strategy
Through acquiring and integrating leading live events and on-line properties, the company is trying to tap the growing demand in the EDM sector. Currently, the EDM market is highly fragmented, and with its high quality EDM expertise and experience, SFX Entertainment plans to achieve financial discipline and operational efficiency for the acquired companies. It has already completed the acquisition of companies like Beatport, DDP, Life in Color, and MMG Nightlife. All these assets bring a unique value proposition for SFX portfolio. Among all the acquisitions, ID&T is one key acquisition that has changed the overall outlook of SFX Entertainment. This acquisition brought a pool of the most popular branded festivals including Tomorrowland, Mysteryland, Sensation, Q-Dance, and Decibel.
The company's planned acquisitions have attracted many well-known, corporate brand partners, such as Anheuser-Busch, Heineken, Labatt and Samsung (OTC:SSNLF), for multiple event and sponsorships. The company's events and festivals are very popular with the fans and having such big brands as partners will help the company to attract more well-known brands for its event sponsorships.
The company is also expanding its current festivals to new geographies. It recently organized TomorrowWorld, the first international version of Tomorrowland, in the U.S. The festival had a maximum capacity of 180,000 visitors, and received a huge response from EDM fans. SFX Entertainment is also increasing the number of day a festival runs and the capacity as well, for example, in 2010, Tomorrowland was a two-day festival, with an attendance of 45,000 fans per day and 90,000 in total. While in 2013, Tomorrowland was organized for three days, and the company increased the capacity to 60,000 tickets for each day bringing 180,000 fans in total.
Through the acquisition of Beatport, SFX Entertainment entered the market of providing high quality music to professional DJs as well as to EDM fans. This will increase the fans engagement with EDM content, which is commonly shared through social media. So far, Beatport had approximately 40 million unique visitors according to Google Analytics.
Performance so far
The company generates its revenue from many sources, which include event tickets, sale of merchandise at festivals, sale of music content on Beatport, and from food and beverages sold at live events. It also generates revenue from sponsorship fees and license fees. The company generated revenue of $238.6 million in fiscal year 2012, incurring a net loss of $67.4 million. In the first half of 2013 ending June 30, SFX Entertainment generated revenue of $92.3 million and incurred a loss of $71.3 million.
The revenue from ticket sales and food and beverages at live events contributed 63.9% of the total revenue in fiscal year 2012. The sale of merchandise at live events contributes 19.2% of the total revenue, while sponsorship, license fees, and other sources contributed 16.5% for 2012.
SFX Entertainment has been acquiring many EDM companies that are currently loss making. The consolidated losses reported by the company in the pro forma statements are mainly attributed to the high direct and administrative expenses, which were about 72.39% and 35.13% respectively of the total revenue in fiscal year 2012. However, looking at the popularity of the events and the company's efficient leadership, we believe the top-line will increase significantly going forward, limiting the impact of expenses on net profit.
EDM business is seasonal in nature; most of the festivals are organized during the second half of the year, and companies like ID&T and Made stage their events primarily between August and September. On the other hand, Totam organizes its festivals in the months of November and December. We expect the company's diverse acquisitions across the globe will help it have a steady revenue source throughout the year.
Use of IPO proceeds
SFX Entertainment has made its intention clear to use the IPO proceeds for more acquisition activities. The company intends to use $56.3 million to acquire 100% of the ownership of ID&T Business, around $16 million to close the acquisition of 100% of i-motion, around $61.1 million to gain 100% ownership of Totem, and $16.3million for the acquisition of 70% stake in Made. The remainder will be employed as the working capital and as capital expenditure to support the existing business.
Strong Leadership
In Picture: Robert F.X. Sillerman, Source: Huff Post
The company is under the strong leadership of iconic EDM entrepreneur, Robert F.X. Sillerman, who has wide experience in music businesses. Sillerman has been extremely successful in consolidating the fragmented industries, which have excellent growth opportunities. He began with buying radio stations in 1970s, which he revived and sold to Washington Broadcasting for $400 million in 1989. He used the proceeds to form another radio company, SFX Broadcasting, which went public in 1993. After setting SFX Broadcasting on a growth track, Sillerman sold it to Capstar Broadcasting Corp. for a healthy profit of $2.1 billion in 1997.
Sillerman then started SFX Entertainment, the original incarnation of today's SFX Entertainment, in the late 90's. Through SFX Entertainment, he acquired concert venues and events, which were gaining popularity during those days. Sillerman sold SFX Entertainment to Clear Channel in 2000 for $4.4 billion; Clear Channel later spun-off the company to form the well-known Live Nation Entertainment (LYV), another big player in the EDM business.
In June 2012, Sillerman again revived the SFX brand, to today's SFX Entertainment. Through SFX Entertainment, Sillerman has again started consolidating the most popular events in the EDM industry. He has already acquired the rights of some of the most famous live events across the globe for the company.
Competition
One of the biggest competitors for SFX Entertainment is Live Nation; it generated revenue of $1.67 billion in the quarter ended in June 2013. Live Nation recently bought Cream Holdings, and last year it acquired Hard Events. The company also started a creative partnership with Insomniac Events, the company that organizes Electric Daisy Carnival festivals around the U.S. With its acquisitions and partnerships, Live Nation has increased its revenue by 8.3 percent over the past year, which stands at $1.68 billion. Live Nation is expecting an attendance of 2.5 million fans at its 17 forthcoming EDM festivals across the U.S. and Europe. However, the festivals in SFX Entertainment's basket have generated parallel popularity, so we don't see any major shift of fan base from the company's flagship events.
Expected performance
Stock Price movement of SFX Entertainment
After selling 20 million shares at $13 a share in the IPO, SFX Entertainment raised $260 million. Just a few days post listing, we witnessed a plunge in the stock performance, and the stock is currently trading at around $8.77.
Should investors be concerned?
We think they should not. The EDM sector is still in its early growth stage, and it is growing swiftly. Considering the popularity of the company's EDM events and its plan of deploying the IPO proceed to complete its dream acquisitions like ID&T, we think SFX Entertainment will witness an upward trend in the coming future. To get a better picture of our expectation let's take a look at SFX Entertainment's close competitor, Live Nation's stock performance in 2013.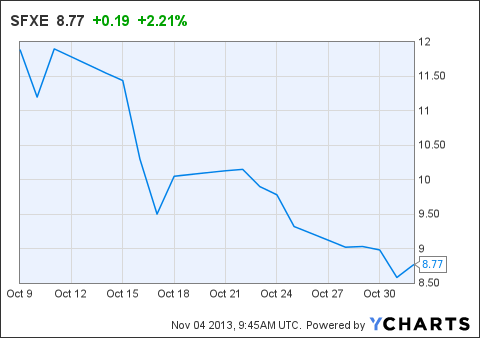 SFXE data by YCharts
LYV data by YCharts
Live Nations stock has provided a yield to date of around 109% to its investors. One should note that Live Nation is the same spun-off unit of Clear Channel, founded and sold to Clear Channel by Sillerman as the original SFX Entertainment in the late 90's. We expect SFX Entertainment to follow a similar growth path to that of Live Nation.
Risk to Our Thesis
Debt
The company has substantially grown its business through planned acquisition, which it financed primarily through debt. The company has grown its debt to approximately $75 million as on September 24, 2013. Currently SFX Entertainment is a loss making company. For a loss making company, leverage as high as $75 million can adversely affect its profitability and financial stability. However, we believe the company has deployed the money at the right place to acquire strong assets that will bring a positive cash stream in the coming years.
2. General economic condition
Entertainment business is highly susceptible to the general economic condition. When the economy isn't doing well, it adversely affects overall consumer spending and major spending cuts are observed on luxury and entertainment expenses. Corporate spending on sponsorships and advertisement is also reduced. But seeing the current macroeconomic conditions, we don't expect this factor to act as a headwind to SFX Entertainment.
Conclusion
SFX Entertainment is making several acquisitions to tap the early growth in this niche area. The rapid acquisition of business poses a significant risk to the smooth integration process. However, looking at the promoter's history, we expect SFX Entertainment to integrate the acquired business successfully. The popularity of EDM events across the globe is increasing with each passing year, and SFX Entertainment has already acquired the rights to the most popular EDM events like Tomorrowland.
The average ticket price of these EDM festivals is approximately $100, so after successful integration, we expect the company to generate over $280 million from the sales of event tickets alone. Also, the sale of merchandise, food, and beverages at live events and the sponsorship for the events that contributed over 50% of total revenue in fiscal year 2012, will further add to the total revenue of the company. Judging from the swift ticket sales for these events, the business has huge growth potential. We expect the company to outperform in the foreseeable future.
Disclosure: I have no positions in any stocks mentioned, and no plans to initiate any positions within the next 72 hours. Fusion Research is a team of equity analysts. This article was written by Shweta Dubey, one of our research analysts. We received compensation for this article (other than from Seeking Alpha), and we have no business relationship with any company whose stock is mentioned in this article.
Business relationship disclosure: We are receiving compensation to do research on this company.