By Brad Zigler
Real-time Monetary Inflation (last 12 months): 1.5%
One last sodden thought for 2009 ...
In the market updates published in each Wednesday's Desktop, readers tend to focus on the headline inventory levels. Little importance is credited to the other number—the utilization rate. This figure reflects how much available refinery capacity is actually put to work cranking out petroleum products.
At last look ("Oil: Supplies Down, Prices Up"), 80.3% of domestic refinery capacity was actually being utilized to make gasoline and other products.
The percentage has little meaning without context. As a stand-alone, you don't know if 80.3% is a high number or low. If we look at a little history, we can put this week's number into perspective.(Click to enlarge)
Domestic Refinery Utilization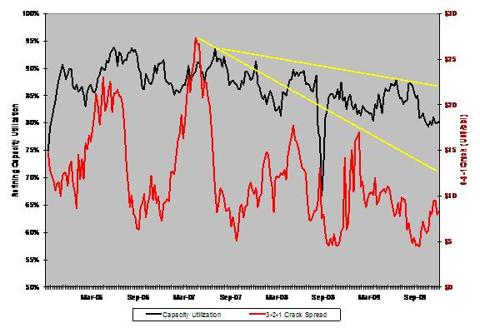 Over the past four years, utilization has been as high as 93.8% (that was back in June 2006) and as low as 66.7% (September 2008). You can tell from the chart that utilization has been on a downward trajectory since July 2007.
U.S. refineries are underutilized. Remember, you're looking at operable capacity, so the utilization rate doesn't include obsolete or damaged plants.
You'll note, too, that crack spreads are also in a downtrend. Shutting down refining capacity hasn't had a permanent salutary effect on refiners' profits.
Here's a quick lesson to take into 2010: If you want a recovery, you better be prepared to root for a boost in refiners' margins.