Yeah, I thought I would put RIM instead of Blackberry (NASDAQ:BBRY) since the brand is effectively dead.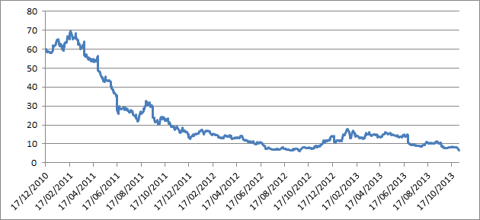 There has been complete polarity of opinion on Seeking Alpha as to where the value is going which is incredible when you realize you can't actually remember the last piece of good news from RIM.
Bulls were excited about the number of suitors for BBRY (here, and here), some have spent too long on the bandwagon and many were shouting that the problems are all one big conspiracy theory so expect the next Bilderberg meeting in Waterloo.
What's changed
In the past few days we learned that Fairfax had failed to get financing for their $9 takeover and have instead put together a consortium invested $1bn into senior subordinated convertible notes paying the bearers 6%. The confusing thing is that only $250m is coming from Fairfax while the other $750m has seemingly been pledged by some unknown entity.
The debt is convertible into new shares amounting to 16% of the current stockholder base at a price of $10. There is also an overallotment option.
Thorsten Heins has been sacked and most likely lost his $50m takeover golden parachute (Talk about a bad day at the office) and Fairfax have placed software supremo John Chen (sold a struggling software company named Sybase to SAP for a fortune).
Surprisingly he has vowed to keep the handset division but who knows what he will decide to do if made a full term CEO or after realizing that there is no place for a fourth sub-scale ecosystem.
Are They On the Verge of Bankruptcy
Despite a huge $1bn write-down and most likely more to come, it is important to note that these are NON CASH. As we found out with the Playbook tablet, there is a price people are willing to pay for near obsolete mobile phone handsets so it is likely that even upon closing the handset division, there will be some incoming cash although it is unknown as to whether this will outsize the outgoings from firing staff etc., etc.

Furthermore, despite this never ending disappointment, the company seemingly burnt only $112m in 2012, made $77m in 2013 and have lost $346m so far for FY2014 (undoubtedly the FY number will be worse).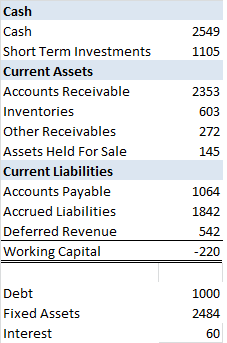 With EUR3.6bn of cash and cash equivalents, some fixed assets and acceptable debt, the company can and will remain solvent for the foreseeable future.
The companies market cap is valued at $5.304bn and the debt has increased to $1bn giving the firm a simple enterprise value of $2.9bn. Taking Apples EV/EBITDA level of 5.85x the question you have to ask yourself is can Blackberry make an EBITDA of $520m in the near future.
Actually, let me be kinder to the bulls, the price probably implies a cash burn so let's assume the EV next year will be 25% lower at $2.1bn:
Can Blackberry make $365m per year in EBITDA?
Blackberry Positives
Even though this company has operated appallingly, we bears must accept that Blackberry does have some potential and no I'm not going to give you yet another ridiculous estimate of patent value...
1. BBM Alright alright, its YET ANOTHER messaging system in a seemingly extremely competitive marketplace, but BBM has two advantages, which is the speed of messaging via push and the security features which means firms (like banks) would feel more comfortable transmitting stuff through BBM than Whatsapp.
If the company can make the skin compatible with iOS and Android and stop trying to superimpose BB10 into everyone's lives, this app may become a best seller.
Whatsapp supposedly has 300m active users and because they charge a $1 per year subscription, they produce revenues of $300m per year. Reports suggest that initial BBM downloads are around 20m of course this will taper off rather quickly) while competition is only getting hotter with Twitter soon to launch ANOTHER messaging app.
Arguably, BBM has a speed and security advantage that is protected by patent, which means that if they get it right, they have the makings of producing a viable business. A successful BBM could be worth up to $1bn of enterprise valuation......Still $1,900m to find
2. Blackberry Mobile Device Management. The enterprise service is undoubtedly the last jewel in the EBITDA margins but if we assume between 30-40% as per other software companies, last year's EBITDA could have been between $900m and $1400m, safely justifying the current share price. The only problem is that revenue is dropping at an alarming rate.
Despite having a current selection of customers, MDM and security are hot areas for pretty much every software firm around and there is apparently more than 100 different solutions for MDM!!! Despite tailwinds from the complexities behind BYOD and the increasing usage of this type of set-up, there are plenty of firms who offer exactly what Blackberry offer and EVERY other solution for business as well. In fact, niche software offerings may become redundant with today's cloud approach.
3. Handsets. I keep this short as I am astonished that Mr. Chan will continue here but you could argue that there maybe is a demand for ultra-cheap ultra-safe devices as firms begin to hate the security implications for personal (and multiple devices) while trying desperately to slim down budgets.
Questions before an investment
1. Who is buying the other $750m of convertible debt. We need to know which other players are getting involved and why
2. What is the new and clear strategy going forward.
3. How does this strategy impact liquidity and cash flow
TLDR. Don't buy BBRY yet, if you own and were foolish enough to hold all the way down, HOLD your shares.
A new story is about to begin and as exciting as this sounds, we have to wait for the beginning to decide whether to go to sleep or not. Remember, the CEO has a software background so this should give the only clear indication of the new direction
Disclosure: I have no positions in any stocks mentioned, but may initiate a long position in BBRY over the next 72 hours. I wrote this article myself, and it expresses my own opinions. I am not receiving compensation for it (other than from Seeking Alpha). I have no business relationship with any company whose stock is mentioned in this article.