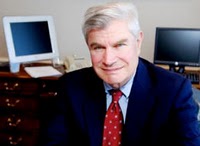 I have not posted about investing maven Ken Heebner in quite a while; in fact until a reader asked me a question about him in one of the comments yesterday I had not looked at the portfolio holdings of CGM Focus (MUTF:
CGMFX
) - his flagship find - in many months. Looking at his
current holdings
(well as of 9/30/09 at least) he is back to his old ways finally - super concentrated (only 21 positions) with 68% allocation in his top 10 holdings, and18% allocation to his top 2 holdings: Goldman Sachs (NYSE:
GS
) and Ford (NYSE:
F
). There only appears to be one short, Research in Motion (RIMM) - which I assume has not worked out of late unless he sold out before the last explosive move up post earnings. While I have not kept up with him, he is brought on CNBC each Fed announcement day and from the videos I've watched he is super bullish both in the short and intermediate terms. The position lists supports that with "all in" bets on financials, 2 copper plays (copper in the old days, before hedge funds and China purchases, controlled the movement - used to be a signal on the economy), Fedex (NYSE:
FDX
), and then some of the names every growth mutual fund manager has as their core holdings - Apple (NASDAQ:
AAPL
), Google (NASDAQ:
GOOG
), Mastercard (NYSE:
MA
) [or Visa (NYSE:
V
)], and Baidu.com (NASDAQ:
BIDU
). The one that shocked me was AIG (NYSE:
AIG
) - although it's only a 1% allocation... it seems everyone believes the US government will eventually try to revive every living zombie company in America.
Long time readers will know, Heebner obliterated the market with a 70% gain in 2007 and was off to a roaring start in 2008 - like us, hiding out in commodities for the first half of the year - before the infamous Fortune Cover curse hit. [
May 28, 2008: Ken Heebner - America's Hottest Investor
] Ok, there is no Fortune cover curse - but it sure seemed like it. From that May 2008 article forward, it's been rough sledding. [
Jul 14, 2009: Bloomberg - Ken Heebner Slumps for 2nd Year
] He seemed to struggle with picking a theme as he was not his normal concentrated self much of the past 1.5 years, and the changing nature of the "student body left market" (everything goes up, or everything goes down) probably was something to adjust to [
May 6, 2008: Ken Heebner's Trading for CGM Focus Tripled in 2008
] So it has been a trying year, with the fund
up only 12% YTD
, but it looks with the current heavy bets, Heebner is back in the saddle and comfortable.
That said, people don't suddenly turn from genius to dummy - the markets of the past few years have been extraordinary, and we still will be keeping an eye on what "Bigfoot" is doing. His foray into Ford has been a great one & despite the recent disasters, his 5 year annualized return is still over 8%, and 10 year 18%. It just has not been quite pleasant for those who jumped in mid 2008 forward - or according to Morningstar... for almost anyone since people were buying at the wrong time, and selling at the wrong time!
Meet the decade's best-performing U.S. diversified stock mutual fund: Ken Heebner's $3.7 billion CGM Focus Fund, which rose more than 18% annually through Tuesday and outpaced its closest rival by more than three percentage points.
Sounds great - but only if you stuck with him through thick and thin. The volatile nature of such a concentrated portfolio that he typically holds, tends to push out people at the worst times and does the same in terms of attracting people at the peak periods.
Too bad investors weren't around to enjoy much of those gains. The typical CGM Focus shareholder lost 11% annually in the 10 years ending Nov. 30, according to investment research firm Morningstar Inc.
I don't know the exact machinations of Morningstar's measurement, I am sure much of it has to do with inflows and outflows - but even if it's accurate within 5% it's quite amazing.
These investor returns, also known as dollar-weighted returns, incorporate the effect of cash flowing in and out of the fund as shareholders buy and sell. Investor returns can be lower than mutual-fund total returns because shareholders often buy a fund after it has had a strong run and sell as it hits bottom.
At the close of a dismal decade for stocks, the CGM Focus results show how even strategies that work well don't always pay off for investors. The fund, a highly concentrated portfolio typically holding fewer than 25 large-company stocks, offers "a really potent investment style, but it's really hard for investors to use well," says Christopher Davis, senior fund analyst at Morningstar.
The gap between CGM Focus's 10-year investor returns and total returns is among the worst of any fund tracked by Morningstar. The fund's hot-and-cold performance likely widened that gap. The fund surged 80% in 2007. Investors poured $2.6 billion into CGM Focus the following year, only to see the fund sink 48%. Investors then yanked more than $750 million from the fund in the first eleven months of 2009, though it is up about 11% for the year through Tuesday.
"A huge amount of money came in right when the performance of the fund was at a peak," says Mr. Heebner, the fund's manager since its 1997 launch. "I don't know what to say about that. We don't have any control over what investors do."
As for Mr. Heebner, though the stock market had a huge rebound this year, he says, "for individual companies, there's a lot of potential not yet realized."