This article uses a top-down approach to analyze Credicorp (NYSE:BAP), a $10 billion market cap financial holding company with most of its business activity carried out in Peru.
Summarizing my thesis, I believe Credicorp represents a great investment opportunity under a long-term horizon, and expect the price to triple within the next 10 years. The company pays a rich dividend, has an excellent management team, and dominates the retail banking space in Peru, the fastest growing Latin American economy.
Despite having a traditional business model, the company has plenty of room left for growth, especially in its insurance business unit and investment banking division. Furthermore, as Peru's economic growth model shifts from an export-based mining-intensive economy to a financially mature economy with a solid credit market, I expect Credicorp's cash flow generation to strengthen further. Not bad at all for a bank that experienced hyperinflation, survived nationalization attempts, and economic growth stagnation for several years before Peru's economy finally took off.
Peru's booming economy and Credicorp
Since investing in Credicorp basically represents investing in Peru, let me start my thesis with a quick presentation on Peru's macro strengths, which is considered by many analysts as the best economy in the South American region.
The country benefited enormously from an increase in metal prices during 2006-2009. As the economy moved towards a higher steady state, we saw economic growth rates of 8% and even 9% per year. However, weaker external demand and reduced expectations for investment have caused a slight slowdown in recent years, though steady growth for the next decade remains safe. Notice that, as Marc Chandler points out in a note on Economonitor, the economy is slowing enough to move the Central Bank into an easing cycle by early 2014, including further cuts on reserved requirements. In the meanwhile, the Bank is expected to keep the rate at 4.25%.
Now, despite prevailing uncertainty in global markets, the Peruvian financial market keeps showing bullish signals, which are consistent with the increase in domestic economic activity the country has been experiencing since 2005. Furthermore, the fact that Peru has been able to keep delivering high growth rates despite a major correction in the price of minerals shows the country is slowly moving from an export-oriented economy to a consumption-based one. This is the first step for the country to become investment-driven, a process that already began, according to figures from the Central Bank of Reserve. The amount of assets inside the Peruvian financial system reached 50.5% of Peru's GDP recently, which represents an increase of 4.2 percentage points from March 2012. Credicorp's retail banking arm, Banco de Credito del Peru, manages 30% of these assets, and is by far the largest retail institution in the country, clearly a too-big-to fail institution.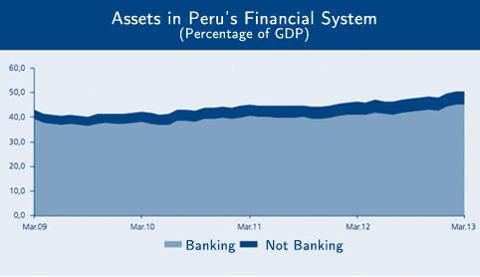 Three interesting facts here: first, with Peru's economic growth rates expected to average 6%-7% per year for the next decade, the size of the financial system could easily double by 2022. Second, the financial sector itself is increasing as a proportion of GDP. Last, Peru's banking penetration rate is the lowest in the region. As the biggest bank in Peru, Credicorp is set to benefit the most from these trends.
Naturally, there's also a healthy demand increase for credit, which reflects the strong dynamism between production and expenditure in the Peruvian economy. Between September 2012 and March 2013, the number of companies that obtained financing went up 2.6%, with middle and small size companies as main borrowers. Now, the best part of the story is that all this is happening in a context of low delinquency ratios. Past-due loans represented 3.53% of total debt in March 2013. Overall, this is a great atmosphere for banking activity.
Now, only 20% of people say they have an account in a financial institution, according to the Global Findex survey. But as income rises, more Peruvians -- from individuals to corporations -- are finding out the benefits of using the credit market responsively to finance their expenses, or using bank deposits as storage. This trend is reflected in the stylized macro facts presented above. As Peru shifts to investment and strong domestic demand mode, volatility from price of metals and currency fluctuations should lower country risk. Likewise, demand for credit is set to rise. This process will be expensive, with 2014 and 2015 being major inflection points. As a result, although my long-term position is bullish, I expect these two years to experience the lowest organic economic growth rates in the next decade. However, this is not a problem as the government may be planning a major increase in fiscal expenditure -- several infrastructure plans on the way, plus preparations for elections in 2016, which combined with an easing cycle, should help the economy. Bottom line, I expect a 5% growth rate for 2014, 6% for 2015 and 7% average until 2020. Thus, it is no coincidence that Morgan Stanley opened its first office in Peru in 2010, while Japanese megabank Sumitomo Mitsui and Chinese ICBC did the same last year.
Fundamentals
Let's introduce now some bottom-up analysis on Credicorp. First, the company has a well-diversified portfolio with 5 business units: Banco de Credito (retail banking), Prima AFP (mutual funds), Pacifico Seguros (insurance company), Credicorp Capital (investment banking) and ASB (asset management subsidiary based in Great Cayman with $5 billion in AUM). Of the four business units, the biggest one in terms of assets, with $34.2 billion under management, is Banco de Credito, the most important player in the Peruvian credit market.
Retail Banking
Banco de Credito reported $127.7 million in net income for the second quarter of 2012, which increased up to $142 million for the first quarter of 2013. Adverse currencies fluctuations in the USDPEN market caused the bank to report $26.5 million in net income for the second quarter of 2013, and this caused negative momentum to improve. A careful analysis shows this is actually a buying opportunity, as the sudden decrease in profitability is a one-quarter-thing. However, the bank should be able to hedge better its loans in dollars and soles after the recent devaluation experience. Furthermore, the bank keeps opening branches, hiring people and building ATMs in order to attract new customers -- keep in mind that 29% of A and B urban socioeconomic segments remain unbanked, while only 48% of the C segment in Peru is banked. Between the second quarter of 2012 and 2013, the company added 28 new branches and hired 3,059 additional employees.
More important, the bank's financial stability remains constant, while the number of loans handled is rising steadily. The bank increased its assets from $30.7 billion in the second quarter of 2012, to $34.15 billion in the second quarter of 2013. Efficiency ratio remains high at 49.3%, while its local currency based loans volumes has raised above 5% quarter over quarter in average daily finances. In this period, the Bank's tier 1 capital, measured by the BIS ratio, showed limited volatility, fluctuating between 14.7% and 15.9%. Finally, one more bullish signal. Between 2007 and June 2013, the bank experienced a massive increase in the number of monthly average transactions, from 29.8 million to 83.1 million. Clearly, more Peruvians are seeing bank deposits as a safe saving channel.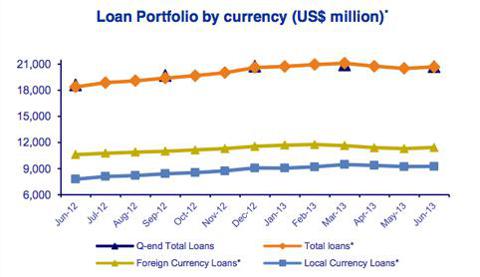 Insurance
If Credicorp's stability is provided by its retail banking division, Credicorp's growth will be provided by its insurance business. Peru has the lowest insurance penetration region in the whole region, despite being the fastest growing economy. If we divide life insurance premiums over GDP for 2012, Peru's ratio is a minimal 0.9%, well below Chile's 2.5%. So far, the business is still small in terms of net earned premiums -- roughly $200 million, which increased 16.7% year over year.
Asset Management and Investment Banking
Clearly, the asset management division will be one of the most profitable units long run, as the number of wealthy individuals increases. Mutual funds are being well managed, both in terms of risk and return, with ROAE reaching 38.8% in the second quarter of 2013. Although business size is still small here, high growth is also happening. Between the second quarter of 2012 and 2013, income from fees increased from $30.9 million to $33.3 million.
Through Credicorp Capital, the company runs its investment banking operations, with $9 billion in AUM as of April 2013 and $5 billion in M&A advised transactions between 2008 and 2012. Although the scale of operations is still small, it's worth mentioning here that its Atlantic Security Bank division remained highly profitable in the latest quarter, despite weaker sales in securities.
Value
The financial holding has roughly $40 billion in AUM, with Banco de Credito representing more than $34 billion alone. Because the bank is present in practically every financial business segment, from retail to insurance, it's hard to come up with a proprietary model to give an accurate estimate of the bank's real value.
What I love the most about this company is that we basically have guaranteed growth in AUM base for the next decade. Between 2013 and 2017, I expect the retail banking division to expand very quickly. With the largest network of ATMs and branches in the country, Credicorp is set to benefit the most from the transition of the country, from an unbanked country to a banked economy with a solid credit market. Between 2017 and 2022, as the country's GDP per capita moves from $12,000 to $15,000, I expect a booming period in the insurance industry, with Credicorp's Pacifico Insurance capturing most new customers. Finally, after 2022, I see a major focus on asset management, as the number of wealthy individuals rises.
I forecast a major increase in Peru's banking penetration rate, from 26.9% this year to 65% by 2023 (notice Chile's 77.1% this year), and an increase in Credicorp's retail banking market share from 30% to roughly 40%, taking into consideration the bank's strong franchise and largest network, and of course Central Bank regulations.
With these factors in mind, I expect AUM base to grow 14% per year in 2014, 13% in 2015 and 2016, 12% between 2017 and 2019, and 10% per year until 2023. In other words, in my model Credicorp could have roughly $120 billion in AUM by 2023. If the bank is worth $10 billion at the $40 billion AUM level, from a pure AUM/worth proportional perspective, the bank should be worth $30 billion by 2023. This is a 200% return in 10 years, without considering dividends.
Scenario Analysis
| | | |
| --- | --- | --- |
| Event | Impact | Probability |
| Peru's economy keeps growing at 6% average for the next decade. GDP growth drivers slowly shift from exports and mining to domestic consumption (2015-2018) and investment (2018-2022). | Positive | Medium |
| 2016 Elections: Either Pedro Pablo Kuczynski, Lourdes Flores, Alejandro Toledo, Alan Garcia or Keiko Fujimori win the elections. Although there are important differences in political speech, these candidates show respect for institutions and pay importance to macro stability and economic growth. | Positive | High |
| 2016 Elections: An inefficient populist government takes place. | Negative | Low |
| Severe income inequality in the country causes political instability. | Negative | Medium |
| Stronger, unexpected sol devaluation in 2014 and insufficient hedging could have negative effect on Credicorp's net income for next year. | Negative | Low |
Bottom Line
With presence in every financial sector in the fastest growing economy in South America and a solid retail arm, Credicorp is the perfect example of a high-growth, low-risk bank. The bank's AUM base could easily triple by 2023, which combined with a pleasant macroeconomic atmosphere, expansion of the insurance sector and an increase in investment banking activity, should help the stock price to triple under a 10-year investment horizon. Not the best return you get in the market, but clearly an attractive risk/reward asymmetry for patient investors seeking exposure to emerging economies.
Disclosure: I have no positions in any stocks mentioned, but may initiate a long position in BAP over the next 72 hours. I wrote this article myself, and it expresses my own opinions. I am not receiving compensation for it (other than from Seeking Alpha). I have no business relationship with any company whose stock is mentioned in this article.