A class action lawsuit has been filed against both Amarin Corp (NASDAQ:AMRN) and Joseph S. Zakrzewski personally by the law firm of Wolf Popper on Monday morning.
Although I do urge all concerned Amarin investors who read this to contact Wolf Popper LLP. The focus of this article is less on the legal case and more on the long-term investment impact that such a lawsuit might have.
Nonetheless, here is a quick overview of what this class action is about. The lawsuit alleges that Amarin's management misrepresented the prospects of the ANCHOR indication and that they failed to disclose that the FDA had communicated to them the lack of data demonstrating a link between the reduction of triglycerides and a significant reduction in cardiovascular risk prior to the ADCOM panel meeting.
Amarin's stock is now trading over 70% lower than it was before the ADCOM panel meeting.
Notwithstanding all these things, a 2006 study entitled "Shareholder initiated class action lawsuits: Shareholder wealth effects and industry spillovers" concluded that there is usually a "significantly negative stock price reaction to shareholder-initiated class action lawsuits", however such an effect can be mitigated if there is an anticipation effect (large investor losses preceding the filing date of the lawsuit).
The study looked at 1,915 public company class action lawsuits over a 17 year period and found that the average immediate stock price reaction was -4.66%. Surprisingly, this was even true of companies that had insurance policies against class action lawsuit. After three days, the average loss is -7.28%. After 12 days, the average loss is 20.06%. About 28% of all these losses depend on the anticipation investors had that a law suit would be filed, the higher the anticipation, the lower the loss.
Consider the fact that yesterday, the press release mentioning the lawsuit went largely unnoticed and the stock price was up throughout the day before some minor weakness right before the market closed. It is unclear whether or not this weakness was due to the lawsuit, but even if it was, the averages above suggest that yesterday's loss of -1.89% still has some significant downside.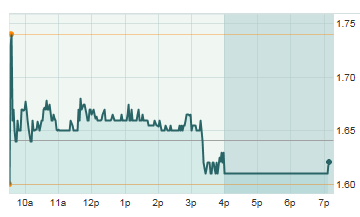 Disclosure: I am long AMRN. I wrote this article myself, and it expresses my own opinions. I am not receiving compensation for it (other than from Seeking Alpha). I have no business relationship with any company whose stock is mentioned in this article.
Additional disclosure: I may initiate a short position in AMRN over the next 72 hours through the use of put options.