By Chris McKhann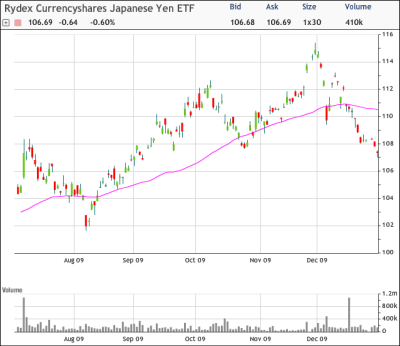 The yen has made a dramatic move over the last month, and today we see heavy option action in one currency exchange-traded fund.
The Rydex CurrencyShares Japanese Yen Trust (NYSEARCA:FXY) has fallen from a high of $115.40 to its current level of $106.69 over the last month. This is one of the biggest moves for the FXY and leaves the fund back at levels last seen in August.
We see heavy volume in the January 106 puts with more than 8,000 contracts traded. This eclipses the average total daily options volume for the FXY and is more than four times the open interest at that strike. Most of those puts were sold, with the largest block of 4,674 going for $0.75.
This put selling tells us that the trader believes that $106 is the floor for this move, as he or she will be long shares if the FXY is below that level at expiration. If shares are above that level, the trader keeps the credit that was taken in.
(Chart courtesy of tradeMONSTER)