Meredith Corporation (NYSE:MDP) is one of those companies that deep value investors want to love. That's because it publishes the very popular Better Homes & Gardens magazine, and in some respects, you could call it a turnaround story. It's trying to turn around its publishing segment, using advertising revenue to prop up the flailing segment.
However, the company appears to be putting the cart before the horse when it comes to this turnaround strategy. It's already trying to rebrand itself as a "shareholder friendly" company, without having dealt with the decline in its publishing unit.
Meredith is a media company, one that generates revenues from advertising, broadcasting and publishing. And over the last month or so Meredith has seen its stock make a serious move higher. Now it is well above the S&P 500 in terms of performance over the last three years. Are investors living a pipe dream? They appear to be doing just that, ignoring the fundamental issues the company is facing.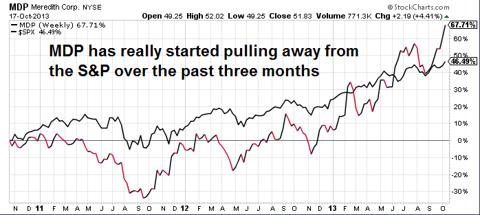 Even analysts are getting in on the fun; over the past couple of months a number of analysts have been raising their price targets, while nothing material has changed at the company. Deutsche Bank upped its price target to $43, yet, the stock is trading well above that at $51. Zacks put its price target at $47 in September, and Citigroup has its price target at $48. All three targets are, again, are below the current trading range.
A not so simple media company
Meredith is a media and marketing company, with business lines including magazine publishing and related brand licensing, television broadcasting, integrated marketing, and video production operations. The company breaks its business into two segments, national media and local media. The national media segment makes up around 77% of revenues, with local media accounting for the other 23%: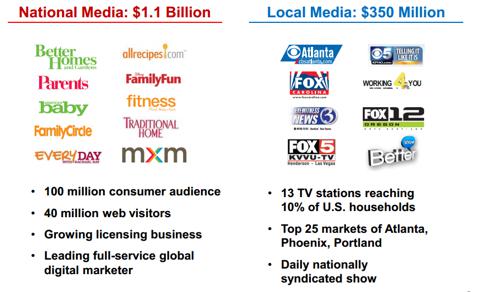 The national media segment includes magazine publishing, integrated marketing, and interactive media. Its local media segment consists of 12 network-affiliated television stations located across the U.S. The television stations consist of six CBS affiliates, three with FOX, two with MyNetworkTV, and one tied to NBC. Last year local media revenues increased 19% and operating profit rose to $124.1 million from $88.3 million in the prior year. While on the surface this sounds impressive, Meredith was the beneficiary of political advertising due the Presidential elections. The next Presidential election is three years away; therefore, local media revenues and operating profit will be weaker this year and next.
All that doesn't really tell us much; we have to dig a bit deeper to see the real story, and ultimately, the problem. Magazine sales still make up some 20% of revenues, while 55% comes from ads and 25% from licenses and royalties.
Despite the irrational exuberance, 'shareholder friendly' doesn't make it a better company
Publishing is, and will remain, a point of concern for Meredith. The company has sizable exposure to the magazine publishing business, and over the last three years publishing ad revenues have declined at least 5% per annum. This excludes acquisitions, which the company has been using to mask its declines in core businesses (more on this later).
We've continued to see weakness in the publishing industry. RDA Holding, parent company of the Reader's Digest, has filed for bankruptcy twice in less than four years. At the time of the latest bankruptcy, a professor of journalism at Ball State University noted, "I think it probably is the end for Reader's Digest. It's facing problems from two or three different levels - from declining readership, advertising, more so than the vast majority of American magazines."
Meredith is trying to become a "shareholder friendly" company, versus seeking new growth opportunities. This started back in 2011, when the company decided to up its dividend 50% and boost its share buyback program by $100 million. While this might make the company a better stock, it doesn't make it a better company.
Given the move to pay more dividends and buy back shares, the high level of acquisitions should fade and help bring to light the faltering core businesses. As mentioned, the company has been mitigating the publishing decline with acquisitions, including its 2012 acquisition of Allrecipes.com. Meredith spent nearly $250 million on acquisitions in fiscal '12, versus the $40 million it spent over the prior four years.
High expectations, no downside protection and a heavy concentration leads to a "run for the exits" scenario
There's a lot to not like about Meredith. First, the stock has no real downside protection. It has some $770 million in contractual obligations, with $2.1 billion in assets to back this up. Yet, nearly $1.4 billion of those assets are goodwill and intangibles, leaving around $700 million in "hard" assets.
The other issue is that the publishing assets the company has on its books will likely have to be sold at discounted prices (below book value). And given its debt levels, it's unlikely the company can make a "transformative" acquisition. .
This ultimately leads into the second reason to dislike Meredith. The company carries about $350 million in long-term debt, which puts its debt to equity at a reasonable 40%. Yet, it also has various operating leases and broadcasting rights licensing contracts that bring its total contractual obligations to almost $770 million. This puts its debt & other obligations to equity at 100%.
Third is overly optimistic expectations by analysts. EPS is forecasted to come in at $3.27 for fiscal '15, which would be one of the highest figures the market has seen in the last decade for Meredith, second only to 2007's $3.31. And yet, the company is in no better shape than in '07. Over the last ten years the company has had an operating margin that ranges from 13% to 19%, and it's currently near the bottom of that range; at 14.3% over the trailing twelve months.
Wait, there's a bright spot. Or is there? Meredith could look to separate its publishing and ad businesses. This has become the way of the major publishers. Time Warner is spinning off its magazine business and News Corp separated its publishing and broadcasting businesses earlier this year. That's one option that Meredith could pursue that would help strengthen the company. That's the only scenario where we would be willing to have a second look at Meredith.
However, Meredith should really be named Better Homes and Gardens Corporation. Last year, 74% of consolidated revenues were related to national media, and of that, Better Homes and Gardens magazine accounted for a significant percentage of both revenues and operating profit. Time Warner and News Corp were able to jettison their publishing assets because they represented a very small percentage of their revenues and operating profits. This is not the case with Meredith. In the end, do investors really want to be owning a company that is dependent on a magazine?
SOTP points to 25% lower
Meredith is a compilation of three "distinct" businesses. You have a publishing business, an ad business and a broadcasting company. Ads generate about 55% of revenues, publishing 22% and broadcasting 23%. Thus, the best way to think about Meredith's valuation is as a sum of the parts, using a "justified" multiple to value the company. Ad businesses, which includes the likes of Omnicom and Publicis, are trading around 18x; the industry average for broadcasting is close to 13x, while the publishing industry trades at 6x. As a result, a justified multiple for Meredith is around 14x. Worth noting is that this is above the company's three-year average of 13x.
Given fiscal '14 is expected to be a "transition" year for the company, with EPS forecasted to be down 5%, it's more advantageous to use fiscal '13 EPS. A 14x multiple on fiscal '13 EPS of $2.91 suggest the stock should be trading around $40; that's 20% to 25% below where the stock's at today.
Insiders and institutions no longer love the stock
One thing we always like to check is what insiders and institutions are doing. With Meredith, neither loves the stock any more. Insiders have sold 151k shares, or 15% of their holdings in the last six months. This is while the stock is up almost 50% YTD. In terms of institutions, they have unloaded a net 4.1 million shares.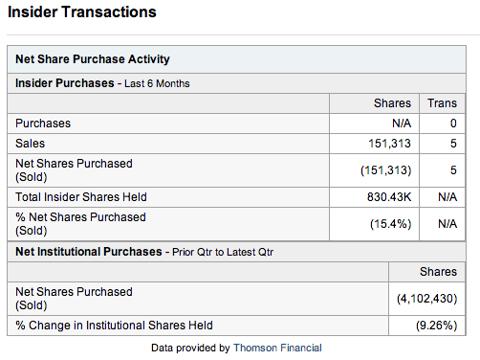 Bottom line
Meredith is trying to brand itself as 'shareholder friendly' company, hoping that dividends and share buybacks will keep investors in the stock. Yet again, this doesn't make Meredith a better company; it's not a long-term fix. Meredith has a lot to prove, and its 3% dividend yield and promised buybacks should do little to get investors excited. Over the last decade the company has only reduced shares by 13%, and its dividend already represents some 58 percent of earnings. Fair value for the company is at around $40, or 23% below current prices.
Worth noting is that we reached out to management and the company's investor relations to give them a chance to address our concerns and rebut any of our findings, but received no response. When, and if, the company reaches out to us, we will be more than happy to share their thoughts with readers.
Disclosure: I have no positions in any stocks mentioned, and no plans to initiate any positions within the next 72 hours. I wrote this article myself, and it expresses my own opinions. I am not receiving compensation for it (other than from Seeking Alpha). I have no business relationship with any company whose stock is mentioned in this article.